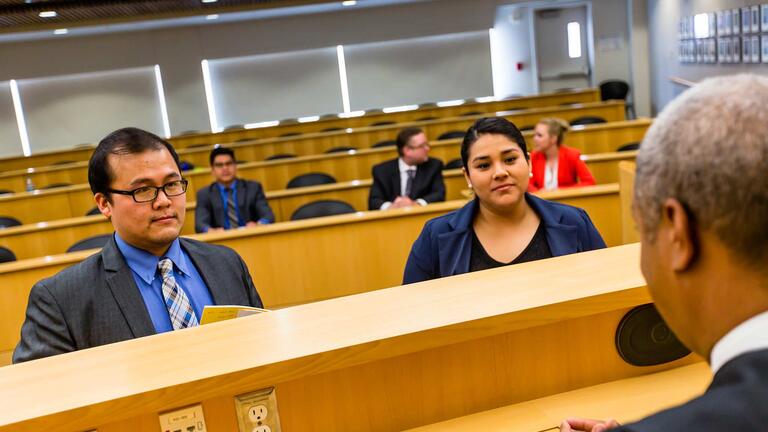 SCHOOL LIFE & CAREERS
Career Services
The Office of Career Services is staffed with attorney-counselors who have diverse legal experience and networks upon which to draw as they work with you on career planning, job search strategy, and connecting you with alumni and other contacts and opportunities in the legal community.
Post a Job
Post a job or externship on Symplicity.
I could not have landed my first full-time lawyer job without OCS. I graduated with decent academic standing and good extracurriculars, but I was also transitioning from criminal defense to civil litigation, so I felt somewhat lost as to what my options were. As soon as I reached out to OCS, my counselor was there to help guide me through every step necessary to successfully complete my switch and get a few offers."
Michael Tan '21Associate Attorney at Anderlini & McSweeney
Career Services Includes
Individual career counseling
Resume and cover letter review
Connecting you with alumni and other potential employers
Online jobs database
On-campus recruiting
Career skills workshops
Mock interviews
Connect with Lawyers
Throughout the year, Career Services organizes a variety of opportunities for students to meet lawyers in their areas of interest, including:
Panels by practitioners in different practice areas
The Lunch with Lawyers Program (small group lunches)
Diversity recruitment opportunities
Public Interest/Public Sector Legal Careers Day
Tech sector networking events
Nondiscrimination Policy
The University of San Francisco School of Law prohibits discrimination against any person on the basis of race, color, national origin, religion, age, sex, gender, sexual orientation, gender expression, gender identity, gender transition status, sex-or gender-stereotyping pregnancy, physical or mental disability, medical condition (e.g. cancer-related or genetic characteristics), genetic information (including family medical history), ancestry, marital status, citizenship, or service in the uniformed services, including protected veterans. This policy is intended to be consistent with applicable state and federal laws and the law school's policies.
Graduate Employment Statistics
University of San Francisco School of Law provides detailed information regarding the employment outcomes of its recent graduating classes. It is beneficial for prospective and current students to review this information to see how USF School of Law graduates have performed in the job market.
Kendrick Hall, 335 and 336
Hours
9 AM - 5 PM, Monday through Friday