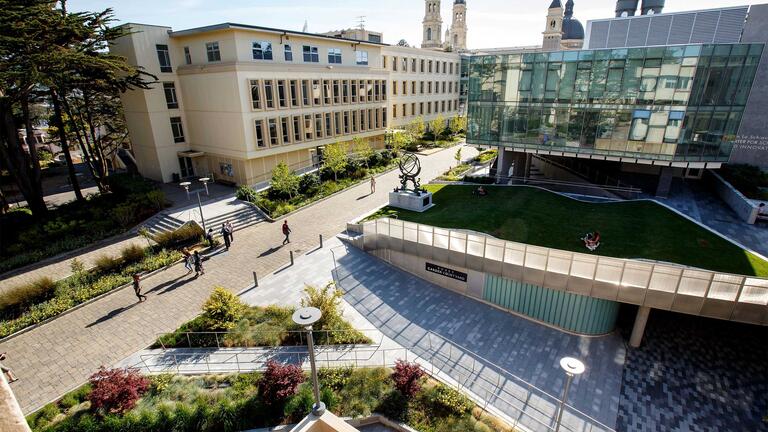 ADMISSIONS & AID
Tuition & Financial Aid for LLM & Grad Tax
Annual Tuition and Fees | 2023-24
There are no fees for students enrolled in the LLM in Taxation and Master of Legal Studies in Taxation programs. Students in the LLM in IP and Technology Law and LLM in International Transactions and Comparative Law programs pay the Student Bar Association (SBA) fee of $35 per semester for full-time students and $2 per unit for part-time students.
The Board of Trustees of the University of San Francisco reserves the right to change tuition, fees, and other charges at any time without notice. You may find information about the university refund policy here. If withdrawing from school, forfeiture of all non-refundable admission deposits will be assessed for new first-year students. The final date to receive a refund is listed on the academic calendar.
Program
Tuition
LLM In Taxation
$2,170 per unit
LLM In Intellectual Property and Technology Law
Full-time: $52,370
Part-time: $2,095 per unit
LLM In International Transactions and Comparative Law
Full-time: $52,370
Part-time: $2,095 per unit
Master Of Legal Studies In Taxation
$1,745 per unit
Financial Aid
Financial aid may be offered to international applicants demonstrating financial need and outstanding academic achievement. Since funds are limited, it is to the scholarship applicant's advantage to submit their completed application with supporting materials as early as possible.
In addition, Discover offers private loans to international students, who are neither citizens nor permanent residents if they have a credit-worthy US citizen as a co-signor. See Discover's website or call 1(877)728-3030.
U.S. citizens or Permanent Residents needing financial aid may submit the Free Application for Federal Student Aid (FAFSA) by February 15. Such students may qualify for an Unsubsidized Federal Direct Stafford Loan of up to $20,500. Additional federal aid is available through the Federal Direct Graduate PLUS loan, a credit-based loan offered through the federal government.  Additional information on financial aid for U.S. citizens or U.S. Permanent Residents is available by visiting the USF School of Law's Financial Aid page. 
External Sources Of Financial Aid For International Students
Please be advised that this list is based on the most current data available and may be subject to change. Please consult the direct websites for the most updated information.
Searchable Library and General Financial Aid Web Resources
Specific Organizations Providing Grants or Scholarships
For further, more country/region-specific information please contact us.
2130 Fulton Street
Kendrick Hall, 230
San Francisco, CA 94117
LLM Programs in International Transaction and Comparative Law & Intellectual Property and Technology Law
2130 Fulton Street
Kendrick Hall, 230
San Francisco, CA 94117