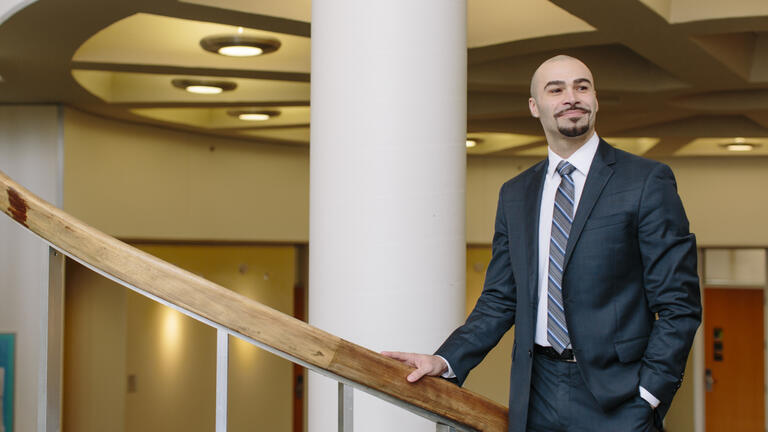 ENGAGED LEARNING
Keta Taylor Colby Death Penalty Project
The Keta Taylor Colby Death Penalty Project was established in 2001 by Professor Steven F. Shatz to involve law students in the interim reform, and ultimate abolition, of the death penalty in the United States.
The project is directed by Associate Dean Amy Flynn, who took over in 2013 from founding director, Professor Steven Shatz. While a student at USF, Dean Flynn spent a summer in Mississippi as an intern in the project's Southern Internship Program. After graduation, Dean Flynn practiced as a public defender in Contra Costa County before joining the faculty in 2007. 
Since the project's inception, its principal program has been the Southern Internship Program, which each summer sends law students to work with capital defense attorneys in the South.  You can listen to Professor Steven Shatz and students Ashley Connell, Class of 2010, and Natalie Davis, Class of 2010, discuss their experiences working on death penalty cases in Mississippi at a USF School of Law Justice Forum in the audio recording.
USF Law Student Uses Cell Phone Data to Prove a Man
Innocent
While working with the Keta Taylor Colby Death Penalty Project in Jackson, Mississippi, USF Law student Zynal Aziz '20, uncovered evidence that ultimately exonerated a man wrongfully accused of murder.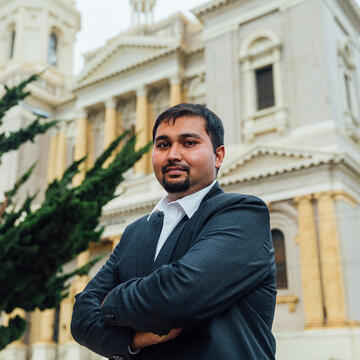 Southern Internship Program 
During the spring, students attend four training sessions covering a range of issues in death penalty law and practice. In the summer, students are sent in pairs to spend 10 weeks working at the offices of capital defense lawyers in the South. Each student is assigned to work with one or more attorneys on the attorneys' cases. In the course of the casework, the students visit their clients in prison or jail, perform legal research, gather case-related documents, e.g., from trial attorneys' files or public sources (through trips to courts and other agencies or by means of subpoenas or public record act requests), interview lay and expert witnesses, and, in some cases, jurors.  In addition to working on their cases, the students may, under the general supervision of Professor Flynn, undertake a larger legal or empirical research project aimed at developing a systemic challenge to the particular state's death penalty law or practice.
The work is challenging, both legally and emotionally. A few of the students have had the satisfaction of seeing their work bear fruit. In 2002, in Mississippi, David Brody wrote the brief that caused the Mississippi Supreme Court to set aside the client's default and permit the client to litigate his claims. In 2003, in Texas, Alma Lagarda and Laurel Gorman developed the evidence of mental retardation that resulted in evidentiary hearings being granted for three of the clients. In 2004, in Arkansas, Jason Horst and Stephanie Smith had the satisfaction of seeing one of the clients released from death row on a mental retardation claim. Most of the time, however, the students contribute small pieces to very large cases, so they will never know how their work contributed to the ultimate outcome. Occasionally, the students experience failure. In 2003, in Arkansas, Megan Rosichan and Robert Tadlock worked around the clock for a month to prevent an execution and were unsuccessful.  In 2004, in Texas, Amy Goldman spent a substantial portion of her time preparing a clemency petition for the client, including a clemency video, but the petition was denied, and he was executed. In 2011, in Texas, David Rubin and Jonathan King spent the summer working on an eleventh hour successor state habeas petition (a petition filed after the denial of a previous petition), only to see the petition denied and the client executed. Whatever the outcome for particular clients, however, the students all finish the summer having learned about the death penalty, about the practice of law and about themselves. They also know that the tasks they did would not have been accomplished but for their efforts and that they made a contribution to the struggle against the death penalty.
Application Process
The 2024 program will include up to 8 students from USF and UC Berkeley School of Law. After four training sessions in March and April, the program will run from May 28 to August 2, 2024.
Applications for the program may be submitted beginning December 1, 2023. The deadline for the application is January 15, 2024. This program is open to students who have completed at least one year of law study as a full-time student prior to the summer. A student wishing to apply should submit the following by e-mail to Dean Flynn (amflynn@usfca.edu):
(1) a cover letter describing his or her interest in participating in the program
(2) a current resume
(3) a law school grade report, if available
Interviews will be held in December and January, and participants will be selected on a rolling basis until all positions are filled. Students who are accepted to the program receive funding from their school, Placements in offices are decided after acceptance. This summer, there will likely be placements in Louisiana, Mississippi, and Arkansas.