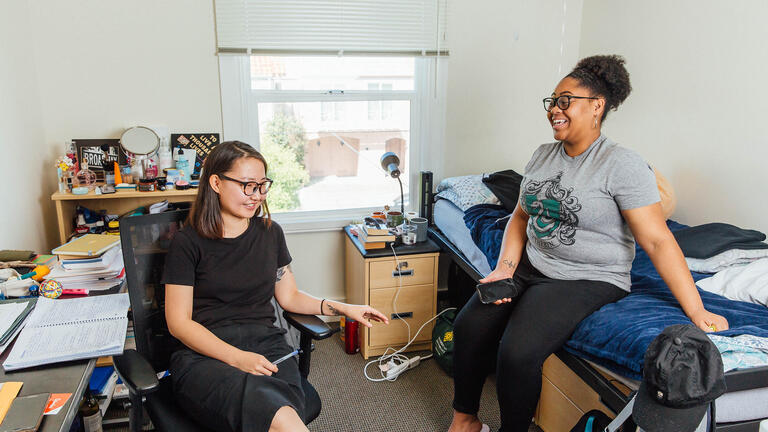 SCHOOL LIFE & CAREERS
Housing at St. Anne's
USF law students have an array of housing options to choose from as they make the city of San Francisco their home. While most law students live off campus within the city of San Francisco, a new USF residential option for priority use by law students opened in fall 2017. The law school's Office of Admissions and the Office of Student Housing and Office of Community Living provide a variety of support services to help guide students through the process of securing housing.
Housing
The University of San Francisco opened a new residential facility for law students in fall 2017. The residence consists of two floors housing approximately 45 students, most in single rooms. There is a central kitchen and large lounge area. Each floor includes communal bathrooms and laundry facilities. 
The new housing facility is located at 1330 14th Ave. on the St. Anne of the Sunset Church and School site. It is 1.5 miles from campus, which is approximately a 20-minute bus ride away. This unique partnership with the parish opens two fully renovated floors of a St. Anne's building to exclusive use as USF law student housing, complete with a dedicated entrance. The residence is located in the Inner Sunset neighborhood, a vibrant community with shops and restaurants in immediate proximity. In order to avoid impacting neighborhood parking, students living at St. Anne's may not have a car for use or parking in the neighborhood. There is convenient public transportation between the neighborhood and campus.
The housing application process is managed through the university's Office of Student Housing and the Office of Community Living. Pricing information is now available, and incoming and continuing law students may apply online for housing. 
Off-Campus Housing
Most USF law students rent apartments in the neighborhoods surrounding campus.
The USF School of Law Office of Admissions hosts an off-campus housing workshop for incoming students, and surveys all incoming students in order to help facilitate roommate matches.
Virtual Tour