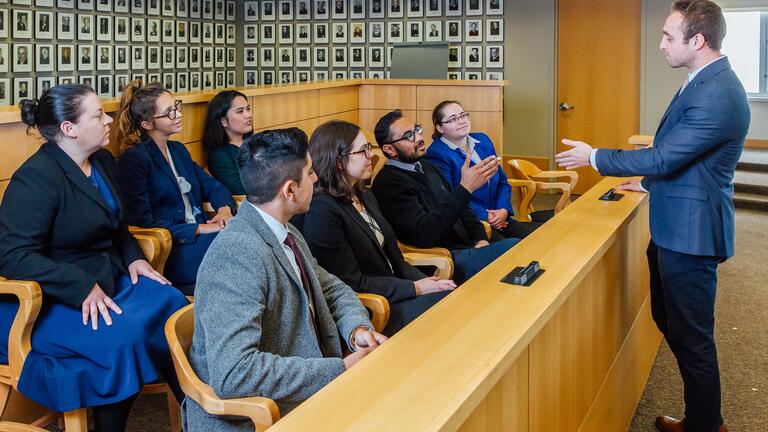 Full-time students take most of their first-year classes during the day and typically graduate in three years.
During the first year, full-time students may be required to take one course per semester in the evening. During the second and third years, students have a host of options, including day or evening classes and summer courses, to fulfill their requirements. Because of the demands of class preparation and assignments, library research, and co-curricular activities, full-time students may not work more than 20 hours per week outside of school.
Deadlines and application instructions for the JD program.
Required Curriculum
JD students must earn at least 87 units of course credit, including 52 units in required core courses, plus additional program requirements. In the full-time program, required courses are concentrated in the first and second years.
Additional program requirements for all students entering fall 2019 and beyond:
Bar Subjects: students must take a minimum of three California bar subject courses, which include Community Property, Corporations, Remedies, and Wills & Trusts.
Experiential Learning: students must also take one or more experiential course(s) totaling at least 6 units. An experiential course may be a simulation course, law clinic or externship.
| First Year | Fall | Spring |
| --- | --- | --- |
| Civil Procedure | 3 Units | 3 Units |
| Contracts | 3 Units | 3 Units |
| Criminal Law | - | 3 Units |
| Criminal Procedure | - | 3 Units |
| Legal Writing | 3 Units | 3 Units |
| Torts | 4 Units |   |
| Skills for Future Lawyers | 1 Unit |   |
| Second Year | Fall | Spring |
| --- | --- | --- |
| Constitutional Law I & II | 3 Units | 3 Units |
| Property I & II | 3 Units | 3 Units |
| Upper Division Courses | Must be completed after first year |
| --- | --- |
| Advanced Legal Analysis | 2 Units |
| Evidence | 4 Units |
| Legal Drafting | 2 Units |
| Legal Ethics or Professional Responsibility | 3 Units |
| Upper Level Writing Requirement | 0 Units |
Kendrick Hall, 230
2130 Fulton Street
San Franciscio, CA 94117-1080