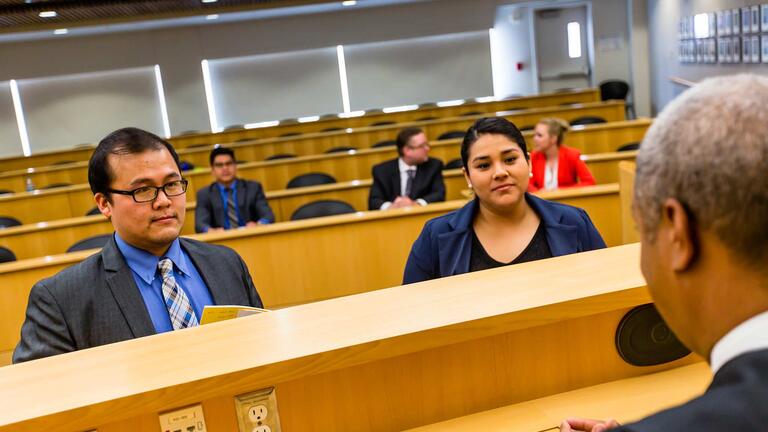 SCHOOL LIFE & CAREERS
Hire USF Law
USF School of Law provides students a top-quality education that equips them with practical legal skills. Our students and graduates are known for their legal acumen, integrity, dedication, and work ethic.
We are privileged to have worked with and hired USF students as interns, law clerks, and attorneys. We find USF law students to be prepared, enthusiastic, and qualified to engage in the rigors of litigation and trial work. We look forward to working with many more USF interns in the future and will continue to depend on the USF pipeline for qualified interns.
LIUZZI, MURPH, SOLOMON, CHURTON & HALE LLP
Hiring Opportunities
Hire our most recent graduates who are awaiting bar results. Our recent grads have significant legal work experience and can contribute immediately to the work of your organization. Hire them on a short-term, paid basis for four months while they await bar results (March - June for February bar exam takers or August - November for July bar exam takers). This will also give you an opportunity to see whether they would be a good fit for your team on a permanent basis.
Hire our students for paid part-time legal work opportunities during the school year. Many of our students have part-time paid jobs during the school year. However, not all are doing legal work. They can do legal research and writing projects, conduct client intake, draft pleadings and other documents, and more.
Hire our students for paid summer internships. We realize that not all legal employers can hire summer legal interns almost a year in advance during Fall On-Campus Recruiting. Let us know in early spring what your hiring needs are and we will help you find excellent candidates.
Hire Our Students During On-Campus Recruitment. During On-Campus Recruitment (OCR), you can meet and interview some of the best and brightest USF School of Law students, and everything can be done at your convenience.
conduct a full or half day of interviews on campus
set up a resume collect and host interviews at your office
arrange for video conference interviews
OCR is open to all legal employers, including law firms, private companies, government agencies, and nonprofits. Participating in OCR is free to all government agencies, nonprofit agencies, and law firms with fewer than 100 attorneys.
Post Jobs & Internships. On Symplicity, our online job board, you can easily set up and manage postings for jobs and internships. You can also contact the Office of Career Services at lawcareer@usfca.edu with the details for an account to be set up for you.
Posting a job is free to all employers. Students can apply directly to you or we can collect the application materials for you. Nonprofit and government agencies can post unpaid/volunteer positions.
Standards for Timing of Offers and Decisions. The University of San Francisco School of Law appreciates your commitment and interest in recruiting our law students. To ensure a fair and equal recruiting process, we ask that employers follow the guidelines gathered by the National Association of Law Placement.