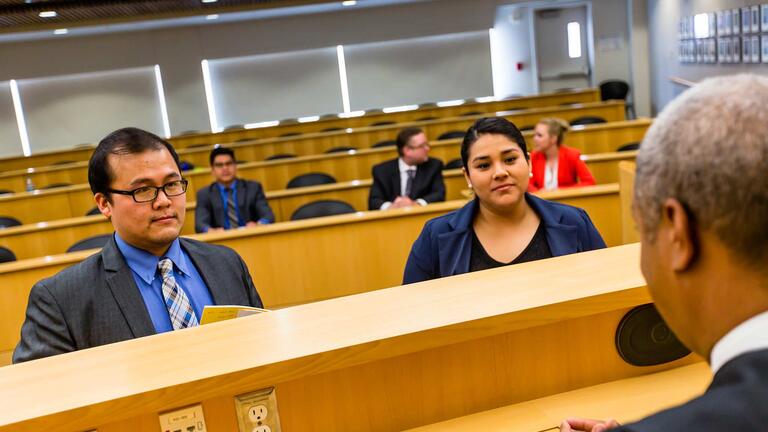 SCHOOL LIFE & CAREERS
Find Your Path
Career Counseling
There are countless ways you can employ your JD to forge a satisfying career path. Career counselors at USF are eager to discuss all aspects of your job search, from brainstorming potential career directions and reviewing application materials to creating career connections. At USF, you are welcome to meet with a career counselor as often as you wish.
Talk to Lawyers
One of the best ways to find your path is to talk to professionals already working in your areas of interest. Learn more about how Office of Career Services helps you meet professionals.
Resources & Tools
Symplicity (formerly USFLaw Link): USF School of Law's online career planning platform is your main source for internship and job postings, signing up for career planning events, and registering for major programs, like On-Campus Recruitment and Mock Interviews. It also houses many career guides and other resources.
Career Corner: Dedicated section of Zief Law Library with a wide range of career-related books and guides.
Mock Interview Program: Students have the chance to do a practice interview with a local attorney. The Office of Career Services counselors can also conduct mock interviews and interview preparation with students at any time.
Job Search Handouts and Guides: The Office of Career Services maintains a huge resource library of handouts created to address students' specific job search needs. You'll find useful guides on everything from legal resumes and cover letters to specialty bar associations, available in hardcopy and online.
Online Resources and Subscriptions: USF law students have access to Government Honors Programs, PSJD, LexisNexis, Westlaw, Bloomberg, and Glassdoor for Students.
Conferences & Career Fairs
A great way to learn about what career path is best for you and to start building expertise and connections is to attend a legal conference or seminar outside the law school. You can meet attorneys and learn about cutting edge legal issues. USF has a generous approach to conferences, supporting student attendance through offering limited funding to cover registration fees and travel expenses.
Job fairs provide opportunities to meet attorneys and find employment.
Public Interest/Public Sector Legal Careers Day (PI/PS Day): Hosted each winter by OneJustice and Northern California Law Schools, PI/PS Day provides law students an opportunity to meet and interview with public interest and public sector legal organizations and offers a wide range of summer opportunities. In 2022, 102 public interest and public sector employers participated in formal interviews and 87 participated in a virtual table talk.
There are many other career fairs you could consider that the Office of Career Services helps students successfully participate in, including: