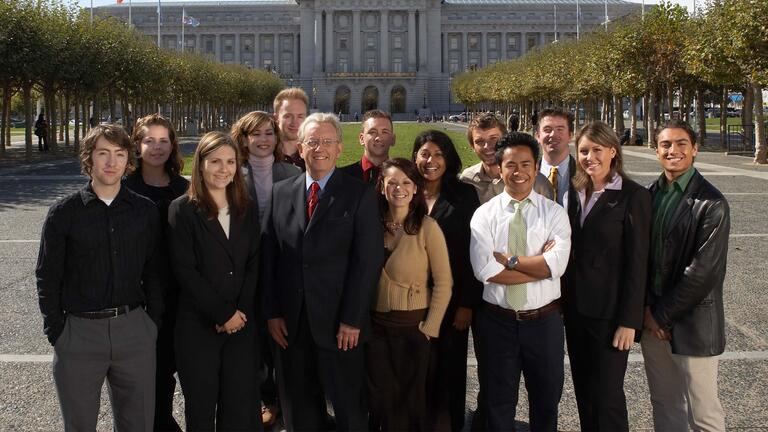 LEO T. MCCARTHY CENTER FOR PUBLIC SERVICE AND THE COMMON GOOD
Our History
Opened in 2002, the Leo T. McCarthy Center for Public Service and the Common Good is the center for programs and scholarship supporting community engagement and public service at University of San Francisco.
It is grounded in USF's tradition of service and educating men and women to create a more humane and just world, and furthers the mission of intellectual rigor and social justice. Located within the Provost's Office and Division of Academic Affairs, its programs serve the entire USF community, including students, faculty, and staff, as well as community partners in San Francisco and the Bay Area.
Community engagement and service learning at USF predate the McCarthy Center. As early as the 1960s, USF students and faculty started the Student Western Addition Project, the largest student organization at the time, to work with young people, families, and senior citizens in the neighborhood adjacent to campus. In the 1990s, a small number of dedicated faculty members implemented service learning as part of their courses.
2000
Fr. Stephen Privett's presidential inaugural speech, "Educating for a Just Society," inspires former Lt. Governor Leo T. McCarthy to approach Fr. Privett with an offer of, "I'd like to help you with one or two of your goals." This relationship leads to the opening of the Leo T. McCarthy Center for Public Service and the Common Good in 2002.
2002
The Leo T. McCarthy Center for Public Service and the Common Good opens its doors. The university revises the core curriculum, requiring all undergraduate students take a service-learning course.
2003
The USF in DC program is established. The program enables students to spend one semester in the nation's capital in full-time internships in government or nonprofits, and to take courses on political processes.
2005
The Community Engaged Learning and Teaching (CELT) Fellowship and the Community Partner Service-Learning Seminar are established to provide professional development in the principles, practices, and pedagogy of community-engaged learning.
2006
The McCarthy Fellows program in Sacramento is established, sending students to the state capitol for 12-week summer internships in government or nonprofits.
2008
The Sarlo Scholars, later the Privett Global Scholars, is established in partnership with the Foundation for Sustainable Development.Students are required to take courses before and after international service learning in Nicaragua, Uganda, India, Bolivia, and Argentina.
2010
The Master of Arts in Public Affairs and Urban Affairs programs are established to prepare students for work in campaign strategy and management, governmental relations and advocacy, grassroots and community organizing, and strategic communications.
2014
Engage San Francisco is launched. The program is a university-community commitment to address community-identified needs supporting children, youth, and families in The Fillmore / Western Addition neighborhood.
2017
USF Votes is launched to register all eligible USF students as voters.
The McCarthy Center celebrates its 15th anniversary and awards the first annual Leo T. McCarthy Award for Public Service.
2018
Community Empowerment Activists begins to recruit student leaders to participate in paid internships with local organizations mobilizing grassroots campaigns on issues like housing, access to education, and immigration and transgender rights.
2022
The McCarthy Center celebrates two decades of educating hundreds of future leaders who have the abilities, the values, and the commitment to make a positive impact, grounded in community-engaged learning experiences.