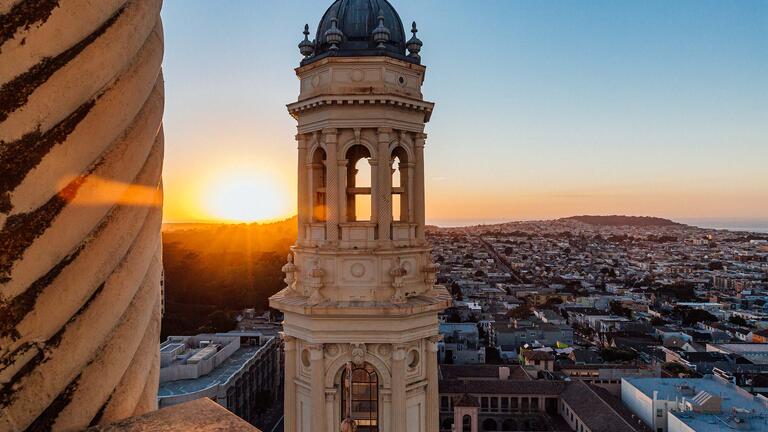 Leo T. McCarthy Center for Public Service and the Common Good
McCarthy Award Past Honorees
The award is given bi-annually to an individual whose work makes a difference in the lives of people most affected by injustice. Recipients exemplify Leo McCarthy's values of leadership for the common good. They show compassion for those less privileged and marginalized, and have a track record of service to make people's lives better. Their lives illustrate high ethical standards.
2022
This year's award recipients, Janet and Clint Reilly, founded Bay Scholars, a nonprofit that creates educational equity for students from underserved communities through $7M in scholarships to successful Catholic high schools in the Bay Area. Janet Reilly is the co-founder and board president of Clinic by the Bay, a free, volunteer-powered health clinic for the working uninsured in San Francisco and San Mateo counties. Clint Reilly, serves on multiple Boards and most notably spearheaded Catholic Charities of San Francisco initiative to put the social services arm of the Roman Catholic Archdiocese of San Francisco on solid financial footing.
---
2019
Under the leadership of former university president Fr. Stephen A. Privett, S.J., USF moved into the vanguard of U.S. higher education by requiring all undergraduate students to engage in service learning. As one of the founders of the McCarthy Center, he helped establish an institution that continues to prepare USF students for community and political engagement and that leads in shaping the entire field of civic engagement in higher education with a vision of social justice.
---
2017
As mayor of San Francisco, Art Agnos pioneered welfare reform programs, worked to ban discrimination based on sexual orientation, and was among the first to address the growing HIV/AIDS epidemic by creating an HIV/AIDS task force and dramatically increasing the city's AIDS budget. Later, as regional director of the U.S. Department of Housing and Urban Development, he championed affordable housing.
---
Our Sponsors
Thank you to our generous sponsors of the Leo T. McCarthy Award:
Leo's Legacy Circle
Transformationalist
Cotchett, Pitre & McCarthy
Walter & Elise Haas Fund
Adam & Heather McCarthy
Niall & Yvonne McCarthy
Craig Newmark Philanthropies
Diane B. Wilsey
Idealist
Sharon McCarthy Allen & Dale Allen
CommonSpirit Health Foundation
Holly Hogan & Thomas Holmes
Jacqueline McCarthy
Scott Patterson
Ron & Karen Rose
Taube Philanthropies
Visionary
Nancy Barrett & Francis Beneduci
Conna McCarthy & Peter Craigie
Marie & John Duggan
New Deal Advisers
Margaret & Brent Simor
USF Development Division
Gina & Dan Waldman in honor of Jacqueline McCarthy
YMCA of San Francisco
Sacred Heart Cathedral Preparatory
Leader
Giants Enterprises
Golden State Warriors
Steven Kay
Lionel Shaw
Janet & Larry Simi
Roslyne Swig
Changemaker
Archbishop Riordan High School
Boys & Girls Clubs of San Francisco
Natalie Cirigliano Brosnan
Derick & Tracie Brown
CORO Northern California
Rodney Chin
De La Salle High School
Hon. & Mrs. Robert Dondero (in honor of Sharon McCarthy Allen and Niall McCarthy)
Alicia Gamez
Alex Grab
Ed Harrington
Joanne Hayes-White
Michael Kelly
Courtney & Doug Kilroy
Hon. Donald King & Nikki King
Mary Leslie
Irena Matijas
Moreau Catholic High School
Alexandra Morgan
Elizabeth O'Callahan
Pamela Balls-Organista & Kurt Organista
Michael Paganini
The Wayne Bautista & Alfredo Pedroza Fund
Perla Rodriguez & Rolando Bonilla
St. Anthony Foundation
Salesian College Preparatory High School
San Francisco Goodwill
United Airlines
Dominic Tarantino
Advocates
Mike Wittenwyler
Stephen Pezzola and Marc Colelli
William Rogers
Rosa Terrazas
Betty Louie
Jeff and Caitlin Congdon
Elmy Bermejo
Dick Grosboll
Wilson Farmer Family Fund
Art and Sherry Agnos
Supporters
Linda Grimes
Barry Thornton
Judson True
Patrick Johnston
Costanza Foran
Vikrum Aiyer
Deriana Brown
Tami Bryant
Pablo Cardena
James Child
Sheryl Davis
Fr. Charles Gagan
Honorable Quentin Kopp
Provost Chinyere Oparah
Xiaohua Yang
Araceli Tamayo-Lee
Joaquin Torres
Galen Wilson
PG Hayes
Lisa Nevin
Stephanie Sears
Rachel Brahinsky
Paul Richardson
Cassie Light
Cormac McCarthy Craigie
Elizabeth and Michael Kersten
Mary & Dick Warren
Lynn & John Catchings
Nancy McMonigle
Denise LaPointe
Alicia Gamez
Michael Kelly
Alasdair Clements
Kevin Allen
Jamie Baker
Niki Nielsen
Paul Reulbach
Phil Spiegel
Paul Richardson
Lucas Sharma
Suzie and Declan Sheedy
Melanie Nguyen
Bob Just
Teresa Moore
Lloyd Schine
Galen Wilson
Tenoch Flores
Julie Guevara
Jamie Bruning-Miles
Sebastien Nguyen
Eva Monroe
Jessica Stanfill Mullin
Donald Magilligan
Silena Beatrice Layne
Michael Flocchini
Chad Nico Hiu
Michelle & Mark Harvey
Susana Lapeyrade-Drummond
Sharon Singam
Kibibi Shaw
Joan Henricks
Stephen Murphy
John Kunzweiler
Brandon Graves
Bruce Agid
Laura Held
Elizabeth Solomon