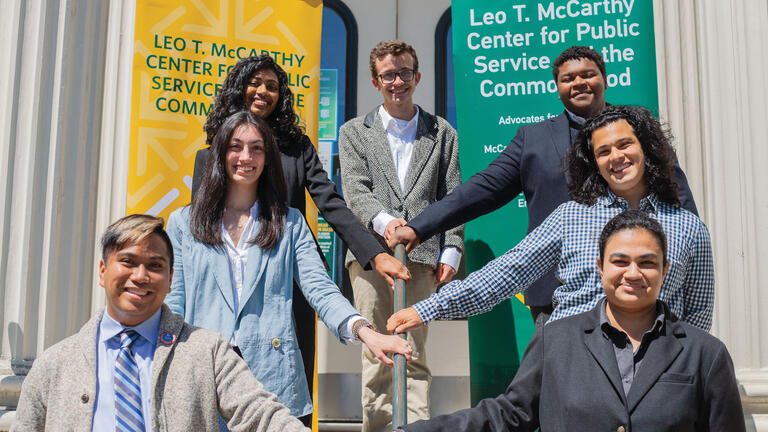 LEO T. MCCARTHY CENTER FOR PUBLIC SERVICE AND THE COMMON GOOD
2021-2022 Annual Impact Report
The McCarthy Center celebrates two decades of educating hundreds of future leaders who have the abilities, the values, and the commitment to make a positive impact, grounded in community-engaged learning experiences.
Message from the Senior
Director
It's been an incredible year, and while we've seen many challenges in returning to campus in full force, I'm almost sad to see it go, but 2022-23 promises to be even greater. We've finished this past academic year on a strong note and are poised to post an even stronger track record ahead. I continue to pinch myself each day and I am so thankful for all that my team has done and continues to do for the Center. I feel so fortunate to lead the Center, and it's an absolute honor to work alongside my USF family.
Here at the Leo T. McCarthy Center, we continue to work in conjunction with the community we serve. The Center is a beacon of hope and the shining example at USF of preparing young leaders for public service and the common good. We continue to increase our impact with our students, create new partnerships, and collaborate with USF departments across campus to deliver extraordinary programming. In the coming year, we will continue to crush it and take things to the next level.
— DERICK BROWN, Senior Director, Leo T. McCarthy Center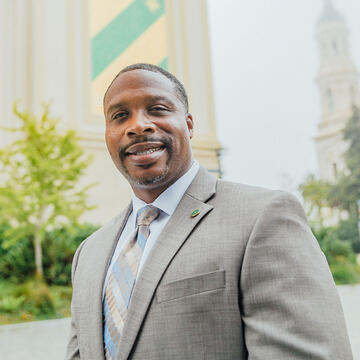 Community-Engaged Learning
The McCarthy Center continues to refine and enhance its community-engaged learning (CEL) programs and services with core values of solidarity, social justice, equity, and civic engagement. Since our inception, we have committed to fostering and sustaining community partnerships that honor community wisdom holders as co-educators, affirm underserved communities, and provide opportunities for our students and faculty work as apprentices and accomplices alongside folks leading positive community change.
Growing Community Empowerment: Activists From the Ground Up
In 2021–2022, the Community Empowerment Activists (CEA) program completed its third year, engaging 18 students from diverse walks of life and academic pathways. Utilizing a transformative justice lens in class, we analyze systems of oppression and movements of resistance.. Through their CEA internships, students study, practice, and apply skills in mobilizing, base building, and grassroots organizing. We have nine host organizations for the yearlong CEL internships; grassroots organizations that are on the frontline of movement work fighting injustice in the Bay Area. The revolution is love remains the core of our program — honoring it is radical self-love, love for the oppressed, and love for each other as we build in kinship that drives and sustains our hope to fight and believe in a reimagined, just world. CEAs utilze scholarly activist research and arts together with what they gain spiritually, intellectually and physically to develop their year-end project. This year culminated in, "Reimagining a Just World: Our Pathway to Transformative Justice and Calls to Action" at a CEA block party.
McCarthy Fellows in San Francisco Learn to Champion Equity in City Hall
Based on USF in D.C. and McCarthy Fellows in Sacramento, this program guides students to career possibilities in local government by studying San Francisco's political economy and culture through a practicum in a government office and an academic seminar on the history and workings of the City and County of San Francisco. Rigorous academic content, guest speakers, special events and field trips, structured reflection activities, and 15 hours per week in a fellowship placement provide a uniquely rich educational and professional development experience. The semester-long experience emphasizes relationships between government, business, philanthropy, nonprofit organizations, and community organizing.
2,700
students enrolled in community-engaged learning coursework
100+
Community partners served
Image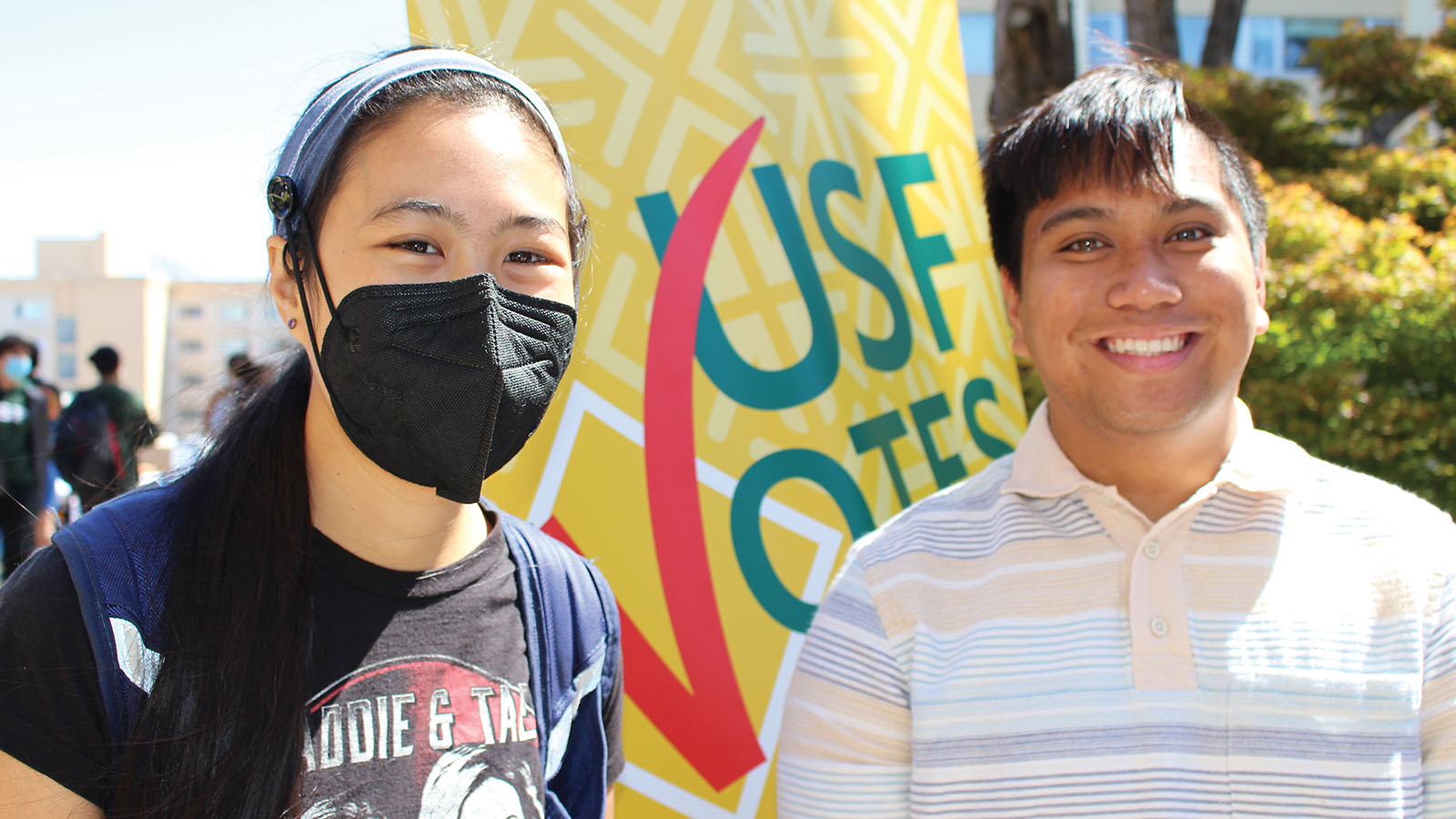 USFVotes
Being Active Participants Is Our Most Basic Responsibility
There's no such thing as an off election year. Beginning in 2017, making every student a voter has been the goal of USFVotes, the Leo T. McCarthy Center's initiative to register all eligible students, educate them about issues and candidates, and turn out voters at elections. We believe it is imperative that diverse voices are heard and represented in the halls of power. Through USFVotes, we organize strategically to integrate, execute, and institutionalize voter engagement on campus so that all of our students who step foot at our university are civically engaged.
This past election season saw a state primary, special elections, and three new polling places on campus to make sure that existing barriers for the USF community were addressed. USFVotes provided a post-election toolkit for faculty and students; developed accessible ballot guides; trained new volunteers to help register voters; and worked with local partners to engage the community.
Looking Forward
Achieve our goal for the 2022 midterm election to improve the USF voting rate to 75% from the previous 2018 midterm at 48.1%.
62
Vote Everywhere student ambassadors
Equity Interns
Now entering its second year, the Equity Interns pilot program — created to help eliminate academic summer learning loss and COVID-19 related slide in K–8 students — moved its cohort of students from a virtual to an in-person six-week internship with the goal of developing the next generation of educators and policymakers who are committed and prepared to address the social justice challenges of our times.
This innovative program brings together service-minded college-age students and K–8 public school youth through a partnership among the University of Delaware's Biden Institute, the University of San Francisco's Leo T. McCarthy Center, and the YMCA of San Francisco.
This summer, 13 students spent six weeks in person committing full-time internship hours supporting the YMCA of San Francisco's Power Scholars Academy at three elementary schools. The Equity Interns concentrated on enhancing young students' math, literacy, and overall social-emotional development while engaging children in one-on-one relationship building.
This has also been a great opportunity to learn and engage with like-minded students from the other side of the country who are also committed to transforming and improving education policy."
Priana Aquino '22 Business Administration and Management, 2022 Equity Intern
Image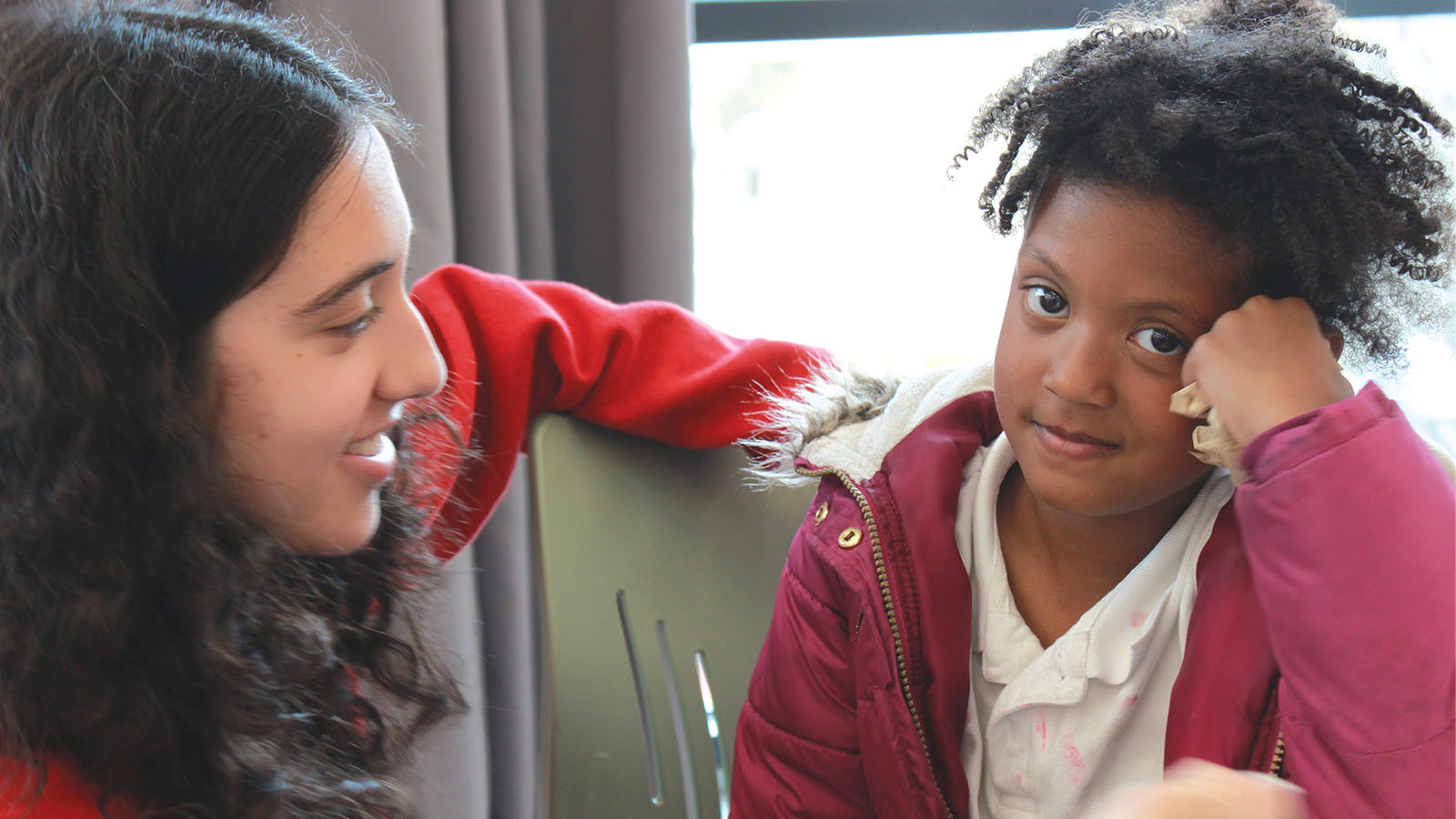 Engage San Francisco
Founded in 2014 as a place-based initiative (PBI),1 Engage San Francisco (ESF) has always held the productive tensions of meeting The Fillmore District's community-identified needs with humility while supporting the mission and vision of USF's teaching and research agenda.
Our work falls within three large, interdisciplinary buckets:
to uplift African American histories and knowledge
to foster learning, college access, and literacy
to build partnership capacity
This past year, we have had new opportunities to realize our vision with faculty, staff, community-based organizations, and community members.
Community Research Collaborative
Rise for Racial Justice from USF's School of Education partnered with the Collective Impact and the McCarthy Center in 2021–2022. Dr. Colette Cann, professor and associate dean in the School of Education, the primary liaison and a co-facilitator for the program, offered to Black San Franciscans increased community capacity to conduct research in and with communities.
Under this initiative, Rise offered three courses to Black San Franciscans interested in learning how to research issues in their communities: 1)race theory and critical terminology; 2) critical race theory; and 3) community activist research. Community participants met weekly for six weeks and completed homework and discussion. The 13 students who created fully developed research proposals will be invited to receive instruction from Rise mentor and USF alum, Dr. Heather Streets this year as they conduct their research.
Changemakers Celebration
In 2022, we celebrated the third anniversary of the publication of Changemakers: Biographies of African Americans Who Made a Difference. The Changemakers book and website showcase 95 African Americans on the five exterior "Inspiration" murals of the Ella Hill Hutch Community Center. Researched, written, and edited by the University's Martin-Baro Scholars and Esther Madriz Diversity Scholars from 2015–2019, the book has been updated and reprinted and is now available in SFUSD classrooms and throughout the San Francisco Public Library system.
Rebuilding and Recentering Engage Literacy
In fall 2021, after a year and a half of working online and sustaining online tutoring during the pandemic, our program and relationships needed attention, connection, and nurturing. A core goal in this past school year was to rebuild our connection to the Western Addition and to each other. By spring 2022, we were officially back working in person, educating the neighborhood's children at all five of our partner sites.
Everything I learned through ESF helped me be a conscientious, selfless, mindful, and reflective member of that community, and working with the kids and the program supervisors made me an overall more compassionate, caring, and involved tutor."
Callie Fausey '22 Media Studies, Engage San Francisco Literacy Tutor
Image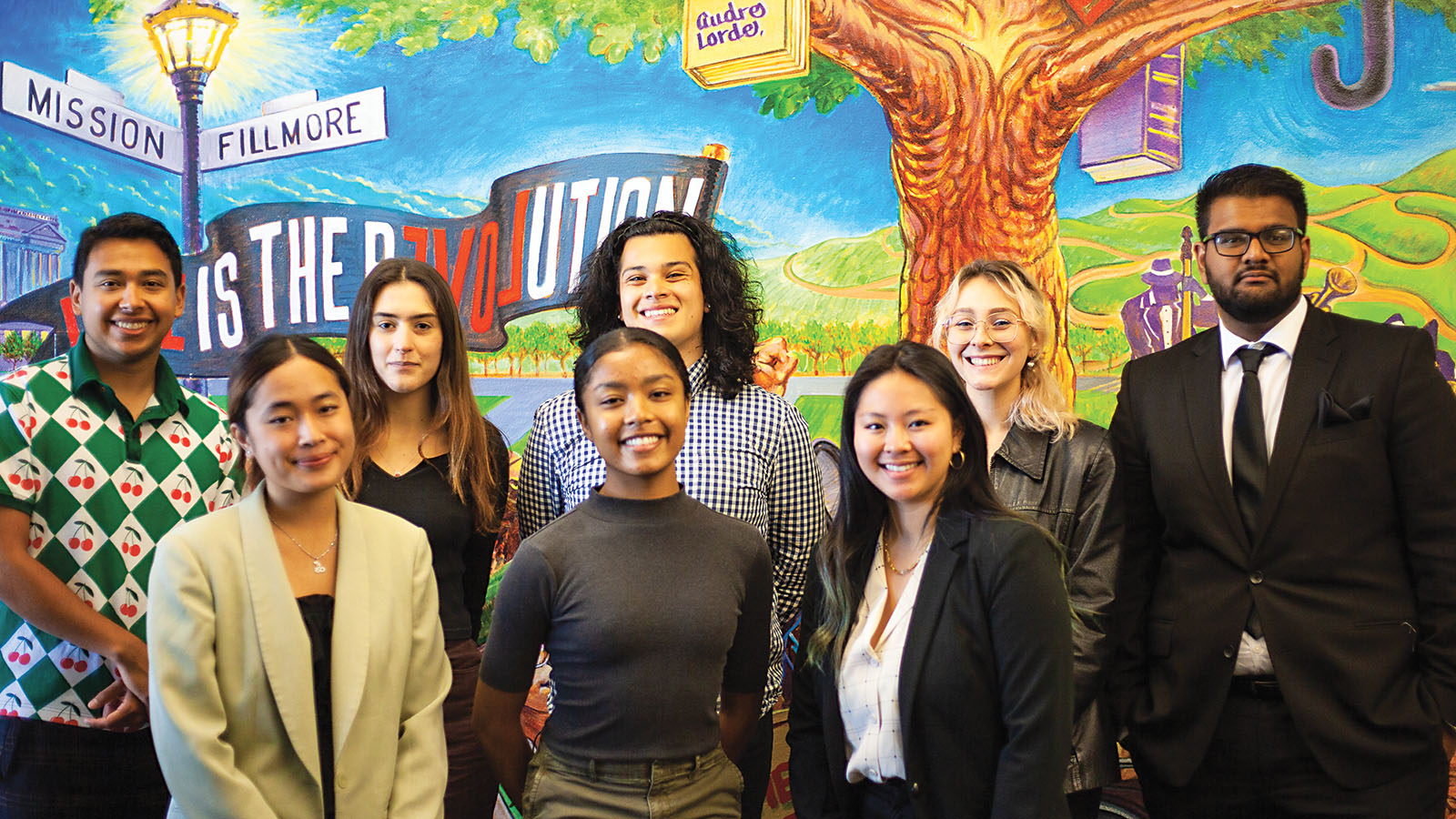 2021-2022 Financials
Revenues
70% Gifts, grants, and contributions
15% Endowment
15% Undergraduate programs
Expenditures
59% McCarthy Center operations
15% Engage San Francisco
11% McCarthy Fellows
13% USF in D.C.
2% Other restricted activity
2021-2022 Annual Impact Report

(Full Edition)
View the full edition of the Leo T. McCarthy Center for Public Service and the Common Good 2021-2022 Annual Impact Report.