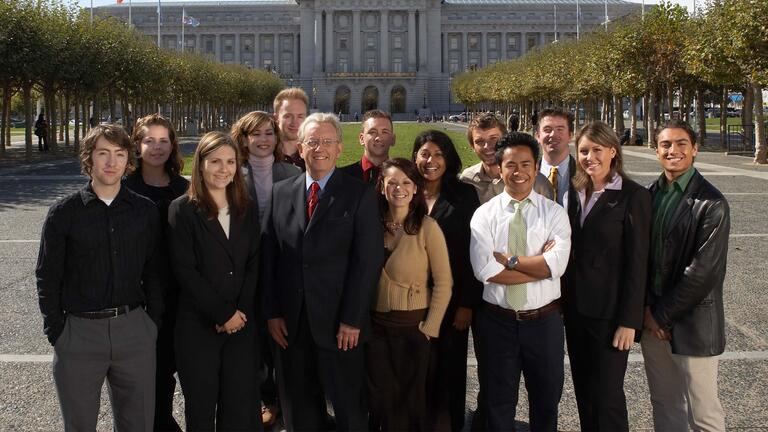 LEO T. MCCARTHY CENTER FOR PUBLIC SERVICE AND THE COMMON GOOD
Our Founder
Leo T. McCarthy
A Great Champion for Justice
1930 – 2007
Leo McCarthy was a statesman, a great champion for justice, a dear friend and a purposeful mentor to me. I am proud to have called Leo friend for more than 30 years. He encouraged me to not only support candidates but to go into politics in my own right."
— Nancy Pelosi, Speaker of the House
Image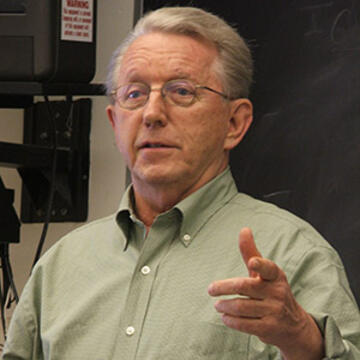 Leo Tarcisius McCarthy was born August 15, 1930, in Auckland, New Zealand. The McCarthys sought a better life in San Francisco in 1933. Leo arrived at Pier 38 in the midst of the depression with his parents, Dan and Nora, and his three older brothers. The McCarthys lived in a flat on 19th Street between Guerrero and Dolores streets in what was then the primarily Irish, blue collar Mission District. Leo slept on a sofa in the dining room until one of his brothers moved out. An immigrant himself, Leo had no sense of entitlement, and worked to give everyone a chance to succeed.
Leo's father opened McCarthy's Big Glass on Mission Street. A mug of beer, a hot dog and a bowl of beans cost 15 cents. Leo spent many hours there among the workingmen, where his father taught him empathy for the less fortunate. From this upbringing, Leo was comfortable and established an easy rapport with all types of Californians. Leo treated all he encountered with equal interest and respect. 
Leo attended St. Ignatius High School and the University of San Francisco (USF), graduating in 1955 with a bachelor's degree in history. While at USF, Leo was an active Democratic campaign worker. "American Irish-Catholics have beliefs in social justice, in the labor movement, in economic justice for people. All that was tempered by the younger Irish with their belief in the rights of minorities sharing in those benefits," Leo said.
Leo registered one new voter, (Lone Mountain college) student Jacqueline Burke, to whom he would be married for fifty-one years, raising two daughters and two sons, Sharon, Conna, Adam and Niall.
In the Korean War, McCarthy served in the intelligence unit of the U.S. Air Force Strategic Air Command, serving stateside, including one assignment as a radio program host at the air base in Lake Charles, Louisiana. Leo developed a powerful speaking style that he employed in service of his progressive politics.
McCarthy ran state senator Eugene McAteer's successful 1958 campaign and was hired as his administrative assistant in Sacramento. At night, McCarthy attended law school in San Francisco — studying on the bus rides back and forth. McCarthy ran for and won a seat on the SF Board of Supervisors in 1963 — at 33 he was the youngest supervisor elected in San Francisco history. Among Leo's contributions was the creation of the city's Human Rights Commission. He was also a key vote in blocking a freeway from running through Golden Gate Park's Panhandle.
After graduating USF, Leo attended San Francisco Night Law School while he worked as an aide to Senator McAteer. Leo was elected to the State Assembly in 1968, and elected Assembly Speaker in June 1974 where he presided with integrity and skill for the next six and a half years. As Speaker, Leo opened up the workings of the legislature so that the public could see who was doing what and thereby created more accountability in the legislative process. Leo reduced the number of committees, provided members with bill analyses for floor sessions and brought more openness to the legislative process.
He led one of the most productive and progressive legislative eras in California history. As speaker, McCarthy carried the 1977 bill to make permanent the sales tax for Bay Area Rapid Transit. Despite his Catholic upbringing, he allowed a Jerry Brown bill decriminalizing homosexuality to move through the lower house. He also refused to allow Central Valley Democrats to side with growers against the creation of the Agricultural Labor Relations Board. He helped save the Coastal Protection Act, which created the Coastal Commission, after a defeat in the Senate. McCarthy took a Senate bill in the Assembly and amended the Coastal Act into it. He carried the bill on the Assembly floor and successfully returned it to the Senate where it narrowly passed. Leo authored a law allowing women to establish credit in their own names. He restored the State Capitol instead of demolishing it for high rise buildings, and worked to open the Democratic Party to empower grassroots activists.
In 1982, Leo was elected Lieutenant Governor, and was re-elected in 1986 and again in 1990. He loved serving the people of California. He revitalized the Lt. Governor's office, and caused landmark reform in California nursing homes, took action to preserve the California coast for future generations, and led the state through the turmoil of the Loma Prieta earthquake as acting Governor. He sponsored the Oil Spill Prevention and Response Act.