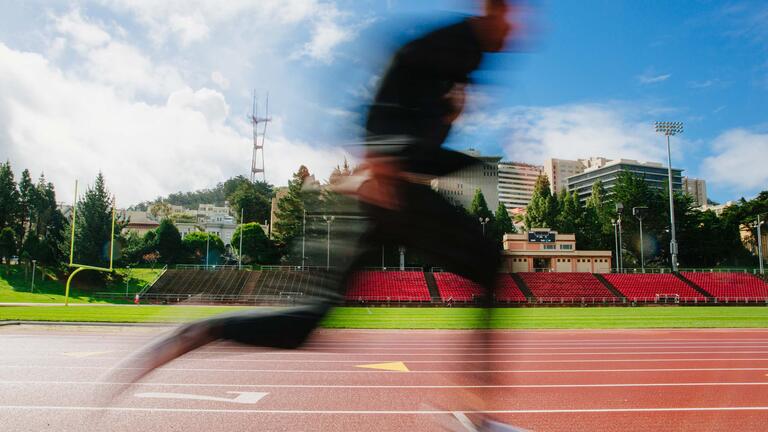 KORET HEALTH & RECREATION CENTER
Cardiovascular Alley
There are two levels of cardio machines that include elliptical machines, treadmills, bikes, and more.
Our mezzanine level offers 35 pieces of state-of-the-art Precor and Stairmaster cardiovascular equipment including 9 treadmills, 10 AMTs, 7 elliptical machines, 4 upright bikes, 3 step mills, and 2 recumbent bikes. This level also features a functional training zone with 3 FreeMotion machines, light dumbbells, 2 rowers and 2 spin bikes. All Precor equipment on this level gives 16 cable TV options on personal viewing screens, as well as iPod and iPhone compatibility to personalize the user's entertainment experience. The mezzanine continues to offer a lounge space featuring a 50" HD plasma screen TV, table tennis, billiards, sun deck, and views of the Koret pool.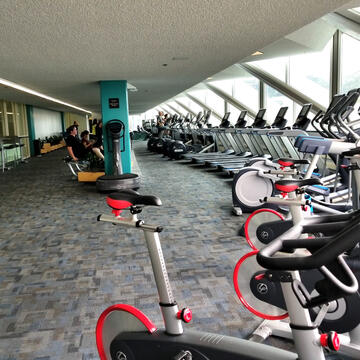 Lower Cardio Alley features 15 elliptical machines (Precor), 10 treadmills (LifeFitness & Woodway), 8 upright bikes (LifeFitness), 4 rowers (Concept 2), 3 recumbent bikes (LifeFitness), 2 adaptive motion trainers (Precor), 2 upper body ergometers, 1 freeclimber (StairMaster), and 1 step mill (StairMaster).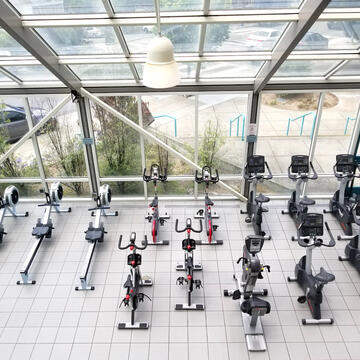 Policies
For your safety and the safety of others, please read the policies for Cardiovascular Alley. Note that policies are subject to change without notice.
No minors (17 years and younger)
No sandals, open-toe shoes, or bare feet
No bags or personal belongings in walkways
No actions that threaten the safety and well-being of yourself or others
No verbal or physical abuse
No outside personal trainers
No sexual harassment or offensive behavior
No talking/texting on cell phones
No food, gum, tobacco products, or glass containers
No videotaping or photos (including selfies)
Koret Health & Recreation Center is not responsible for any lost/stolen items
Always consult a physician before beginning a new workout program
Wear proper workout attire including shorts/pants and closed-toe athletic shoes
Observe all posted signs and equipment warnings
Safe and proper use of equipment required at all times 30 minute time limit (per machine)
Wipe down equipment after use
Report any injuries or incidents to a Koret staff member on duty.