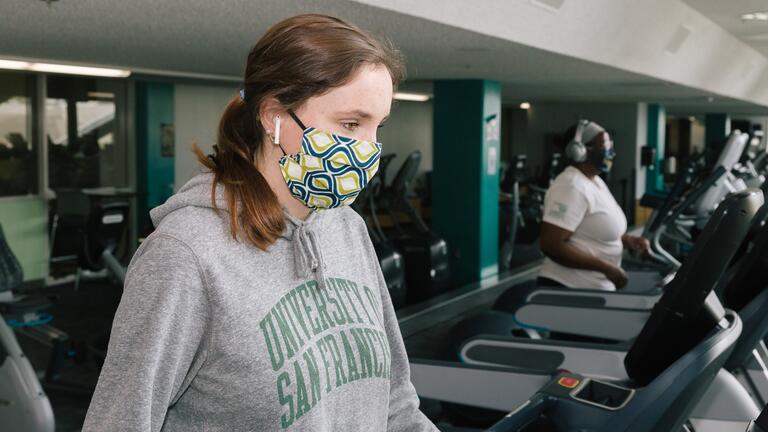 KORET HEALTH & RECREATION CENTER
Personal Training
Meet the Personal Trainers
Deirdre feels that the key to fitness success is consistency and a personal commitment to adhere to a regular exercise program for life. With over ten years of experience as a group exercise instructor, Deirdre strives to educate her clients by demystifying the process of getting in shape in a friendly, non-intimidating manner. Clients will gain tools and practical knowledge while enjoying a complete workout designed just for them. Deirdre will guide clients through customized sessions balancing cardio, strength, endurance and flexibility for all levels, beginner to advanced. Check out her weekly Cardio Kick, Body Sculpting, Spin or Abs & Glutes classes at Koret. (ACSM, Mad Dogg, TRX)

Hanbae graduated with a degree in kinesiology and a minor in athletic coaching. His specialities are Olympic weightlifting and strength training. Hanbae loves any type of lifting such as powerlifting or Olympic weightlifting and has been doing CrossFit for a long time. You can catch him coaching Strength 101 and personal training daily at Koret. 

Ethan is a new personal trainer who is excited to work collaboratively with clients who are both inexperienced gym-goers and advanced fitness enthusiasts. Ethan has been learning more and more about fitness and gym life as an apprentice under the USF Kinesiology mentorship to prepare him for his career in training. Ethan wants to help other clients find the sense of confidence and understanding in their bodies that he has found. Ethan is currently a part of the Spring 2025 Nursing cohort, learning more and more about health promotion and wellness. As a nursing student, Ethan utilizes fitness and exercise as a form of therapeutic care to improve overall strength, health, and wellbeing. Ethan hopes to help many of you reach your fitness and health goals soon! (NASM CPT)

My name is Alex, and I am a recent transfer and third-year kinesiology student at USF. My childhood revolved around sports from soccer and football to swimming and track. It was my happy escape. After high school, I developed a passion for working out, specifically bodybuilding. Four years in I have studied the art of bodybuilding and nutrition to bring my dreams and goals to fruition. I am excited to share all the information I have gathered over the years and lead others to achieve their goals.

Todd will design a comprehensive program to best suit your needs and capabilities. Based on his years of experience, he believes that every client (athlete, senior, teen, soccer mom, everyday Joe) needs to incorporate strength training, cardiovascular work, flexibility training, nutritional guidelines and rest to achieve one's full potential in life and fitness. Todd further believes that a client's input is vital in putting together a balanced program. Todd will motivate you to become your very best by being creative, and intense, while instructing you in your pursuit of health and fitness. (ACSM, AFAA).
Pricing
The following are the rates for personal training. 
USF Students: $40
USF FT Faculty/Staff, Annual Koret Members, Seniors (55 years+): $58
USF PT Faculty/Staff, Rec Pass Holders, Monthly Koret Members, Others: $67
Strength 101
Strength 101 is a small group training class programmed to teach you the basics of strength training and exercise technique. You will be led by a trainer through a 12 week strength program. Learn how to move properly with progressions and modifications for each movement. You will get stronger and you will build foundational knowledge that you can carry over into your own workouts! Open to all levels of fitness. This class does require registration, please email fitness@usfca.edu for more information.
Pricing 
USF Students: $100/semester
USF FT Faculty/Staff, Seniors and Annual Members: $200/semester
Others: $300/semester
This is a 30-minute appointment to educate patrons on the proper use of workout equipment at Koret. Our staff member will demonstrate the proper use of a machine and will help patrons determine the appropriate fit (seat/pads). This session will NOT develop a workout plan but is rather an introduction to our equipment. Follow-up appointments are allowed. This complimentary service is only available to individuals with Koret access (USF students/faculty/staff, Annual Members, Monthly Members, Rec Pass holders).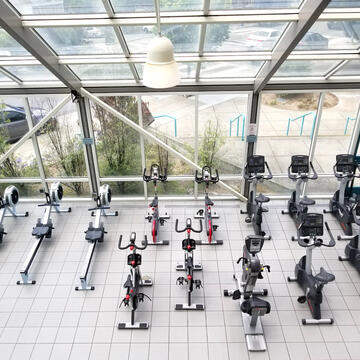 Campus Club and Organization
Workshops
Is your student club or organization interested in free group workshops? Learn more about this offering and reach out to Melissa Valdez.