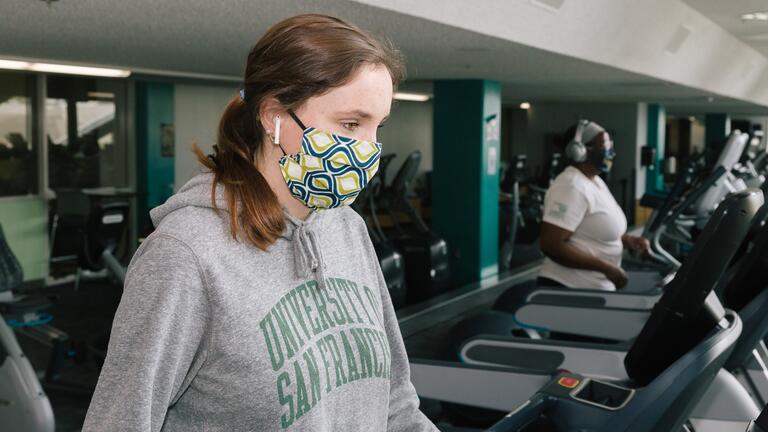 KORET HEALTH & RECREATION CENTER
Personal Training
Meet the Personal Trainers
Deirdre feels that the key to fitness success is consistency and a personal commitment to adhere to a regular exercise program for life. With over ten years of experience as a group exercise instructor, Deirdre strives to educate her clients by demystifying the process of getting in shape in a friendly, non-intimidating manner. Clients will gain tools and practical knowledge while enjoying a complete workout designed just for them. Deirdre will guide clients through customized sessions balancing cardio, strength, endurance and flexibility for all levels, beginner to advanced. Check out her weekly Cardio Kick, Body Sculpting, Spin or Abs & Glutes classes at Koret. (ACSM, Mad Dogg, TRX)

Eva is a certified personal trainer who is extremely passionate about fitness who believes in making exercise a less daunting and a more empowering experience for everyone. Having struggled personally with weight loss and suffered multiple injuries, Eva has gained a unique understanding of anxiety surrounding the gym and can relate to a variety of people with different backgrounds. Throughout her 10+ years of being a multi-sport athlete and 4+ years of experience in fitness, Eva focuses on creating exercise programs that are personalized to her clients' specific needs and lifestyles. Eva can work with clients of all fitness levels and help achieve their fitness goals ranging from weight loss and increase overall fitness all the way to injury prevention and sport specific performance aspirations. Currently a 4th year Kinesiology major pursuing a postgraduate degree in strength and conditioning, she is committed to helping her clients reach their full potential! (NASM CPT)

Dominic believes in a pain-free, movement-based approach to training that treats each client holistically. Having dealt with chronic illness, he has seen that the best type of health care is preventative care.  As a former two-sport athlete, Dominic can assist with beginner training goals to advanced performance training goals and everything in between. Clients will not only understand how to train properly in the gym, but also outside the gym. Furthermore, he believes in educating people on not just how to train, but WHY they are training a specific way. With Dominic's coaching and guidance you will learn how to master your body. (ACE CPT)

Josh is a certified personal trainer who believes that fitness should not only be physically and mentally beneficial, but also an enjoyable outlet for stress relief. Having utilized resistance training as a tool for tackling chronic and acute illness, he is aware of how critical proper programming is for client success. Josh can help clients completely new to exercise feel more comfortable in the gym, as well as advanced clients with more specific training goals achieve performance success. As a senior nursing student with patient experience from a wide array of different populations, Josh seeks to use his knowledge as a trainer and a nurse to help prevent common diseases related to inactivity in his clients and help lead them towards a more active lifestyle. Overall, he believes that exercise should be a fun and enjoyable experience for his clients, and he strives to help people of all ages achieve their fitness goals. (ACE CPT)
Pricing
The following are the rates for personal training. 
USF Students: $40
USF FT Faculty/Staff, Annual Koret Members, Seniors (55 years+): $58
USF PT Faculty/Staff, Rec Pass Holders, Monthly Koret Members, Others: $67
Strength 101
Strength 101 is a small group training class programmed to teach you the basics of strength training and exercise technique. You will be led by a trainer through a 12 week strength program. Learn how to move properly with progressions and modifications for each movement. You will get stronger and you will build foundational knowledge that you can carry over into your own workouts! Open to all levels of fitness. This class does require registration, please email fitness@usfca.edu for more information.
Pricing
USF Students: $75
USF FT Faculty/Staff: $150
Others: $225
This is a 30-minute appointment to educate patrons on the proper use of workout equipment at Koret. Our staff member will demonstrate the proper use of a machine and will help patrons determine the appropriate fit (seat/pads). This session will NOT develop a workout plan but is rather an introduction to our equipment. Follow-up appointments are allowed. This complimentary service is only available to individuals with Koret access (USF students/faculty/staff, Annual Members, Monthly Members, Rec Pass holders).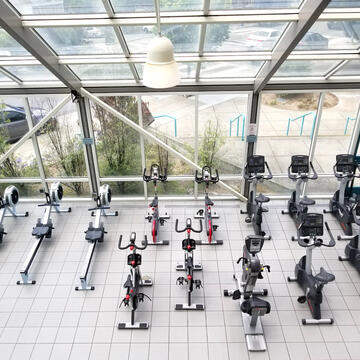 Campus Club and Organization
Workshops
Is your student club or organization interested in free group workshops? Learn more about this offering and reach out to Melissa Valdez.