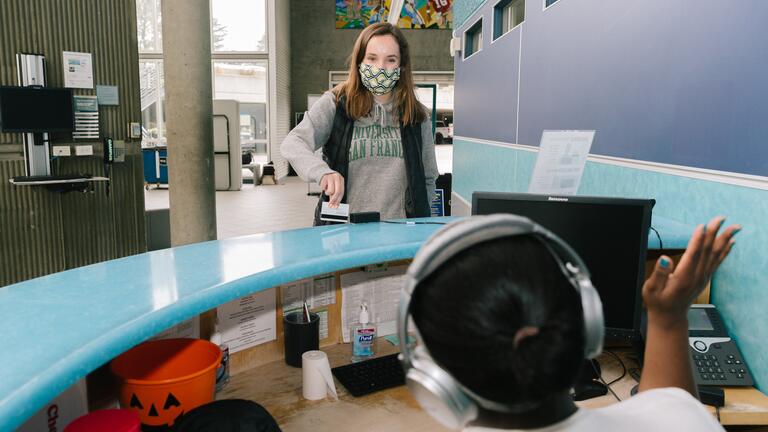 KORET HEALTH & RECREATION CENTER
Membership & Fees
Membership

Sales & Renewals
Most membership/pass sales and renewals will be available online and in person. Current pass/membership holders may login to ActiveNet to renew. New patrons of the Koret Center must create a new account before purchasing. The front desk staff will be able to process most in-person pass/membership sales and renewals. Please contact jtao@usfca.edu if you need additional assistance. 
Should membership fees increase at any time, annual membership rates will be honored until such membership is up for renewal, at which time the new rates will be assessed.
Members
"Members" of the Koret Center are defined as current students taking classes on campus enrolled in matriculating degree programs, faculty/staff, alumni, neighbors, or others affiliated with USF who have a current annual or monthly membership. 
Anyone eligible for, but has not purchased an annual membership, is defined as "member eligible" but must pay non-member rates for programs or services. Annual 15-use pass holders are not considered members. Senior rates apply to anyone 55 or older and are applicable for the 15-use pass and Masters Swim Memberships. Youth rates apply to persons 17 years of age and younger. Children 3 and younger are free. For information regarding eligibility and Koret memberships, please call (415) 422-6821.
All fees must be paid in full at the time of registration. Registration is on a first-come, first-served basis.
Members may use the Koret Center during all open building hours. Non-members participating in programs after 2 p.m. are allowed to enter the building 30 minutes before the program.
Memberships are nontransferable and nonrefundable. Use restrictions and limitations will apply to all memberships to ensure student priority. All patrons are required to create an account, sign a waiver, and comply with all facility policies. 
Cancellation Policies

& Procedures
Please refer to Cancellation Policies and Procedures for questions regarding refunds. Fees are not pro-rated and there are no make-up sessions.