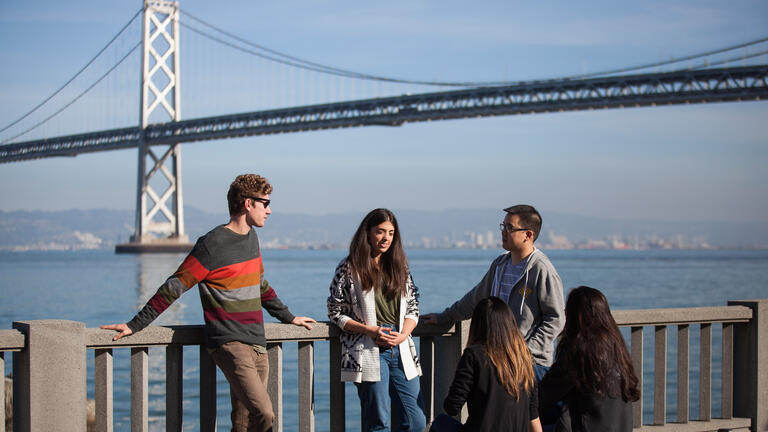 DATA INSTITUTE
Environment & Social Impact
From 2018 to 2020, the Data Institute partnered with the Schmidt Family Foundation (TSFF) to support scientific innovation connected to the advancement of environmental and social justice causes. TSFF is a global leader in supporting the advancement and understanding of how human activity impacts the environment. Our partnership with TSFF allowed the Data Institute to focus its work in the areas of social and economic justice, sustainability, and climate change, which are part of the University of San Francisco's recently-reaffirmed mission.
With a data science approach focused on impact, scalability and open-source, we engage with governmental, civic and nonprofit partners to design data solutions for key environmental and social issues. We are looking for new partners to support our initiatives in this area. Interested organizations should contact datainstitute@usfca.edu.
Four Main Areas of Focus
Food and Agriculture
Human Rights and Justice
Energy and Sustainability
Marine Science and Technology
We work with our partners to advance their mission using data science solutions tailored to their current levels of data sophistication. Our projects cover a wide range of data science skills including consultation, data collection, predictive modeling, and real-time data pipeline processing. This work engages undergraduate and graduate students, postdocs, faculty, and staff from across the university for the betterment of our shared community, humanity, and environment.
Highlights of Some of our Work
Marine Sensor Network
The development of a real-time data processing application to model and serve a variety of marine variables by leveraging a remote-deployed sensor network. This work achieved tidal water level predictions 80% more accurate then the NOAA standard and is now focused on detecting tidal anomalies to protect vulnerable coastal populations from unexpected surges.
Oil and Gas Investigation
The investigation of California's oil and gas industry infrastructure, to examine both the financial and environmental risks to which California taxpayers are exposed. This investigation is focused on potential fraud from large oil and gas companies spinning off collections of liabilities to go bankrupt and become the burden of the state.
Open-Source Investment Tracker
The creation of an open-source, international investment tracker, to follow the money from large corporations and development banks around the world funding projects in developing countries. This tracker makes it easier for non-profit organizations to track and access the impact these projects are having on the local populations. The current work is focused on tracking both development projects and palm oil supply chains.