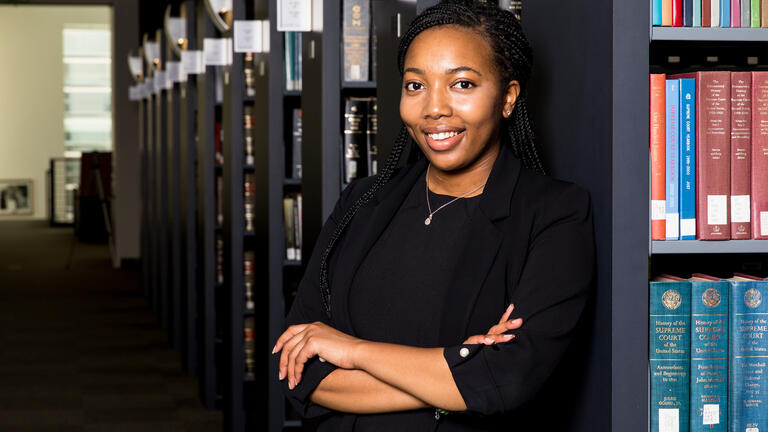 SCHOOL LIFE & CAREERS
Academic Excellence
We take work law and justice seriously, and we take your training seriously. You'll be able to take advantage of the scholarship and teaching of our experienced faculty, who are determined to give you both the building blocks of the broad and vibrant field of work law and the hands-on experience necessary to be immediately effective.
Students conduct their own in-depth research on work law topics, and many publish scholarly articles in law journals, including our own student-run University of San Francisco Law Review.
Core & Supporting Curriculum
Our wide array of course offerings ensure that you'll be able to explore many areas of work law, and find your niche within the field.
Core Courses
Employment Law
Employment Discrimination Law
Labor Law
Upper Level Seminars
ERISA
Supporting Courses
Administrative Law
Alternative Dispute Resolution
Arbitration
Corporations
Entertainment and Media Law
Gender and the Law
Immigration Law
Mediation
Negotiation
Racism and Justice in American Legal History
Sexual Orientation and the Law
Sports Law
Labor & Employment Law Certificate
We're proud to offer a Labor & Employment Law Certificate to indicate your specialization in the field. Certification requirements include specific coursework, scholarly research, and practical application in order to ensure your mastery of and confidence in the subject.
Labor & Employment Law Certificate
Pemberton Lecture
Since 2005, the law school has hosted the Jack Pemberton Lecture on Workplace Justice, which features nationally recognized labor and employment law scholars who explore emerging workplace issues with students, alumni, and advocates.  The event is held at the Ninth Circuit Court of Appeals, and it serves as a reunion and networking opportunity for USF Law labor and employment alumni.  This lecture series was established to honor the late Professor Emeritus John de J. Pemberton, a leading practitioner in the labor and employment field who taught at USF from 1973 to 1986, after serving as the executive director for the American Civil Liberties Union, the acting general counsel for the U.S. Equal Employment Opportunity Commission (EEOC), and the EEOC's regional attorney in San Francisco.
Symposia & Student Scholarship
The University of San Francisco Law Review is a student-run organization that publishes a journal of legal scholarship and hosts the Law Review Symposium. 
Juan C Flores, 12 Months, 12 Weeks, 1250 Hours, 75 Miles, and 50 Employees: Why the Numbers of the FMLA Don't Add up for New Parents of Color, 54 S.F. L. Rev. 313 (2020).
Alexander J. Johnson, Skillcoin: How Blockchain-Based Credentialing Will Help Cure Discriminatory Hiring Practices, 53 S.F. L. Rev. 439 (2019).
David Williams, Major League Baseball's Indentured Class: Why the Major League Baseball Players Association Should Include Minor League Players, 53 S.F. L. Rev. 515 (2019).
Kelcey Phillips, Employees Getting Lost in the Trees: Tameny Claims and the Public Policy Behind Preventing Termination on the Basis of Medical Marijuana Use, 52 S.F. L. Rev. 115 (2018).
Brittany L. Walter, Women in Special Operations Forces: A Battle for Effectiveness Amidst the Pursuit of Equality, 52 S.F. L. Rev. 175 (2018).
Cristal Harris, Dark Innocence: Retraining Police with Mindfulness Practices to Aid in Squelching Implicit Bias, 51 S.F. L. Rev. 103 (2017).
Ryan Blackney, Executive Orders, Title VII & LGBT Employees: Making The Case For Further Unilateral Action, 51 S.F. L. Rev. 313 (2017).
Marina Garcia, Accent Discrimination Towards Bilingual Employees in the Workplace, 51 S.F. L. Rev. 345 (2017).
Honey Campbell, Superior Play, Unequal Pay: U.S. Women's Soccer and the Pursuit for Pay Equity, 51 S.F. L. Rev. 545 (2017).
Tiara Quintana, What's in a "Like"?: The Union Interest in Regulating Social Media Use, 51 S.F. L. Rev. 147 (2017).
Blair A. Copple, Clarifying Constructive Discharge, 50 S.F. L. Rev. 102 (2016).
Rubena Sachdev, How to Protect Pregnancy in the Workplace, 50 S.F. L. Rev. 333 (2016).