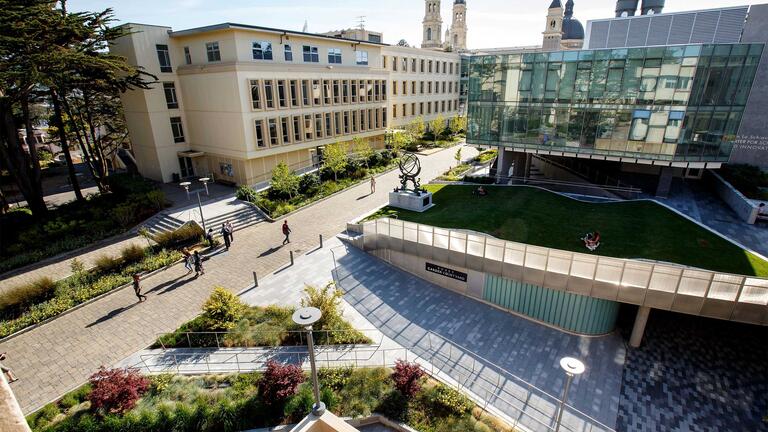 ADMISSIONS & AID
Apply for JD Financial Aid
In order to be considered for financial aid, a law student must enroll in a specific degree program at the university and also complete a Free Application for Federal Student Aid (FAFSA).
Office of Financial Aid
Kendrick Hall, 225
Phone: (415) 422-6210
lawfinaid@usfca.edu
Title IV Code: 001325
FAFSA applications can be obtained online at the FAFSA Homepage beginning in early January. Non-degree seeking students are not eligible for financial aid. New admits and continuing law students currently receiving financial aid must apply every year for financial aid by completing a FAFSA online.
The Title IV code for the USF School of Law is 001325 and must be listed on your FAFSA application. The priority deadline to submit your FAFSA application is February 1 for new admits and March 1 for continuing students. Law students may submit a FAFSA application after these dates, but priority consideration for all federal aid programs, is given to law students who submit a FAFSA application by these respective deadlines. Continuing students interested in receiving Federal Work Study funds are required to submit a FAFSA by March 1 and must note on the FAFSA your interest in Federal Work Study funding. (please note that Federal Work Study funding is not available to new first year students).
USF begins to send award notices to new law students in late March and to continuing law students in early April. Students awarded the Federal Direct Unsubsidized Loan and the Federal Direct Graduate PLUS Loan are required to "accept" this aid online via their myUSF student portal in order to receive this aid. New loan borrowers are also required to complete disbursement requirements associated with this aid.
Please note that the Federal Direct Graduate PLUS Loan is a credit based loan. PLUS loan amounts listed on your financial aid award notice are amounts you are eligible to apply for and "accepting" this aid does not constitute a credit approval. By "accepting" this aid online via your myUSF student portal, you give the USF Financial Aid Office authorization to submit the PLUS loan amount to the Department of Education for a credit review. PLUS loan amounts are sent to DOE for credit review beginning in early June for continuing law students and late June for new admits. If your PLUS Loan amount is credit approved, your USF financial aid record will be updated within one week.
New PLUS Loan borrowers are also required to complete disbursement requirements associated with this aid. More information on PLUS disbursement requirements is available at Federal Student Aid Website.
If a student is offered a scholarship or grant from the Law School, the University Financial Aid Office will automatically list these awards as "offered" and "accepted" on your USF financial aid record.
Financial aid is disbursed once each fall and spring semester in equal distributions. For example, if a student accepts $20,500 in Federal Direct Unsubsidized Loan, one-half of the total award ($10,250 less loan origination fees) will be disbursed in the fall and the other half in the spring.
Financial aid is typically disbursed one week before the start of formal classes. The disbursement date is not the date that students receive funds by check or in their bank account (if signed up for direct deposit). The disbursement date is the earliest date that funds can be sent to the university from lenders on behalf of the students. Financial aid funds are actually received by the student two to 10 business days after the disbursement date, depending on the refund option the student selects.
Standard for Satisfactory Academic (SAP) Progress
The federal government requires each institution to monitor each student's academic progress. To remain eligible for federal and state aid programs, students must meet all the following SAP requirements:
GPA: Beginning the Fall 2018 entering class, a cumulative GPA of 2.30 or higher is required. Students are ineligible to receive aid after two consecutive semesters under 2.30 GPA
Pace: Students must complete 75% of their attempted units. An attempted unit is defined as any registered class that was not dropped before the tuition refund deadline.
Minimum Units: Federal guidelines stipulate that all students must complete a minimum of 6 units each semester for full time status and 3 units each semester for part time status to be eligible for aid. Please be aware that the Law School requires full time students to be enrolled in at least 12 units each semester and part time students to be enrolled in at least 8 units each semester.
Maximum Units: Beginning the Fall 2018, a law student must successfully complete 87 course units, and students at the Law School are only eligible for financial aid for 130 attempted units (150% of required units).