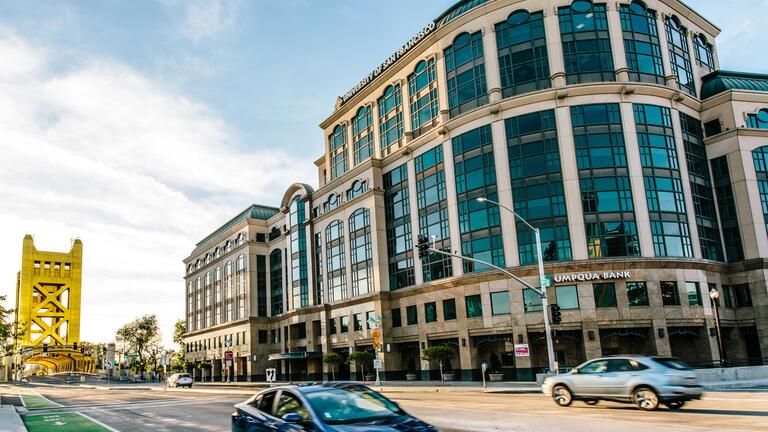 Nursing, BSN, (VA Partnership), USF Sacramento
The Bachelor of Science in Nursing (BSN) prepares students for careers in nursing and qualifies them for continued academic and professional advancement as health professionals. At the Sacramento Campus, the BSN is offered in partnership with the Veteran Affairs Northern California Health Care System.
The more I talked to and worked with the veterans during my education, the more I realized why this program is special. Many of the veterans have such positive spirits, even when they're in the hospital. It's really rewarding to be able to care for, listen to, and talk with the veterans who have served our country. They have been through a lot more than most and have such a different perspective on the world. I'm inspired by this population and eager to use my nursing skills to promote their well-being."
Amy Phan '16
Application Information
Be seeking your first bachelor's degree (students who already have a bachelor's degree should consider applying to USF's Master's Entry - Master of Science in Nursing (ME-MSN) program). However, USF will still consider applicants seeking a second bachelor's degree.
Prerequisites completed or in progress with a grade of B or better and must be recent within the last seven (7) years:

Anatomy with lab*
Physiology with lab*
Microbiology with lab
General or Introductory Psychology*
Introduction to Statistics*
Introduction to Sociology*

Seven (7) or more Core Curriculum classes completed by the time you apply 
Cumulative college GPA of 3.0 or higher
At least 30 semester or 45 quarter units of college coursework
Be in good academic and disciplinary standing

*For the Anatomy and Physiology prerequisites, if your college only offers the courses as a sequence, USF expects that you will have completed the entire two-semester sequence, for example, Anatomy and Physiology I + Anatomy and Physiology II. 

*For the General or Introductory Psychology prerequisite, USF will accept an AP exam score of 4 or higher within the last seven (7) years instead of a graded college course.

*For the Introduction to Statistics and Introduction to Sociology prerequisites, USF will accept a C or better and courses older than seven (7) years.

By the time you apply to USF, you should have these prerequisite courses completed or in progress (i.e., listed as "in progress" on your transcript). If you are admitted while these courses are in progress, your offer of admission is conditional upon completing these courses with a grade of B or better.

Remember, meeting the eligibility requirements does not guarantee your admission; it just makes you eligible for consideration to the program. Visit the "How to Apply" section of this page for more details about the application process.

Fall Applicants
Deadline to apply
March 1
All transcripts must be received by
March 1
Decision notification begins
April 1
Reply/deposit date
within two weeks of offer
All students will receive an update on their admission status in early April. We will continue to make offers to candidates until we have reached our capacity.

 

SPRING Applicants
Deadline to apply
November 1
All transcripts must be received by
November 1
Decision notification begins
December 10
Reply/deposit date
within two weeks of offer
All students will receive an update on their admission status in mid-December. We will continue to make offers to candidates until we have reached our capacity.

When should I expect to hear a decision on my application?
Spring applicants to the Sacramento VANAP program will be notified in early December. Fall Sacramento VANAP applicants will be notified in early April.

I applied in a previous term. What's the process for reapplication?
To re-apply, you will need to submit a new application by the application deadline of your intended entry term. If you have taken additional coursework since last applying, we will need updated unofficial transcripts for those institutions.

Do you require a letter of recommendation?
Letters of recommendation are not accepted.

Do you need the TEAs test?
USF does not require the TEAs test as part of the application process.

How should I send you my transcripts?
At this time we are only requesting unofficial transcripts. If you are accepted into the program, at that time we will request official transcripts. Within the USF transfer application go to institutions attended and select colleges attended. From here you will upload copies of your unofficial transcript.

Do I need to submit my high school transcripts?
No, we just ask that you list your high school in the Institution Attended section.

I can't find the Sacramento nursing program?
Within the application go to program information, select the term you are applying for, click what is your intended major, and select Nursing (Veteran's Affairs Partnership Program Sacramento).

More questions?
Due to the high volume of inquiries we receive for transfer nursing, we highly encourage you to email your specific questions to sacramentocampus@usfca.edu. An admission representative will be in touch as quickly as possible.

Do you offer individual appointments for prospective nursing transfer students?
Yes, you can schedule an appointment with a Sacramento admission advisor by clicking here. Depending on the session, appointments might not be available, so we encourage you to attend a Nursing Information Session!

Do you accept second degree students?
Yes, but priority goes to students seeking their first degree.

Do I have to be a veteran or have military experience to be accepted into the Sacramento Nursing program?
No, we accept students with or without military experience.

If you meet eligibility, you're ready to apply! USF uses a single application for the transfer nursing process. Applicants should follow the steps below:

Submit a transfer student application (select "Undergraduate Transfer" when starting the application) with the non-refundable application fee by the application deadline. We do not accept the Common App for the transfer BSN program.
In the application, select your program: "Nursing (Veterans Affairs Partnership Program Sacramento)"
Thoroughly answer the required personal statement and VANAP essay questions.
Submit separate transcripts from all colleges or universities previously attended, whether course credit was awarded or not.
If you intend to apply for need-based financial aid, you must submit a Free Application for Federal Student Aid (FAFSA).

As a highly selective program, we have far more applicants than spaces available each term, and there's no formula to gaining admission. Here are admission statistics from past years:

Decision Statistics (Sacramento)
Term
Applications
Offered
Admission
Admit
Rate
GPA
Spring 2021
152
27
17.7%
3.63
Fall 2020
142
29
18.4%
3.61
Spring 2020
109
24
19.8%
3.54

Nursing is an intense course of study, requiring heavy focus. While our minimum eligibility GPA is 3.0, we're typically looking for students who have excelled beyond the minimum requirements.

Our ideal candidate will have exceptional academic performance in all of their college courses. Additionally, they will have completed all six prerequisite courses (Anatomy with lab, Physiology with lab, Microbiology with lab, General Psychology, Intro to Statistics, and Intro to Sociology) with the highest possible grade on the first attempt. You are welcome to retake prerequisites for a higher grade, but we will take note of the re-attempts. Applicants are required to earn a grade of B or better in the prerequisite courses to be considered for admission.

Our BSN program is designed for students seeking their first bachelor's degree. If you already have a bachelor's degree and are interested in nursing at USF, you should consider our Master's Entry - Master of Science in Nursing (ME-MSN) program instead.
At USF, I Found
Holistic Care for Veterans
Read about Matt's journey in the Veterans Affairs Nursing Academic Partnership. This nursing program is veteran-centric and focused on people in the military.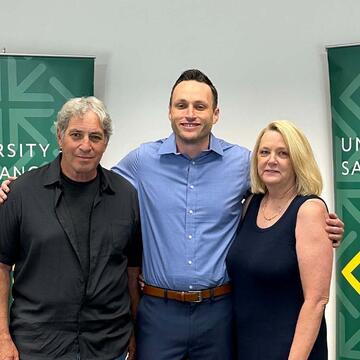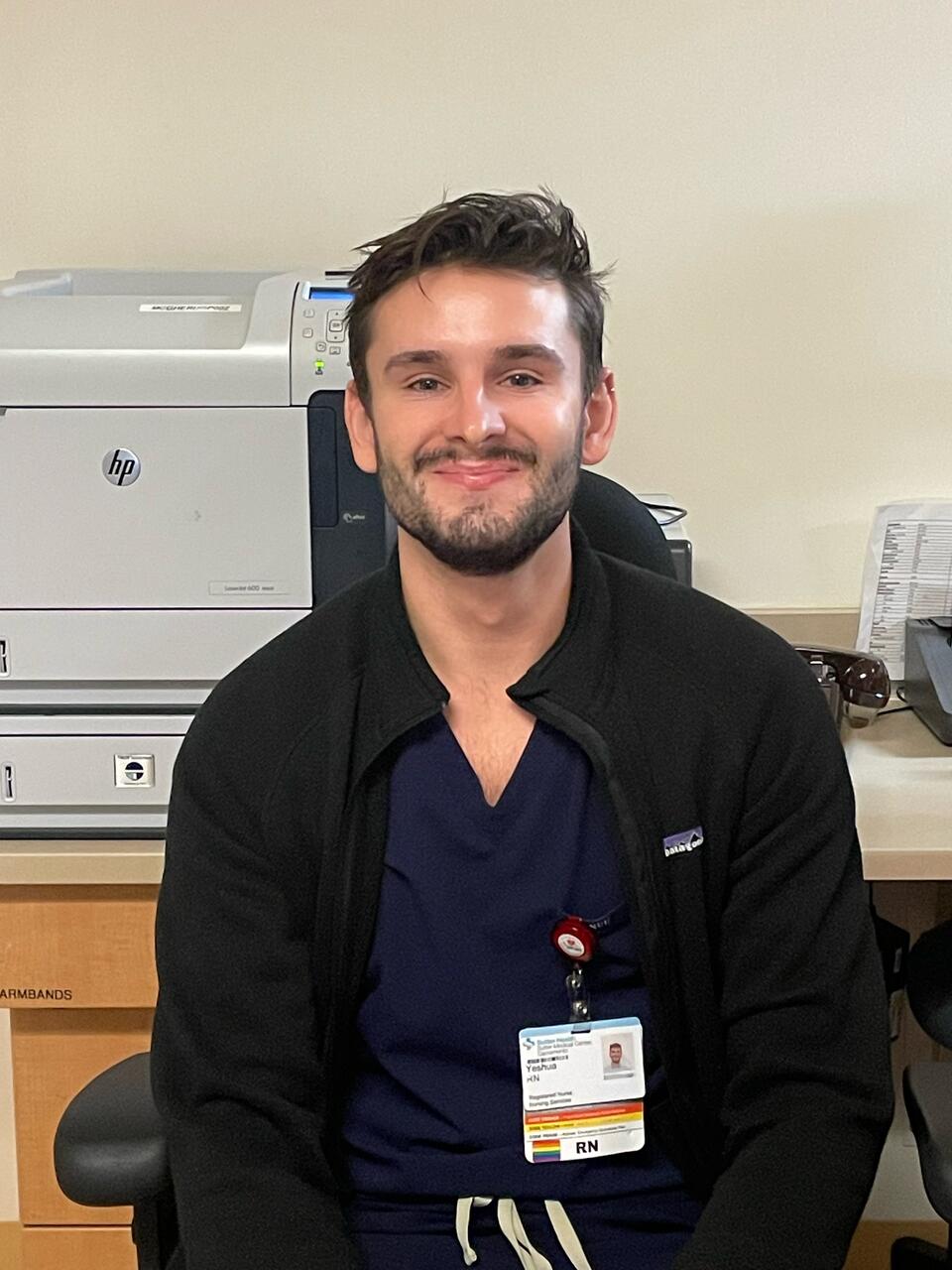 Treat Patients

with Kindness and Understanding
At USF, we often reflected on the meaning of caring for the whole person. Often patients who suffer from chronic diseases also face mental illness. I learned how to address their conditions while providing mental health support and resources."
Key Facts About the VA Partnership
Offered at the USF Sacramento Campus
Clinical rotations focused on care for veterans with clinical placements through the VA Northern California Health Care System. Additional clinical rotations currently held at Shriners Hospital and Mercy San Juan.
Year-round program with nursing courses offered in the fall, spring, and summer terms
Class, simulation, and skills lab are located at the USF Sacramento Campus
Students work with veterans to advance health care and simultaneously embody Jesuit values