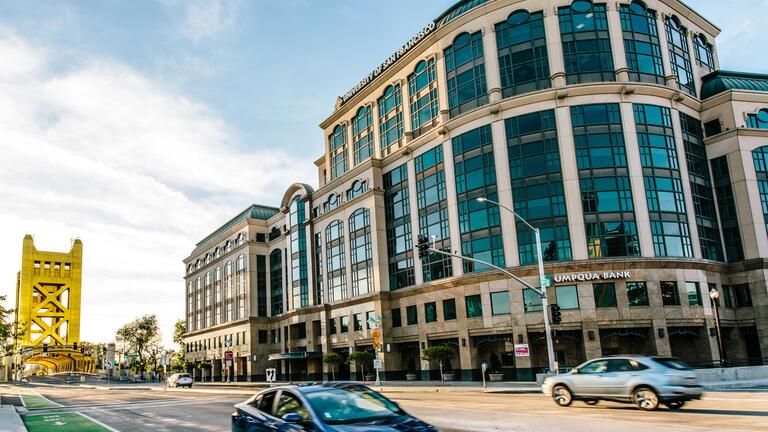 SACRAMENTO CAMPUS
Facilities
Located in the heart of downtown Sacramento, University of San Francisco's Sacramento Campus offers a complete university facility with five academic classrooms, a professional zoom meeting/classroom, a large Collaboration Zone, quiet study room, lounge, faculty offices, and Nursing Simulation Lab.
Hours of Operation
Administrative offices are open from 9 a.m. to 5 p.m. Monday through Friday.
Classrooms
The Sacramento Campus classrooms consist of five classrooms arranged in seminar style to accommodate learning groups as large as 24 students comfortably. A sixth classroom doubles as a high technology Zoom meeting room.
All classrooms are equipped with the latest instructional technology.
Collaboration Zone
The collaboration zone is a large study and lounge area. This space includes two large Apple TVs for group work and presentation sharing, rolling white boards, tables and chairs for studying, couches and large chairs, and charging stations for various electronic devices.
Quiet Study Room
The quiet study room is a small room set-up in a fun and comfortable lounge format. This room allows students to take a break from the larger classrooms or study areas to relax.
Simulation Lab
The on-campus Nursing Simulation lab is filled with state-of-the-art equipment to prepare students for the challenges of a nursing career.
Resources
Computers with standard software are available on the third floor for research, classroom assignments, and online access to USF's Gleeson Library | Geschke Center. Online tutoring services are available in a variety of academic disciplines and special student support is offered through our Career Services Center, Counseling and Psychological Services, and Student Disability Services Office.
Wireless Internet
Wireless Internet access is available from most points on campus.
Student/Faculty/Staff Lounge
Students, faculty, and staff have access to a lounge space on the first floor for eating, food storage, and making coffee or tea. Filtered water stations and vending machines are also available
Photocopier/Printer
A metered multifunction printer/copier/scanner is available in the lounge for student, faculty and staff use.
24/7 Security
The building USF Sacramento is located in offers 24/7 security.