Engaged Learning
I Treat My Patients with Kindness and Understanding
My passion for pursuing the medical industry, which led me into nursing, grew from my father, who suffered from chronic illness.
Image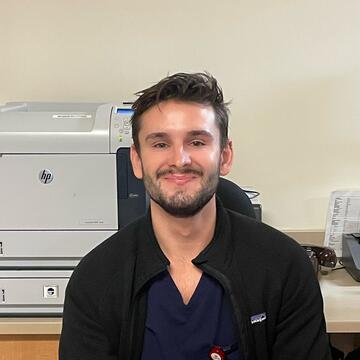 My father could easily get sick, and it was hard to avoid even a cold as a kid. This experience shaped how I perceive illness and healing. My family and I would do anything to prevent him from getting sick.
Later in life, my father was diagnosed with cancer. You can't imagine what this meant for me. I had nursing school obligations and was caring for my father, who was undergoing chemotherapy. Caring for my father shaped how I care for my patients in my practice. As I was completing my BSN my father passed away. It was a very difficult journey, especially as I was trying to graduate; however, I was able to resignify this experience and fuel my hope to be a support for my patients when times are difficult for them and their loved ones.
When I was younger, my goal was to become a doctor, but something was calling for me to give back more to my patients. I wanted to have a closer relationship with my patients than I had seen from doctors. My sister had started medical school and shared her experience. Listening to my inner compass, I decided to choose nursing. I also choose the VANAP program to give back to veterans. My father was a veteran, and he was proud that I was serving them. Later as I started working at Sutter in the ED and began to work with a diverse group of people and patients, I discovered my desire to serve people with different cultural backgrounds.
During my BSN in Sacramento, I made a lot of friends who became a lifelong support group. I loved being in a smaller cohort and creating a family-like dynamic. Friendship was tremendous in nursing school. We all struggled together but overcame the most challenging times with each other's support. Nursing school is not a positive experience for some students, but I will never forget nursing school as some of the most complex and best years of my life. I grew so much; I learned about loss, how to manage my time, acquired lifelong skills, and built self-resilience.
At USF, we often reflected on the meaning of caring for the whole person. Often patients who suffer from chronic diseases also face mental illness. I learned how to address their conditions while providing mental health support and resources. We have many patients that struggle, and as their nurse, I can be a support.
I was raised in a household where finances were tight, and all of my schooling cost was something I had to be able to afford. My father was our head of household and made just enough to pay for bills and his medications. I received the HRSA scholarship at USF, which took this burden off me. I didn't need to take out more loans and was able to afford my education!
Today and every day, I will treat my patients with kindness and understanding. Coming to the ED is scary for the patients and caregivers. I tend to forget about it since I am there every day. However, I know I have had experiences in the ED that scared me and having someone empathetic to relate to and guide the process is something I will pursue.
Nursing is really hard. Not just in academics but in practice. Life will challenge you; however, you know you are a strong person, with the knowledge and skills to do anything and make a difference. I love nursing. You don't have to be a bedside nurse, you can branch out. You can even go into sales, aesthetics, informatics, outpatient, and so much more. Nursing can be a rewarding career. My message to current nursing students and those graduating soon, I say keep true to yourself. Nurses are amazing!