Global Perspective
Students Go Forth and Explore
Immersion programs offer lasting lessons
More than 80 USF students traveled the world in January, visiting Jakarta, Indonesia; the Galápagos Islands and Ecuador; Johannesburg, South Africa; and, U.S. Black heritage sites in Alabama, Louisiana, Mississippi, and Tennessee.
"Immersion programs expand student learning and growth beyond the classroom," said Anastasia Vrachnos, vice provost of global education, immersions, and strategic initiatives. "They have a transformative impact on our students' academic and professional pathways and, as importantly, they help shape who our students want to be in the world, how they engage in their communities, and how they see themselves as people for others."
We asked the students how the experiences changed them. Here are their stories.
Image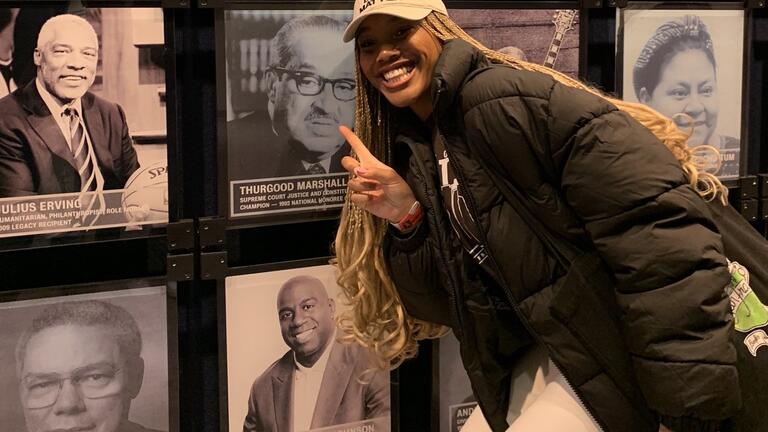 Anneteke Adoga '26
International Business
When I first left for the immersion trip to the American South, I was really nervous because I knew once I went, I would never be the same. The trip was the best decision I could have made for myself in my journey of self-development.
We started in New Orleans and explored the rich history of Black Americans in that city. One of my favorite moments was when we went to Congo square — a spot that used to be one of the largest slave auction sites. Seeing the same trees and walking on the same ground that generations of Black Americans walked on before gave me a new sense of identity. Black Americans have endured so much on this soil and to be able to pay homage to all their struggle while discovering who I am was the biggest gift the Marshall-Riley Living Learning Community and this program could've given me.
If anyone has the chance to take an immersion trip, I highly recommend it because it exposes you to so much life that you would never see if you stayed in your home. I will think about this experience for the rest of my life, and any time I need to feel strong I can draw on the strength of my ancestors and their accomplishments.
Image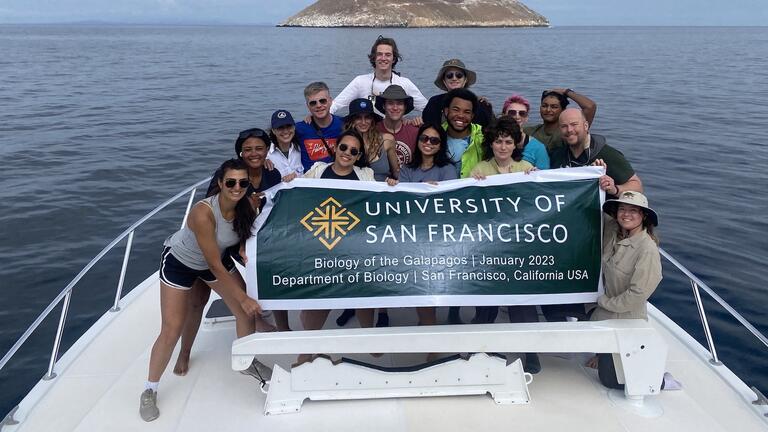 Aliyah Davis '23
Biology
My experience in the Galápagos Islands in Ecuador is something I will carry with me for a lifetime. No words or pictures can fully capture the beauty the Galápagos holds and the value this trip has for my heart. As a biology major, I was grateful that we would have the opportunity to experience such a life-changing event. Due to our heavy course load, this is usually an unavailable opportunity, so I knew I had to take it.
Before this, I had never really left the state, let alone the country, so this was a completely new experience for me. Once I arrived in Ecuador, I was immediately starstruck. To be present in a place where Charles Darwin researched evolution was surreal. The number of biological concepts I could apply on this trip elevated the coursework I have been taking at USF these past four years, making me appreciate everything even more.
My favorite part about this trip overall was the bonding that took place. I never thought two weeks in a foreign country with strangers would turn into my family by the end. This experience is something that I will hold with me forever, and I am so grateful for Professor James Sikes, Professor Sevan Suni, and my classmates — and that I was able to delve into this new world together with them.
Image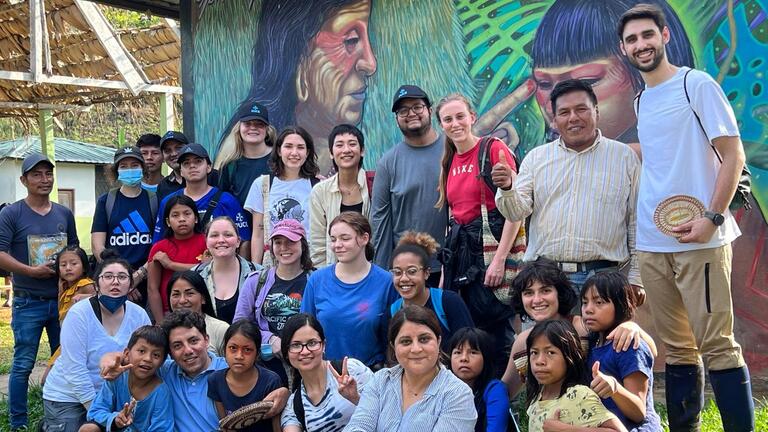 Siobhán Larkin '24
International Studies
The Ecuador Laudato Sí immersion was a very impactful experience for our group and gave us the opportunity to be in a completely different environment that felt very energizing for all of us. We were able to spend time in Quito learning from university leaders about the reality of the Waorani Indigenous community in the Amazon, and then traveled deep into the Amazon to stay at a station with close connection to the Waorani people. We spent a lot of time learning about the relations between the oil company and the Waorani local people, exploring the rivers and forest areas, and even visiting the Waorani community.
Many of us were struck with great admiration and awe of the knowledge and beauty shared by the cultural practices and resiliency of the community, and we are developing new frames of understanding development and interpersonal relationships beyond capitalist, exploitative standards. We, as people living in the United States, hold great responsibility over the neglect and exploitation that has been repeatedly shown to Indigenous tribes in the Amazon, and we must ask ourselves the difficult questions to understand our positioning in that relationship and how we can care for and support the empowerment and delivery of basic needs to those communities.
Our group is still reflecting on these questions and the many ways in which we were impacted by the trip, and I feel very grateful to the University Ministry and all of those who helped organize this trip so that we could be exposed to the beautiful communities that we met during our immersion. 
Image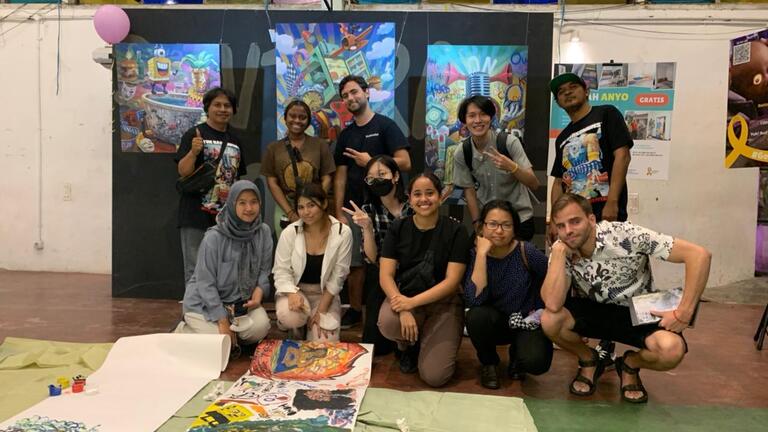 Merhawit Mehzun '23, MA '24
International Studies
This past winter break I got the opportunity to travel with the Master's in International Studies program to Jakarta, Indonesia, for a skills class called Urbanization and Globalization. Professor John Zarobell and Professor Adrienne Johnson were the professors for the course, and we also had lectures from professors at the University of Tarumanagara (UNTAR). This trip provided the perfect opportunity for me to use what I have learned in both international studies (my major) and architecture (my minor).
The program was in coordination with the urban planning and architecture department of the UNTAR, so we got to work with students in those programs to come up with policy proposals for the city based on our trips and research. We visited and learned about kampongs (informal settlements), government-controlled cultural districts, national housing, and private developments. The most memorable experience for me was visiting Kampong Dadap in northern Jakarta. We got to ride in the fishermen's boats and talk to the people about their experience with developers and the government in the struggle to try to keep their homes.
At the end of the immersion, we presented our policy proposals on our allocated area and got feedback from professional urban planners, professors, and others. It was one of the most impactful experiences of my life and it showed me how relevant my interdisciplinary studies are.
Image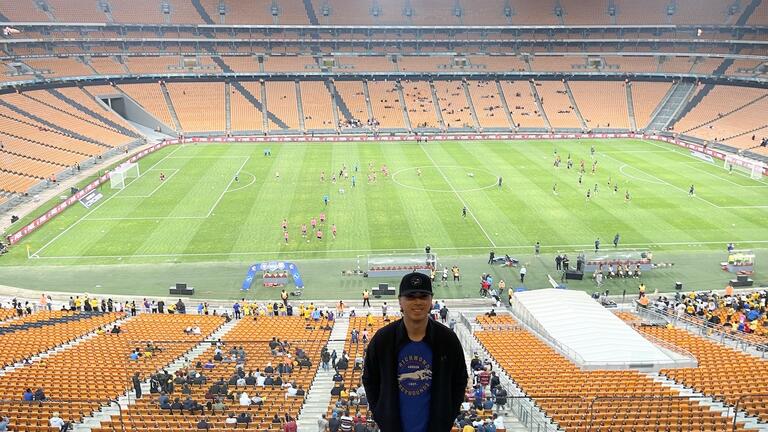 Jonathan Stolan MS '23
Sport Management
When people ask me about South Africa, I have no idea where to begin. I could talk about the Apartheid Museum, soccer in the World Cup Final venue of FNB Stadium, or even the safari where I got to pet a giraffe and watch lions eat slabs of meat. While those were amazing experiences, I instead choose to focus on events with the community such the NBA Africa clinic in Soweto and visiting the people of Alexandra before donating baseball equipment to the kids. It made me shift my focus about what I complain about in my day-to-day life in the United States and how fortunate a life I have even during my hardest times.
I went to South Africa looking to travel abroad and earn units toward my sport management graduate degree. I instead found that I learned so much more about life outside of the context of my degree in ways I could never recreate here at home in the U.S. If any future USF sport management student is on the fence about going to South Africa, I cannot say it any clearer: do it. We have some fantastic professors in this program, but I can say for certain you will not learn anything in the classroom that will be as powerful and meaningful as being on the ground for this course. While the international flight is expensive and time-consuming, I can say I have no regrets and this course was the highlight of my time in USF sport management.