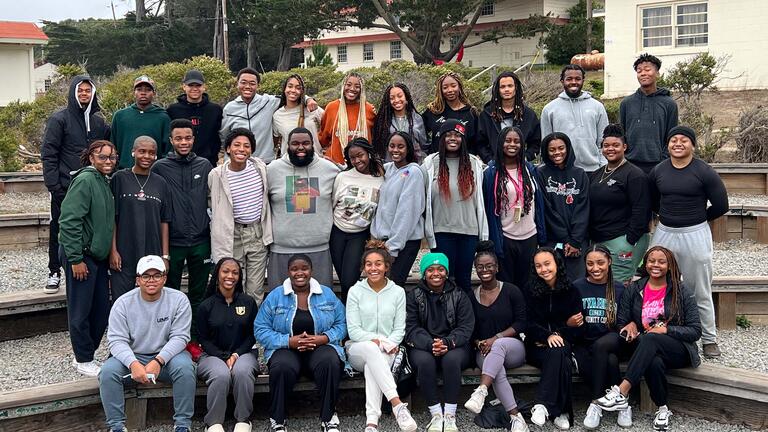 Marshall-Riley Living Learning Community
The Marshall-Riley Living-Learning Community (MRLLC) allows first-year and sophomore students to live together on campus; share an interest in the historical, intellectual, and political traditions of Black Americans, and engage with the Bay Area Black community through service-learning classes.
Throughout the year, students will take courses and participate in programs that examine the construction of race and racial identity, as well as the history, politics, art, experiences and intellectual traditions of Black artists, intellectuals, activists and communities.  Along the way, students will explore the diverse meanings of "blackness," the struggles of often-marginalized groups to build healthy and just communities, and how to work effectively with local African American community groups in the Western Addition to document these struggles and preserve their history.
The Marshall-Riley Living Learning Community is a component of the Black Achievement Success and Engagement (BASE) program.
CORE Requirements Fulfilled
Cultural Diversity (CD)
Service Learning (SL)
Successful applicants will live in the designated space in Toler Residence Hall. All community members are required to enroll in one required African American Studies course each fall and spring semester.
This learning community is a collaborative effort between the African American Studies Program, the Leo T. McCarthy Center for Public Service and the Common Good, and SHARE.
Required Courses
Fall Semester
(4 credits)

Through an exploration of culturally significant Black literary, academic and creative works, this course will provide an introduction to the multiple and often conflicting definitions of "blackness" that have been articulated by authors, activists and visionaries throughout U.S. history.  By beginning in the antebellum era (1815-1860), the course will locate "blackness" (and whiteness) in the midst of chattel slavery before moving on, chronologically, to trace the ways in which "blackness" has been redefined over time in relation to shifting political, social, economic, and cultural forces and events.  Importantly, while we will consider how blackness has been historically defined by outsiders in lectures, our readings will largely focus on how African Americans confronted those definitions and refashioned "blackness" to suit their own purposes.  Indeed, as we will see, African Americans often articulated their racial identities in multiple and often conflicting ways and thus, we will explore how those varied articulations intersected with other aspects of their identities, such as gender, class, religion and sexuality. Ultimately, we will aim to discover how these varied articulations of blackness have given shape to equally varied expressions of black life, culture and political activism in U.S. history.

Finally, although this class is organized according to a historical framework, it relies upon an interdisciplinary analytical approach because a range of academics from different fields, along with creative writers, public intellectuals, activists, artists and musicians, have long participated in a shared debate about the meaning of "blackness." To this end, throughout the semester, faculty members from Politics, Sociology, Psychology, English, Education, Critical Diversity Studies and Philosophy will offer guest lectures in order to expound on the meanings of blackness and the significance of the readings and activists under scrutiny.
Spring Semester
(4 credits)

The concept of community, one of the core ideas in social thought, conjures up many different images: towns and residential neighborhoods (the Fillmore, the Mission); work groups, professions and academic disciplines (the student community, the medical community); major social institutions (the university, the church); racial and ethnic groups (African Americans, Latinx); and other interest groups (environmentalists, activists).  We will explore the some of the ways the phenomenon of community has been studied, explained, and address such questions as: What do we actually mean when we use the term "community"? What are the conditions under which communities arise and flourish? What impact does community (or the lack of it) have on the lives of individuals and groups? Is that impact positive or negative, healthy or confining?

This course will pay particular attention to the struggles of often-marginalized groups to build healthy and just communities. Coursework will include contemporary and historical case studies, literary depictions, and more theoretical readings, as well as a substantial commitment to the development and fulfillment of projects that assess or respond to contemporary concerns. Specifically, the course will explore how students can work effectively with community groups to document their local history.   We will think carefully about how history can be relevant for grassroots community groups.   The class will work on a historical research project along with community members throughout the semester.
Director & Faculty
Marshall-Riley Living-Learning Community (MRLLC) Directors
Stephanie Sears, Ph.D.
Co-Director, Marshall-Riley Learning-Living Community
Associate Professor, Sociology
Aja Holmes, Ph.D.
Co-Director, Marshall-Riley Learning-Living Community
Assistant Dean of Students and Director of Community Living