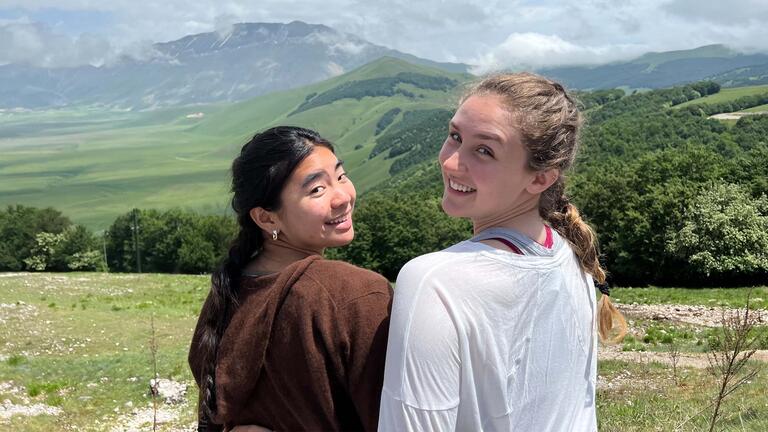 International Studies, BA
Opening the door to a global future
A degree in international studies opens the door to professional opportunities around the globe. Where will it take you? Some options include: government service, education, business, media and communications, environmental sustainability, law, consulting, and development.
A selection of interdisciplinary courses will provide you with a broad understanding of globalization, the role of international institutions, the complexity of conflicts, and global economic issues. You'll choose from one of five tracks to specialize in a specific topic.
I was also attracted to the interdisciplinary nature of the program. This allowed me the flexibility to tailor my class schedule to my specific interests of politics, development, and migration. Other students in my cohort chose to pursue different major tracks such as climate change and environmental studies, but our inherently curious, outward looking view that brought us together."
Paige Isaacson '14
Internship Opportunities
Our internship course is open to sophomores, juniors, and seniors. Students can gain real-wold experience with a wide variety of Bay Area nonprofits and government organizations committed to international engagement and activism, including: La Raza Centro Legal, American Friends Service Committee (AFSC), and Asia Society. 
Peer Advising Program
Student leaders advise fellow international studies students and organize events to engage with faculty, discuss important international issues, and foster a stronger community. Some past events include "Refugee Resettlement in Northern California", "The Middle Eastern Refugee Crisis: Personal Experience From an LGTBQ Perspective", and "March for Our Lives — Poster Making and Letter Writing", an event urging gun reform.
International Studies (4+1), BA/MA
Interested in getting a masters degree? The dual degree (4+1) BA/MA program will save you both time and tuition by allowing you to earn a bachelor's and master's degree in only five years. You can start taking courses toward your master's in your junior or senior year and earn a master's degree.
International Studies, BA
Claudine Bibeau Parks, Program Assistant
2130 Fulton St.
San Francisco, CA 94118
Support

International Studies