U.S. News Again Ranks USF Among Top Graduate Schools
High marks for management, nursing and health professions, law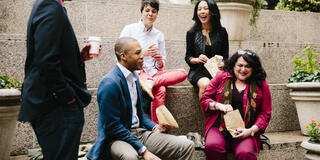 USF graduate programs remain among the best in the nation, according to new rankings from U.S. News & World Report.
In the 2022 U.S. News Best Graduate Schools rankings published today, USF's full-time MBA program cracked the list for the first time, with a rank of 87th. Also, three USF MBA specialty programs — marketing, entrepreneurship, and business analytics — made the rankings.
A few other highlights:
"While it's impossible to quantify the full value of a USF education with its intangibles such as service and compassion and care for the whole person, we appreciate that U.S. News appreciates USF," said Tyrone H. Cannon, interim provost and vice president of academic affairs.