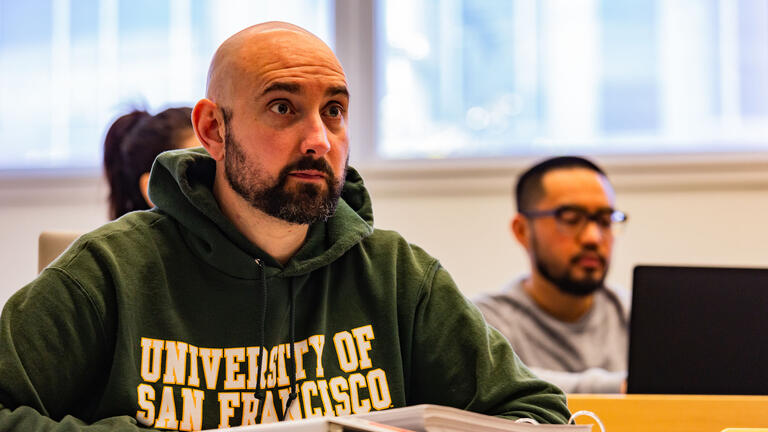 Environmental Management, MS/MBA
Masagung Graduate School of Management
The MS in Environmental Management / MBA program is designed to prepare you for leadership in the fast-growing environmental marketplace. Awarded by the USF College of Arts and Sciences and the USF School of Management, the Environmental Management (MSEM) / MBA program provides a cost and time savings of up to 12 units. 
Application Requirements
Separate admission to each school is required.
Students may begin either program first or begin the programs concurrently.
Essay. In your application essay (Statement of Purpose) to both programs, please address your interest in pursuing the dual degree.
Online application
Resume
Interview
Unofficial copies of transcripts
Minimum cumulative GPA of 3.0 in the MSEM program
Students applying to the MBA program first or applying to the Environmental Management and MBA programs concurrently (to begin in the same semester) please refer to MBA Admission for complete application requirements.
What is the format?
Environmental Management / MBA students complete the MBA program in either a Full-Time MBA format or Part-Time MBA format. Six units of MBA electives are waived for students in either program.  
What is the cost for the dual degree program? 
The Environmental Management / Part-Time MBA is a 58-unit program. Students in the Environmental Management / Full-Time MBA complete an additional eight units (66 units in total), selecting one of the Career Accelerator Platforms (CAP) during the first year of MBA coursework. University policy requires that all dual degree students pay the tuition rate of the program they started first throughout their dual degree coursework.
I am currently in the Environmental Management program and have the letters of recommendation waived, but references are required in the online application. What do I do
Please register the following email addresses as "references" in order to submit the application: mba@usfca.edu, management@usfca.edu.
Why should I pursue the Environmental Management / MBA dual degree?
Graduates of the MSEM/MBA dual degree program have a solid background in environmental management and business. The program integrates environmental strategy, sustainability, and business management to cultivate the next generation of business leaders and environmental managers. The graduates go on to careers in consulting, government agencies, the non-profit sector, as well as the industry
Will I be able to request CPT or OPT? Is the Environmental Management / MBA dual degree program a STEM degree?
Environmental Management / MBA dual degree qualifies as a STEM degree. Eligible international students may apply for CPT (Curricular Practical Training) during the academic year for their practicum assignment. International graduates typically apply for OPT (Optional Practical Training) after they graduate. Please direct all further questions regarding CPT, OPT, or STEM to the School of Management Admission Office.
Program Overview
School of Management Graduate Admission
101 Howard Street, Suite 500
San Francisco, CA 94105
Hours
Monday–Friday
9 a.m–5 p.m.