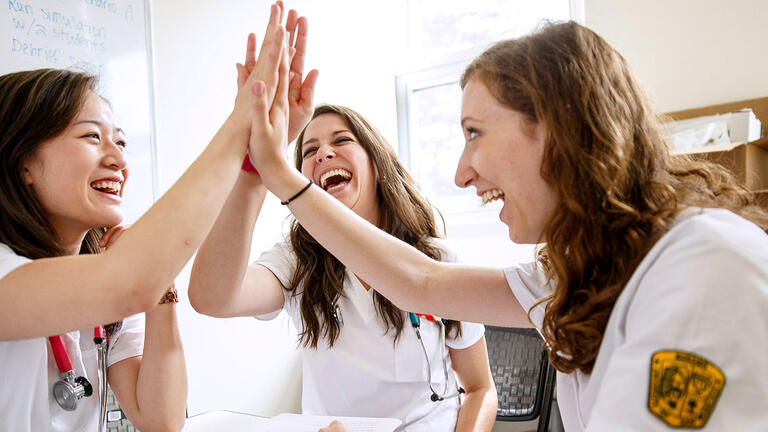 SCHOOL OF NURSING AND HEALTH PROFESSIONS
Graduate Programs
Combining competitive academics with real-world clinical practice, our programs offer you a number of paths to an advanced degree in the nursing and health professions. The rising need for health care professionals has created unprecedented opportunities for generalists with advanced education. But for us it's more than just meeting a demand.
Since opening our doors as the first private nursing school in California, we've committed all of our resources to ensure USF graduate students leave our campus prepared not only for successful health care careers, but equipped to improve the lives of their patients and peers. Students in our graduate programs have the opportunity to gain clinical practice in more than 200 of the Bay Area's top health care organizations: John Muir Medical Center, Kaiser Permanente, Stanford University Medical Center, San Francisco General Hospital, UCSF Medical Center, the Alameda County Public Health Department, and the San Francisco Department of Public Health.
Master's Programs
Learn to lead and succeed in the many fields and specializations in our rapidly evolving health care industry, including health care administration and management, nurse leader roles, health care informatics, teaching, and many more. Our campuses in San Francisco, Sacramento, and Orange County give you a rich variety of professional and personal opportunities to thrive and make an impact.
Doctoral Programs
Our Doctor of Nursing Practice (DNP) and Doctor of Psychology (PsyD) programs draw on the values of our Jesuit mission. State-of the-art facilities, full-time Fulbright Scholars, and more than 200 Bay Area health care institutions give you every opportunity to advance your career.
Non-Degree Programs and Certificates
Pursue professional training and complement your existing skills without committing to a full master's or bachelor's degree.