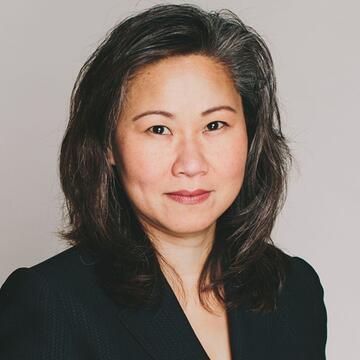 Doris Cheng
Adjunct Professor and Co-Director, Intensive Advocacy Program
Academic Director
Part-Time Faculty
Biography
Doris Cheng is a shareholder at Walkup, Melodia, Kelly & Schoenberger and co-director of USF School of Law's Intensive Advocacy Program. As the current president of the Bar Association of San Francisco, she is focused on bringing more women into trial law.
Cheng has been ranked as one of the top 50 women lawyers in Northern California. She is listed among the Best Lawyers of America, Super Lawyers, and San Francisco Best Lawyers. Specializing in complex injuries caused by third-party negligence, Cheng has obtained multi-million dollar settlements and verdicts on behalf of disabled citizens throughout California. 
A frequent guest lecturer and adjunct professor, Cheng has trained lawyers and judges nationally and internationally. As part of the Rule of Law Initiative, she has had the privilege of training trial lawyers and judges in Mexico, Kosovo, and Macedonia. She has also collaborated and trained with civil practitioners in Singapore and Belfast. This past year, she led trial skills training for criminal prosecution offices in Glasgow, Scotland, and multiple Caribbean countries.
She is also the program director of the National Institute for Trial Advocacy's Western Region Advocacy Teacher Training Program. In 2012, she was awarded the Robert E. Keeton Award for outstanding service by the National Institute for Trial Advocacy. She is the 2015 recipient of the University of San Francisco Professional Achievement Award.
Cheng is involved in local bar associations and community organizations. In addition to currently leading the Bar Association of San Francisco, she was a former secretary& of that organization and immediate past president of the San Francisco Trial Lawyers Association. She is a former chair of the Civility Matters! Program and current national representative for the American Board of Trial Advocates' San Francisco chapter. She is a member of the American College of Trial Lawyers. She serves on the Kaiser arbitration oversight board and USF School of Law's Board of Counselors.
She is a co-author of the eminent Rutter Group California Practice Guide on Personal Injury, and the trial practice guide, Mastering the Mechanics of Civil Jury Trials.
Education
JD, University of San Francisco
BA, University of California, Davis