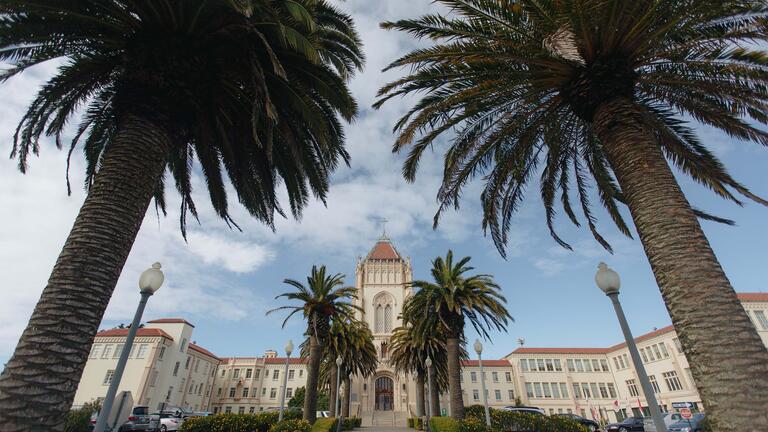 FIRST-YEAR STUDENTS
What We Look For
What does it mean to
be a Don?
Although there is no precise formula for the ideal application, here's our best advice for when you're ready to apply:
Ultimately, we want your application to showcase how you took advantage of the opportunities available to you, who you are in your community, and how you've grown from the choices you've made. We know that may seem like a lot to ask, but it's intentional. USF students are out to change the world from here, and it starts with knowing who you are and what you stand for.
Test Optional
We do not require students to submit standardized test scores when applying for undergraduate admission. Read more about our test optional policy.
Academic Requirements
A strong academic record of college prep courses shows us that you're motivated and that you care to put forth your best work. To be considered for admission, first-year applicants should have taken:
ENGLISH: 4 years
MATHEMATICS: 3 years

Engineering applicants are required to have completed precalculus

SOCIAL SCIENCES: 3 years
LAB SCIENCES: 2 years

Nursing applicants are required to have completed chemistry prior to applying for admission.
Biology or Physics (Only one of these courses needs to be completed. It will not increase your chances of being admitted if you have completed both.)

FOREIGN LANGUAGE: 2 years
Extracurricular Activities
Tell us how you're involved in your community. Remember, "community" doesn't have to mean your physical town or neighborhood. It can also mean the people you identify with, or groups (formal or informal) you've become a part of throughout your life. When you think about "making the world a better place," what does that mean to you, and what is your role in it?
Describe what you do outside of academics. We want to learn how you will contribute to our Jesuit mission of social responsibility and being people for others. We encourage you to focus on a few activities that you care deeply about, or activities where you've grown and learned the most. This can certainly include pursuits that you do on your own — painting, poetry, writing music — so don't forget to include those if they are important to you. Some students have deep involvement with only one or two extracurricular activities, and that's fine. Don't feel pressured to include activities to fill space or make your list longer.
If your responsibilities outside of school included commitments to your family (like taking care of a sibling or relative) or work (such as a part-time job), please do also include those in your application. These are important aspects of your story, and we'd like to know about them.
Letter of Recommendation
A letter of recommendation is not required for admission. You may still submit one if you'd like, but we will consider all applications with or without a letter of recommendation equally.
Short Answer Question
In addition to your personal statement, we'll look at your response to our short answer question. This response should be distinct from your Common Application essay. Please don't cut and paste an excerpt from your main essay as your response to our short answer question.
How do you see yourself becoming a part of our Jesuit mission? This is your opportunity to speak to us in your own voice and share details that grades and scores cannot. Most important, try your hardest to be your true self. The best responses are genuine and idiosyncratic, telling us a story only you can tell.
A Note About COVID-19
We recognize that students around the world have experienced many challenges and uncertainties. More than anything, we want you to know that we care about you, and we understand the obstacles you may have faced. Your application to USF will not be penalized because of a change of extracurricular commitments, your school's decisions about classes or grades, the lack of access to AP or IB tests, the inability to visit campus, or any other changes that were caused by the pandemic.
In your application, we encourage you to mention anything else that may have shaped your experience (e.g. lack of access to the internet, no quiet place to study, family responsibilities, etc.). As we're reviewing your application, including the elements above, these details will help us understand how you've navigated this difficult time.
Office of Undergraduate Admission
Lone Mountain Main 251
2800 Turk Street
San Francisco, CA 94118
Hours
Monday - Friday:
8:30 a.m. - 5 p.m.
Fax (415) 422-2217