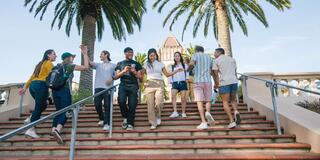 Apply Yourself to Changing the World
Our application is free — and fast. Your education? World class.
It takes less than five minutes to apply for fall 2024. Fill out the application below with your basic information and you'll get an email with next steps. You'll also be automatically considered for merit scholarships up to $29,000/year.
What you'll get at USF:
Our prime location, career-connected classes, and deeply diverse community create graduates equipped and inspired to succeed in the world — and improve it for others.
Job-ready skills: 81% of our undergrads land at least two internships while they're here. We'll help connect you to the wealth of companies that call San Francisco home.
A clear path to a degree: 93% of undergrads who attend full-time each semester graduate in four years. Our faculty will know and support you.
An SF adventure: 220 parks and green spaces. 36 neighborhoods. The best burrito in America. Enough culture, cuisine, and character to last you four years (and beyond).
Let's do this: