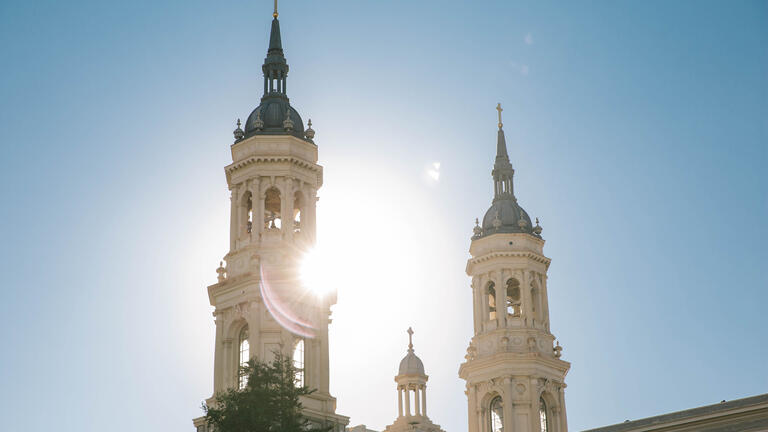 ADMISSION TEAM
Admission Counselors
We want to get to know you well and help you envision your future as a Don. We're here for you from start to finish, so reach out, ask questions, and let us know how we can support you!
Domestic Admission Counselors
---
Alejandro Wences | awences2@usfca.edu
California (Central Valley, Greater Imperial Valley), Canada (Vancouver), Oregon, Washington
---
Alexander Torres | atorres44@usfca.edu
California (Marin County, San Jose), Indiana, Iowa, Kansas, Michigan, Minnesota, Nebraska, Ohio, Wisconsin
---
Alyssa Yee | amyee3@usfca.edu
California (San Mateo County)
---
April Crabtree | acrabtree@usfca.edu
American Samoa, Federated States of Micronesia, Guam, Hawaii
---
Arny Valdivieso-Martinez | avaldiviesomartinez@usfca.edu
California (Alameda County), Connecticut, Maine, Massachusetts, New Hampshire, Rhode Island, Vermont
---
Candice Adams | cadams7@usfca.edu
Alabama, Arkansas, Caribbean, Central America, Florida, Georgia, Kentucky, Louisiana, Mississippi, North Carolina, South Carolina, Tennessee
---
Hervey Malone II | hmaloneii@usfca.edu
California (Anaheim, San Diego)
---
Jonathan Rice | jfrice@usfca.edu
California (San Francisco), District of Columbia, Maryland, Virginia
---
Justin Nkemere | jnkemere@usfca.edu
California (San Fernando, Los Angeles)
---
Milford Miles | mbmiles@usfca.edu
California (Central Coast, Santa Barbara, West Ventura), Delaware, New Jersey, New York, Pennsylvania, West Virginia
---
Sergio Maravilla | smaravilla@usfca.edu
Alaska, Arizona, California (Far North, Sacramento), Colorado, Idaho, Montana, Nevada, New Mexico, North Dakota, South Dakota, Utah, Wyoming
---
Stephanie Ortiz-Garcia | sortiz@usfca.edu
California (Santa Clara), Mexico, Oklahoma, Panama, Puerto Rico, Texas, Virgin Islands
---
Rebecca Williams | rwilliams7@usfca.edu
Canada (Toronto), Illinois
---
 
International Admission Counselors
---
Eileen Chen | eileenchen@usfca.edu
Afghanistan, Azerbaijan, China, Georgia, Iran, Iraq, Kazakhstan, Kyrgyzstan, Mongolia, Russia, Syria, Tajikistan, Turkmenistan, Turkey, Uzbekistan
---
Jason Opdyke | opdyke@usfca.edu
Africa, Middle East, South America
---
Krittaya Pitchitnapakul | krittaya@usfca.edu
Australia, Bangladesh, Bhutan, Cambodia, Indonesia, Laos, Malaysia, Myanmar, Nepal, New Zealand, Pakistan, Philippines, Singapore, Sri Lanka, Taiwan, Thailand, Timor-Leste, Vietnam
---
Nicole Buenzli | nbuenzli@usfca.edu
Europe, Hong Kong, India, Japan, Macau SAR, South Korea, Taiwan, Vietnam
---
Pranav Pradhan | ppradhan2@usfca.edu
India, Middle East
---
Office of Undergraduate Admission
Lone Mountain Main 251
2800 Turk Street
San Francisco, CA 94118
Hours
Monday - Friday:
8:30 a.m. - 5 p.m.
Fax (415) 422-2217