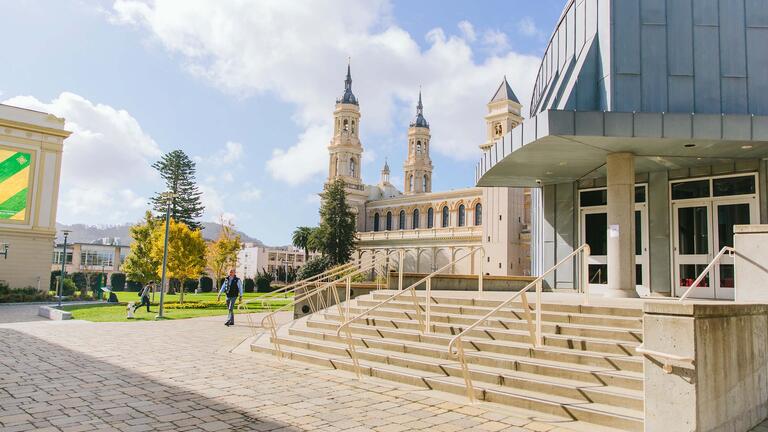 INTERNATIONAL STUDENTS
International Cost of Attendance & Scholarships
There are additional financial requirements for international students. Make sure you know what to include in your application.
Estimated Cost of Attendance
The estimated cost of attendance includes tuition and fees, housing and meals, health insurance, books, travel, and personal expenses. Learn more about undergraduate cost of attendance.
Certification of Finances
If you're intending to study on an F-1 or J-1 visa, you will be required to complete a USF Certification of Finances that shows your ability to pay for your first year at USF. Once you have applied to USF, please log in to your Dons Status Page to complete the USF Certification of Finances form and your supporting financial documents. Documents must be dated within 12 months from the program's start date and English translations must be provided if the documents are not issued in English.
Bank statement(s) must show money held in checking, savings, certificates of deposit, or money market accounts.
Stock/investment/retirement accounts, lines of credit, and income/tax statements cannot be accepted as proof of available funding.
Scholarships provided by your government or other agencies can be used for the Certification of Finances. Please include a scholarship document or letter provided by the government or agency.
If you are intending to study at USF on a different visa (e.g. E-2, H-4, R-2, etc.), please email a copy of your visa to appservices@usfca.edu instead of completing this form.
The 2022–2023 cost of attendance is $80,975, and the required amount increases slightly every year. Applicants with a strong academic profile may receive merit scholarships ranging up to $29,000 USD (first-year students) or $16,000 (transfer students) annually. Your USF Certification of Finances must show proof of funding to support your cost of attendance.
International Student Scholarships
When you apply to USF, you will be automatically considered for merit scholarships based on your GPA, English proficiency, and SAT/ACT scores, if provided. Unfortunately, USF does not offer full-tuition merit scholarships for international students, and international students are not eligible to apply for financial aid.
Maximum merit scholarship amounts for undergraduates:
First-year students: Up to $29,000 per year
Transfer students: Up to $16,000 per year
Financial Aid for U.S. Citizens and Permanent Residents
If you are a U.S. citizen or permanent resident, you are eligible to apply for financial aid.
Institute of International Education Scholarship Directory
Funding for US Study Online is a database of scholarships, fellowships, and grants organized by the Institute of International Education (IIE).
Lone Mountain Main 251
2800 Turk Street
San Francisco, CA 94118
Hours
Monday - Friday:
8:30 a.m. - 5 p.m.