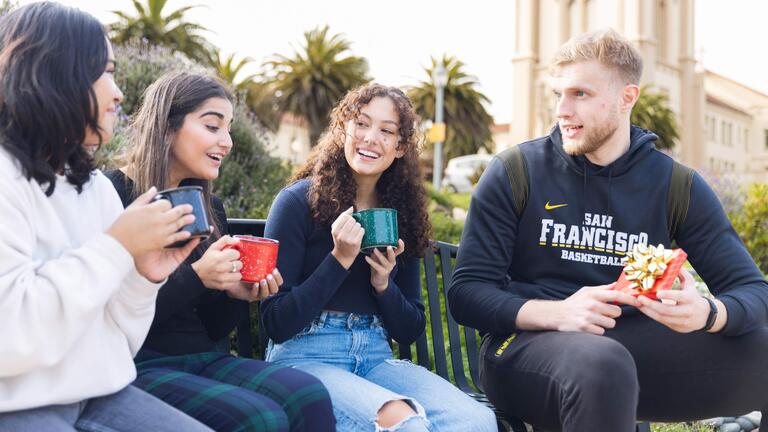 FIRST-YEAR STUDENTS
Test Optional
Test Scores are not Required
USF does not require students to submit standardized test scores when applying for undergraduate admission.
We took this step because we strongly believe it is the right thing to do. Caring for and appreciating the whole person ('cura personalis') is an essential part of our mission as a Jesuit institution. We know that you're more than your test scores.
If you feel that your test scores represent your academic accomplishments and potential, feel free to submit them. Otherwise, you can choose to leave them out of your application, and our admission team won't see them in your application. You will not be penalized if you don't submit your scores, and you will be considered for admission and merit scholarships just the same as students who do submit scores.
How to Apply Test Optional
When you apply to USF, you will see a question that asks if you'd like to have your test scores considered for admission and scholarship purposes. Here, you'll have the choice to select yes or no. Please note that if you choose not to submit standardized test scores, our admission team will place more weight on your short answer question and academic profile.
Scholarships
If you choose to omit test scores from your application, you will still be eligible for merit-based scholarships. Your application will not be penalized, and it will be considered on the same grounds as students who do submit test scores. We only recommend submitting test scores if your score exceeds the average of our fall class profile.
Frequently Asked Questions
Students applying for undergraduate admission to USF may choose to omit their standardized test scores. Exceptions include:

International students must demonstrate English language proficiency by submitting an official TOEFL, IELTS, or Duolingo score, or by meeting one of the waiver requirements listed on our English Language Proficiency page.

For students applying to the fall 2024 or spring 2024 term, you'll be allowed to change your mind even after you've submitted your application. If you are applying Early Action, you must submit your request here by November 15, 2023. For students applying Regular Decision, you must submit your request here by February 9, 2024.

If you feel that your test scores are an accurate portrayal of your academic ability, feel free to include your test scores in your application. If you feel that your academic ability is better demonstrated with your academic history in high school than with your test scores, you can consider applying test optional. We also recommend looking at our fall student profile for guidance on whether to submit test scores.

Yes. When you submit your Common Application to USF, there will be a space for you to indicate that you'd like to apply without submitting your test scores. Even if your testing agency or high school has submitted your test scores to USF, our admission team will not see your scores when they are reviewing your application.

Our admission team will continue to consider your academic achievement, your unique talents, your leadership and service activities, your optional letter(s) of recommendation, and any other information you choose to submit in your application.
Office of Undergraduate Admission
Lone Mountain Main 251
2800 Turk Street
San Francisco, CA 94118
Hours
Monday - Friday:
8:30 a.m. - 5 p.m.
Fax (415) 422-2217