Passion for Justice
St. Thomas More Society Honors Matthew Graham '80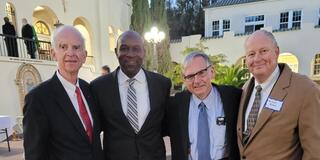 Matthew Graham '80 received the St. Thomas More Award on Oct. 6. Presented annually by the St. Thomas More Society to an individual who practices service and sacrifice in the pursuit of justice, Graham was recognized for his decades of service as a lawyer and for his significant charitable work.
A double Don and San Francisco native, Graham earned his B.A. from USF in 1977 and a J.D. in 1980. He also attended St. Ignatius Prep and St. Michael's Catholic School, the latter with fellow USF Law classmate Justice Martin Jenkins '80.
Graham began his legal career as primary outside counsel for one of the largest general contractors in the U.S. and currently serves as an attorney with Wendel Rosen in the firm's construction litigation group. He is a past president of the St. Thomas More Society of San Francisco, a member of the Alameda County Bar, and previously served on the board of Rebuilding Together Oakland, a leading nonprofit working to revitalize communities.
Past St. Thomas More Award winners include fellow alumni Justice Ming Chin '67 (retired) and Justice Martin J. Jenkins, and former USF Law dean, the Hon. Jeffrey Brand.
Mike Boland (pictured, at right) met Graham in 1973 during their freshman year at USF, and they went on to attend law school together. Boland said "Despite the fact that he is quite smart, he was humble and approachable at all times. While a practicing lawyer, he has participated in many programs to help the homeless including food drives, building and repair of residences, and offering help in many other ways. In short, changing the world from his person."
Boland added, "It is a pleasure and privilege to know him and call him a friend."