Global Perspective
Graduate Students Listen and Learn in Cambodia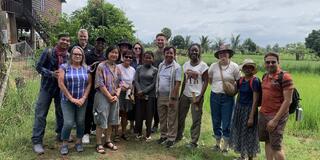 Seven USF graduate students from different programs traveled to Cambodia for two weeks this summer to learn how climate change affects the economy and culture of Cambodia.
It was the first immersion for the McGrath Graduate Fellows, a program that develops leaders who serve the common good.
"My real hope is that the students are thinking about questions around education, ecology and justice and at the same time working on the degree program each of them is in," said Michael Duffy EdD '05, director of USF's McGrath Institute for Jesuit Catholic Education. He hopes they will take the lessons learned in the immersion with them. "And where do they go from there?"
 Here, six of the graduate students shared written reflections on their experiences.
Chaitanya Pasupala MS '24, Applied Economics: I grew up in India, a developing country like Cambodia, and so was not expecting to experience anything novel during the immersion. But I couldn't have been more wrong.
I met Ben Davis and Sharyn Patricia Lwin, a couple who left their comfortable lives to settle down in a remote forest, away from all society, fending off bullets from poachers and loggers, all for the love of forests. I met Sister Denise, who, for over three decades, had been fighting for the cause of those affected by the landmines and created what she called 'a place where wounded hearts and bodies needed healing and hope.' And along the way, I met scores of Cambodians — teachers, farmers, entrepreneurs, tourist guides, shopkeepers, and students — who, despite the hardship of scarcity, were cheerfully disposed and wished us well with all their hearts.
Since the immersion, I feel humbled and deeply appreciative of what I have. I now seem to know where I need to head.
Alfred "Mandla" Mdluli EdD '24, Organization and Leadership:
The Cambodian immersion transformed my learning perspectives, contextual understanding of culture, and appreciation of resilience. It was not merely an exploration of a country but a deep dive into a world rich with history, religion, human connections, and struggles of climate change.
My curiosity was illuminated by the bustling ancient temples, fishing villages, deforestation projects, farmers markets, community agricultural projects led by women, and the role of the Jesuit Refugee Services. The integration of the Ignatian pedagogy paradigm shaped my strategic thinking in tackling social and climate justice challenges. I was inspired by Cambodian individuals and organizations uplifting marginalized communities through collaboration and compassion. 
Omelia Tennant MA '23, Educational Technology:
The international immersion in Cambodia has been profoundly transformative. The experience allowed me to witness the cultural heritage and resilience of the Cambodian people, which has deepened my empathy, understanding, and cultural awareness. Engaging with their history and current challenges has broadened my perspective on how interconnected the world is. My time in Cambodia has fostered personal growth, adaptability, patience, and a connectedness that resonates with the place I call home. Cambodia has not only enriched my knowledge but has also strengthened my dedication to making positive social impact.
Lalini Ranaraja MA '24, International Studies:
My time as a McGrath graduate fellow reaffirmed that every encounter we have with new people and places has something to teach us. Our time in Cambodia offered me the chance to have a truly diverse range of conversations — with a fellow scholar while waiting for a plane, with a gender justice activist on an early-morning van ride, with a conservationist family in the jungle — and I remain in awe of the knowledge and time they freely shared. In the same vein, visiting sacred sites so intertwined with Cambodian daily life, such as the Angkor Wat and Sambor Prei Kuk temples, has given me new appreciation for the struggle to protect Indigenous lands in states like California. 
Shari Sanders JD '24, Animal Law:
Before we [were] introduced to Cambodia by our hosts and teachers, I said that I think change happens when someone who needs a helping hand finds one. I think now that we need each other's help because in order to make change, we have to make room. Room on the shelf for books not yet written. Space in the story for histories not yet told. It's impossible to do that when the only story you know is your own. Each day of the immersion, one fellow served as an observer and guided a reflection at the day's end. Hearing [Cambodians'] stories during the day and then different fellows' experiences … made so much room.
Suzanne Tay-Kelley MFA '23, Writing:
In addition to precious friendships and fresh appreciation for Khmer history/culture, the immersion was transformative in challenging my perspectives through novel lenses.  I was moved by the vision, courage, selflessness, and joy of angels devoted to stewardship of nature and humanity we met, from a conservationist risking his life to protect a perilously endangered ecosystem, to Sister Denise's loving teachings with Jesuit Refugee Service, to our generous Khmer Rouge genocide survivor-guide, to Xavier School's faculty's dedication.
Bob Just, program director of the Change the World From Here Institute, said future cohorts of McGrath graduate fellows also will go to Cambodia — to strengthen the relationships that were established this time and to continue the study of the impacts of climate change. "Our work is just getting started."