Global Perspective
SONHP Students Take Their Case to Capitol Hill
They advocate for nursing education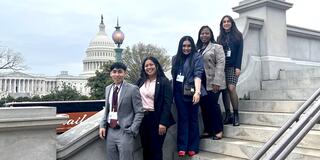 Five USF students traveled to Washington, D.C., last month with Dean Eileen Fry-Bowers of the School of Nursing and Health Professions to visit with federal policymakers and attend the American Association of Colleges of Nursing annual meeting. Here is what they learned.
Lydia Agacanian MSN '23
"Engaging in the full scope of practice" is a phrase we use often in the master's in nursing program at USF. Looking around the filled conference room at AACN's Student Policy Summit, that is exactly what I saw — nurses and nursing students who were determined to practice to their full scope, this time entering the realm of advocacy and health care policy. We learned how to effectively advocate for funding for nursing education, workforce development, research, and student loan support — all of which can better support nurses, and in turn, our patients. I am immensely grateful to have had this opportunity.
Sunshine Joyce Alba Batasin BSN '23
The opportunity to represent our university in Washington, D.C. alongside Dean Eileen Fry-Bowers and my peers was an incredible and eye-opening opportunity that demonstrated the breadth of the nursing profession and its expansive, multifaceted role in all aspects of health care — including health care policy. Listening to national nurse leaders, meeting nursing students from all across the country, and advocating for our education left me feeling inspired. From the bedside to the boardrooms, it is clear that there are many ways nurses continuously use their unique experience and perspectives to advocate for both our patients and our profession.
Trineca Godfrey MPH '19, MSN '23
The 2023 AACN Policy Summit allowed me to advocate for my current educational experience, future financial stability, and future job security through Title VIII, Support Higher Education Policy, and FAAN Act funding. These policies will provide diverse staffing and increased nursing instructors, enriching nursing education with enhanced cultural understanding. Ultimately, student retention and academic performance will be positively impacted.
As a nursing student, I find policy can be an intimidating realm to approach. At the AACN Policy Summit, I learned that as a student nurse, I already have the skills necessary to create policy-level change. Negotiating policy change is no different than educating a patient on a medication or procedure. As nurses we see what organizations are lacking and how it affects our patients' health. Advocacy is at the core of nursing. However, advocacy should not end at the bedside. We must make our voices heard. I am truly honored to have attended the 2023 AACN.
Matthew Nguyen BSN '23, MSN '24
Nursing is a highly trusted profession and it is a cause that, surprisingly, both political parties can support. The most important thing that I learned was that all of our experiences are important, and the first step to making a change is to share them. Even as student nurses, we have a platform and voice for changing policies to improve the health and wellbeing of the people of this country. Even if you think that you cannot invoke change on the federal level, policies can be changed in the boardrooms of the hospital or your local city council.
Yliza Kimozave Ortiz BSN '23
I gained a deeper perspective of our value as nurses. This inspires me to do more and be more.  
This experience has shown me how impactful my voice could be. By amplifying the importance of funding for nursing on a federal level, I was able to advocate for those who are in a field they love. I could have also made it possible for someone to pursue their dream of becoming a healer, and most importantly, I was speaking up for our patients, a nurse's first priority. 
In the words of Rear Admiral Aisha Mix: "Nursing is the heartbeat. Everybody needs it."