Campus Life
Families Come to Campus, Celebrate USF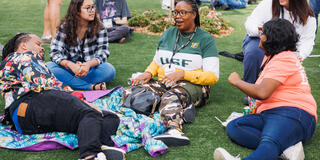 At the CelebrateUSF weekend on Oct. 20–22, students, families, and alumni gathered on the Hilltop for tours, lectures, food, music, and fun. 
"I came to support my daughter and see how wonderful the school is. It brings me inner peace knowing that she is well taken care of," said Anabel Basulto, mother of Isabella Castrezana '27, a communication studies major. 
At the food and music festival on Saturday afternoon, attendees enjoyed food and drink from local businesses run by USF alumni — Boudin, La Colombe, Hometown Creamery, Original Joe's, and Organic Coup — and music by the '80s cover band Tainted Love.
"Any opportunity to spend time with my son is always exciting and also everyone is so nice and it's a really nice campus," said Otashe Golden, mother of Christian Faison '27.
"The school is very diverse and inclusive with a big sense of community, and it just really shows at events like these," said Faison, an entrepreneurship and innovation major. 
The weekend was filled with things to do. On Friday afternoon, Alan Ziajka, university historian, guided attendees on a tour of the campus. After that, families gathered at a welcome reception. 
"We love the school and we love the community that it establishes. We love what it stands for," said the parents of Ryan Shindle '27, computer science major. 
On Saturday morning, four professors spoke: Courtney Masterson on how to manage work and family life. Freddie Seba on how digital health informatics improves health care delivery and equity. Emille Lawrence on the hidden beauty of mathematical graphs. And Stuart McKee on his new book, Indigenous Enlightenment: Printing and Education in Evangelical Colonialism, 1790–1850. 
At the same time, USF staff offered four family workshops: anxiety management; study abroad and immersions; planning for off-campus housing in San Francisco; and "From Curriculum to Career: Why Internships and LinkedIn Are the Keys to Your Student's Success." 
Then, at the Silk Speaker Series event called "Championing Excellence," guests listened to WNBA athlete and Olympic gold medalist Lisa Leslie, 11-time NBA championship coach Phil Jackson, and NBA player and coach Bill Cartwright '79, MSOD '98.
"Lisa Leslie was inspiring," said Jerry Higginbotham, father of nursing major Elli Higginbotham '27. "She used the word 'choice' as an acronym." It stands for competence, hard work, optimism, integrity, courage, and execution.