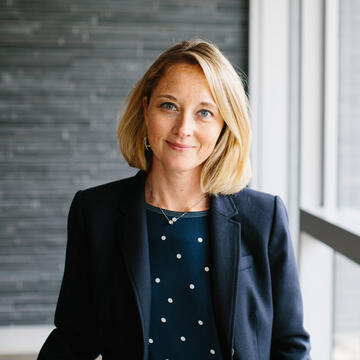 Courtney Masterson
Associate Professor, Department Chair of Humanistic Management & Hospitality
Department Chair
Full-Time Faculty
Biography
Dr. Courtney Masterson teaches undergraduate and graduate courses on topics including diversity and inclusion; work and well-being; research methods; and community-engaged learning. As a teacher, she strives to create an engaging learning environment that enables students to cultivate knowledge and develop personally and professionally. This includes providing students opportunities to partner in meaningful ways with the University's surrounding community. 
Courtney is also an active researcher who co-authors with scholars globally to examine issues related to women's career experiences, dual-earner couples' management of their work and family lives, and employee well-being. Her work has been published in academic journals and popular press. In 2021, Courtney was recognized as an Ascendant Scholar by the Western Academy of Management.
Prior to joining USF's School of Management, Courtney spent 10 years in marketing and communications, working with organizations to address issues related to corporate reputation, branding, and stakeholder engagement.
Research Areas
Work-family management
Women's career mobility
Dual-career couples
Employee well-being
Appointments
Co-Chair, School of Management Diversity, Equity, and Inclusion Committee (2021-Present)
Program Director, Organizational Development (2020-2021)
Education
PhD, Organizational Behavior/Human Resource Management, University of Illinois at Chicago
Master of Business Administration, Management, DePaul University
Bachelor of Arts, Political Science, Washington University in St. Louis
Awards & Distinctions
School of Management Assistant Professor Outstanding Research Award, 2021.

School of Management Assistant Professor Outstanding Teaching Award, 2019.

Leo T. McCarthy Center's Profiles in Community-Engaged Learning, 2018.

Editorial Board, Journal of Vocational Behavior, 2016

Emerald African Management Research Fund Award, 2015 (with Prof. Jenny Hoobler)

Doctoral Student Excellence in Research Award, University of Illinois at Chicago, 2014

Outstanding Reviewer Award, Gender & Diversity in Organizations Division of the Academy of Management, 2014
Selected Publications
Little, L. M., & Masterson, C. R. (2021). Mother's Reentry: A Relative Contribution Perspective of Dual-Earner Parents' Roles, Resources, and Outcomes. Academy of Management Journal.

Masterson, C., Sugiyama, K., & Ladge, J. (2021). The value of 21st century work–family supports: Review and cross‐level path forward. Journal of Organizational Behavior.

Hoobler, J. M., Masterson, C. R., Nkomo, S. M., & Michel, E. J. (2018). The business case for women leaders: Meta-analysis, research critique, and path forward. Journal of Management.

Masterson, C. R., & Hoobler, J. M. (2015). Care and career: A family identity‐based typology of dual‐earner couples. Journal of Organizational Behavior.