Passion for Justice
A Chance for a Better Life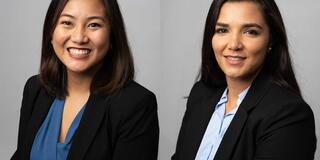 Under the supervision of Clinic Director Bill Ong Hing, USF Law students Nicolette Bencito '22 and Violeta Velazquez '22 successfully advocated for the Hernandez Ortiz family's right to a new immigration hearing.
In October 2019, an immigration judge at the U.S.-Mexico border denied the Hernandez Ortiz family's plea for asylum, finding the family "not credible." At the time, the family had faced the impossible decision of either postponing their final hearing to seek counsel or continuing to live under life-threatening conditions under the Trump administration's "Remain in Mexico" policy. The family chose to proceed without counsel, representing themselves in court, and the Board of Immigration Appeals (BIA) affirmed the denial of asylum. With the help of the Clinic and Centro Legal de la Raza, the Hernandez Ortiz family filed a petition for review with the Ninth Circuit Court of Appeals.
"That was one of the most challenging aspects of the case," according to Velazquez, who noted that the immigration judge had relied on border documents that contained a number of errors and irregularities. "It was difficult to find ways to expand on legal arguments and demonstrate that the Board of Immigration Appeals' decision was rooted in this initial oversight."
In their quest to advance the family's claims for relief under the Convention Against Torture (CAT) and asylum, Bencito and Velazquez poured over details of the record, conducted research for relevant case law, and ultimately helped to write the opening brief for the appeal. In May 2021, the Ninth Circuit decided in the family's favor and the case was remanded for the family's opportunity to present their full claims before the immigration judge de novo.
"What I took away from this experience was just how crucial it is for asylum seekers to be represented by counsel, and the importance of nonprofits and pro bono attorneys who are willing to tackle these types of cases," says Bencito, adding that "an asylum seeker's chances of winning their case can increase up to five and half times if they obtain an attorney."
The family was represented in court by Centro Legal de la Raza attorneys Priya Patel and Judah Larkin.
Professor Hing is the faculty director of the USF Immigration Clinic, and Professor Jacqueline Brown Scott is the supervising attorney. The Immigration & Deportation Defense Clinic represents over 450 cases, primarily involving individuals, including many children, seeking asylum and special immigrant juvenile status. The Immigration Policy Clinic works on appellate cases, post-conviction relief motions, and policy advocacy.