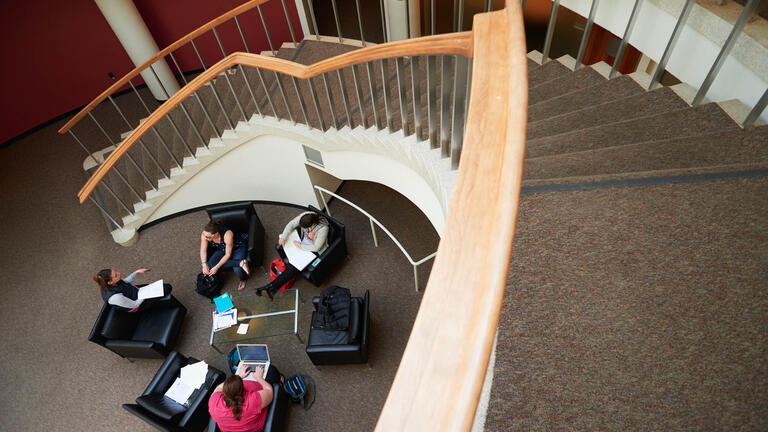 International Transactions & Comparative Law, LLM
Program Overview
The University of San Francisco offers the best of both worlds  - an intimate program with personalized support in a major metropolitan area full of professional opportunities.  
The LLM Program is a one year residential program at the School of Law's main campus in the center of San Francisco, just 15 minutes from City Hall and 10 minutes to Golden Gate Park.  Students are able to take courses throughout the day and then take advantage of the numerous professional events that San Francisco has to offer.
Our program is designed as an "integrated" program, meaning that there are only two required LLM only courses and beyond those courses, the LLM students are fully integrated into the JD program so as to get the full immersive experience of law school in the United States. The program requires 25 units of credit toward completion, but students may take up to 30 units of credit. 
The degree requirements for the LLM in International Transactions and Comparative Law Program differ from the LLM in Intellectual Property and Technology program. For more information on the specific degree requirements and courses see our Curriculum page for each program.
Court Visits
San Francisco is an extension of the USF campus and plays a vital role in the overall educational experience that our LLM students have while studying here. The law school is located minutes away from the Civic Center, home to federal, state, and local government agencies and federal and state courts. 
In the fall semester, LLM students study specific cases and then visit and hear oral arguments before the Ninth Circuit Court of Appeals and the California Supreme Court in San Francisco. In the spring, LLM students attend a jury trial and participate in a guided tour at San Quentin Prison. 
Career Services 
The USF School of Law Office of Career Services helps LLM students create a personalized job search strategy and provides information throughout each phase of the job search. Career Services include individual career counseling, resume and cover letter review, career workshops and programs on job search skills and practice areas, on-campus interviews, and a job postings database. Career Services advises the LLM community on professional development and suggests legal specialties to explore depending on an individual's interests. With an LLM degree from USF and our comprehensive support services, our students are prepared to advance their career. 
Alums mentor students during and after they receive their degrees. This mentoring includes inviting the students to their law offices and company headquarters to gain valuable insights about the practice of law in their areas of expertise, and to share additional thoughts on careers and career planning for LLM students. 
Student Bar Association
All JD and LLM students attending the law school are members of the Student Bar Association (SBA). The LLM students elect their representative to the SBA in September. 
The SBA sponsors social and cultural activities and gives students a voice in school policy. The SBA also funds and oversees student organizations, such as the Business Law Association, Environmental Law Society, Intellectual Property and Cyberspace Law Association, International Law Society, Labor and Employment Law Student Association, National Lawyers Guild, Pride Law Association, Public Interest Law Foundation, and the Women's Law Association.
Social Activities
As an LLM student at USF, you will make life-long friends through both academic and social activities of the program. One of the first social activities that we organize for our LLM students is a visit to the beautiful coastal home of Professor Emeritus Eldon Reiley, founder of the LLM Program, in Montara, California. Students have the opportunity to mingle with fellow students, staff, USF faculty, visiting international faculty and scholars, and LLM alumni who live in the San Francisco Bay Area. 
When it's time to unwind, our backyard is Golden Gate Park — a favorite spot for running, cycling, or studying outside. Cafes, restaurants, clubs, and all the fun of city life are at our students' doorstep. Entertainment options are limitless, from ballet, opera, theater, concerts and symphony to the Chinese New Year Parade, Carnival Parade, and other cultural events. With a thriving arts and music scene, unique shops, restaurants, and clubs, postcard perfect views, and professional sports teams (Go Giants!), it's no wonder San Francisco is the number one tourist destination in the United States. As a student at USF, you will call it home.
US Bar Exam Preparation
Our department along with the School of Law will provide you with support and general guidance regarding a US Bar Examination.  General Information on Qualifications for Admission to the Bar is below.
Please note that earning an LL.M. does not guarantee eligibility to sit for a U.S. bar exam. In addition to the bar exam, there are character, fitness, and other qualifications for admission to the bar in every U.S. jurisdiction. 
Students are therefore encouraged to determine the requirements for any jurisdiction in which they intend to seek admission by contacting the jurisdiction. For more information, you should consult the California State Bar Examiners Rules. The requirements for taking the New York Bar Exam are similar to those of California. To learn more about the eligibility requirements for the New York Bar exam, visit the New York State Board of Law Examiners website. Addresses for all relevant agencies are available through the National Conference of Bar Examiners.