Alumni
Saveri Family and Hon. Robert Foiles '84 Honored at Alumni Graduates Reception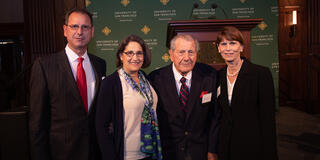 USF School of Law welcomed the Class of 2019 into the ranks of alumni at the Alumni Graduates Reception on May 15 at the Julia Morgan Ballroom in San Francisco.
The night celebrated not only the recent graduates, but also outstanding alumni and faculty, including Guido Saveri '50, Lisa Saveri '83, Richard Saveri '94, and Hon. Robert Foiles '84.
Hon. Foiles '84 received the John J. Meehan '59 Alumni Fellow Award for Mentorship, given to an alumnus who has shown a special commitment to mentoring future USF lawyers. Hon. Foiles worked in the San Mateo County District Attorney's Office for more than a dozen years before Gov. Pete Wilson appointed him to the San Mateo County Superior Court. Over the past 22 years, Hon. Foiles has presided over 100 civil and criminal trials and was repeatedly elected presiding judge by his colleagues.
"Judge Foiles has done so much to give back to our law community," said Keya Koul, director of career services, when presenting the award to him. "He has been a champion of the Alumni Mentor Program and gone above and beyond with his mentees, including facilitating introductions to his colleagues on the bench and generating judicial internships for USF students."
When Hon. Foiles graduated, he had his eyes on tax law and never predicted he'd enjoy a career as a trial attorney. But after two USF graduates on the San Francisco Superior Court helped him secure a job as a research attorney there, his life took a different turn. He urged the recent graduates to find their "why" — what inspires them — as he did, and to call upon USF law alumni to help them achieve the careers of their dreams.
"USF alumni are passionate in helping fellow alums," he said. "Seek out your fellow alums and be fearless enough to ask for their advice and help and hopefully someday you too will find your 'why'."

For the first time, the Donald L. Carano '59 Alumnus of the Year Award was shared by three alumni, all of Saveri and Saveri, the renowned antitrust law firm in San Francisco: Guido Saveri '50, and two of his children, Lisa Saveri '83 and Richard Saveri '94.
"In addition to their impressive professional accomplishments, the Saveris have given hundreds and hundreds of hours of service to the USF School of Law, have hosted students at antitrust events, and have hired USF law students," said Michelle Sklar, assistant dean of development and external relations.
Several other awards were presented that evening, including the Professor John Adler Distinguished Professor Award to Professor Julie Nice for the fifth time. Adjunct Professor Sasha Cummings was honored with the Hon. Ira A. Brown, Jr. Distinguished Adjunct Professor Award, and Alexander Johnson '19 and Sara Igdari LLM '19 received the Andersen Tax Award.
The USF School of Law graciously acknowledges event sponsors Hanson Bridgett, The Brandi Law Firm, and The Arns Law Firm, who support the law school and its students in many ways.
View more photos from the event on Flickr.