Passion for Justice
Remembering John 'Jack' Meehan '59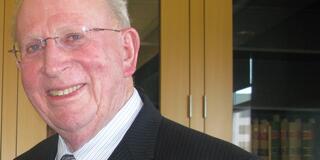 John "Jack" Joseph Meehan, B.S. '54, J.D. '59, a beloved mentor to a host of young lawyers who served for more than a decade as the Alameda County District Attorney, died Oct. 6. He was 88.
Meehan was recognized as USF Law's Alumnus of the Year in 1994 and is the namesake of the law school's John J. Meehan Alumni Fellow Award, given annually to an alumnus who has shown commitment to mentorship. The Hon. Jeffrey Brand, a former dean of USF Law, described Meehan as a "leader everywhere he worked."
"Jack was smart, sensible, humble, ethical, good humored and dedicated to his family, friends and the law school," Brand said. "No one worked harder than Jack for the common good. He was one of a kind."
A San Francisco native, Meehan received his undergraduate degree from USF in 1954. During that time he met his wife, Janet, with whom he sang in the High Chorus. After serving as a Second Lieutenant in the U.S. Army, he returned to USF as part of the law school's celebrated "Class of 1959" known for its later philanthropy to the school.
Even when Meehan was a student, USF Law classmate Stuart Brafman said he was the kind of person to take others under his wing.
"He just had this very warm, generous nature," Brafman said. "He genuinely has interest in you, which comes out in the conversation, that we're the only two people on the planet. He had that way about him."
Brafman noted that Meehan always thought USF "gave him something beyond an education."
"There was a spiritual element, and he valued that," Brafman said.
After earning his J.D., Meehan spent his career working in the Alameda County District Attorney's office, where he became a nationally recognized expert in search and seizure. He ultimately was appointed district attorney in 1981, a position he was reelected to three times until his retirement in 1994. Along the way, he mentored a host of young lawyers, including a young Kamala Harris.
"The Jack Meehan Alumni Fellow Award was created to honor those who mentored others," Brand said. "In fact, Jack Meehan mentored all of us."
The California District Attorneys Association honored Meehan with its Prosecutor of the Year Award in 1978 and created the John J. Meehan Career Prosecutor Award in his honor after he retired. Meehan also served as president of the USF Law Assembly following his retirement.
Eric Swalwell, a U.S. Congressman who represents Alameda County, gave a speech on the floor of the House of Representatives Nov. 16 honoring Meehan's life, noting Meehan "could spot talent when he saw it."
"His leadership, respect for our system of justice, and concern for victims of crime will be long remembered," Swalwell said.