Passion for Justice
Recent Grads Win Public Interest Fellowship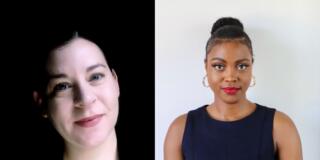 Two recent USF Law graduates have won a fellowship that will allow them to spend five months working with local public interest organizations.
Jennifer Fair '21 and Jordan Hameen '21 were among 27 Bay Area students to receive the 2021 Public Interest Law Post-Graduate Bar Fellowship from the Legal Service Funders Network.
After sitting for the bar exam at the end of July, Fair will begin work with the San Francisco organization Jubilee Immigration Advocates, which works to make immigration legal services affordable and handles a range of cases, including humanitarian relief for survivors of abuse and violence. Hameen, meanwhile, will work with Start Small Think Big, an Oakland-based company that provides legal assistance to small businesses with a focus on using entrepreneurship as a path to socioeconomic mobility.
A native of Atlanta, Hameen said the fellowship — which includes a $12,000 stipend — provides the perfect opportunity for her to stay in California and keep working in law until bar results are published.
"I know so many recent graduates who are in the same position as I am, trying to figure out what to do after the bar," Hameen said. "There are so many ways that this fellowship can help."
Co-founded in 2014 by USF Law alumna Claire Solot '92, the Legal Services Funders Network (LSFN) works with Bay Area legal service organizations with a focus on alleviating poverty.
When the COVID-29 pandemic delayed the California Bar Exam by several months, LSFN created the Post Graduate Legal Fellows Program to help recent graduates by connecting them with local legal organizations. After a successful first year, LSFN decided to renew the fellowship in 2021.
Fair, a native of Bakersfield who worked as an intern with the San Francisco Public Defender's office and as a student-clinician in the Racial Justice Clinic and Criminal and Juvenile Justice Clinic, says her upcoming work at Jubilee Immigration Advocates will mesh perfectly with her passion for public defense. She noted that many public defense clients are dealing with immigration issues as well.
"I think the fellowship will be a great way to stay in the Bay Area and stay loyal to my public interest goals," she said.
Fair says she is looking forward to working on asylum cases through the fellowship.
"They handle cases where people really truly are in need, and in a dire situation to have their case be heard."
Hameen, meanwhile, has a passion for intellectual property law and technology. A former trademark and copyright intern with Duane Morris LLP, she was a member of a team of USF Law students who won first place for oral arguments at the regional Saul Lefkowitz Moot Court competition through the International Trademark Association.
She noted that at Start Small Think Big, she will be able to work in "an area of civil law where we can help so many individuals that people overlook."
"There are a ton of small businesses that don't have the resources to register their trademarks to protect their great ideas," she said.
Both graduates said they are grateful to USF Law staff who clued them into the LSFN fellowship — for Fair, career advisor Traci Sharpe, and for Hameen, Internet and Intellectual Property Justice Clinic professor Jessica Fajfar — noting that they hope more USF students apply to the fellowship in the future.