Alumni
USF Law graduate Martin Jenkins nominated to California Supreme Court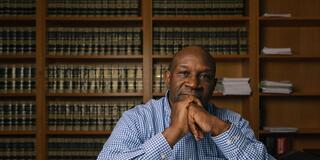 Gov. Gavin Newsom named the Honorable Martin J. Jenkins JD '80 as his choice to be the next associate justice on the California Supreme Court.
If confirmed, Jenkins will be the first openly gay justice and the third Black man to serve on the state's highest court. He will fill the vacancy created by fellow USF School of Law alumnus Ming W. Chin '64 JD '67, the state's first Chinese American justice, who retired Aug. 31.
"I am truly humbled and honored to be asked by the governor to continue serving the people of California on the Supreme Court," said Jenkins.  
Jenkins was inspired to become a lawyer when a USF School of Law graduate took on Jenkins' mother's personal injury case pro bono, winning damages that enabled her to pay her medical bills, said USF President Paul J. Fitzgerald, S.J.
"His whole career has modeled that generosity of spirit and that balance of justice and mercy," Fr. Fitzgerald said.
Jenkins came to USF School of Law in 1977 after one season playing cornerback for the Seattle Seahawks. He said he realized his true calling was law, and he graduated with honors.
Upon graduation, he became a prosecutor at the Alameda County district attorney's office, and later at the civil rights division of the U.S. Justice Department, where he handled racial violence and police misconduct cases. Jenkins was later appointed to the Oakland Municipal Court, then elevated to the Alameda County Superior Court, eventually becoming the presiding judge of the juvenile division.
In 1997, President Bill Clinton appointed Jenkins to the U.S. District Court for the Northern District of California. Starting in 2008, Jenkins served as an associate justice on the California Court of Appeal for the First District in San Francisco.
Jenkins' Jesuit education at Santa Clara University and USF prepared him with the intellectual skills and strength of character to live a life of service and leadership, Fr. Fitzgerald said.
"Justice Marty Jenkins is a man of faith, of integrity, of humility, and of kindness," he said.