Equipped to Lead and Succeed
Law Team Wins National Moot Court Competition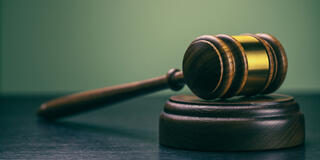 A USF School of Law team beat out 70 teams from across the country in a moot court competition hosted by the International Trademark Association.
USF took first place and won "Best Oral Argument" in the Saul Lefkowitz Moot Court Competition, held March 18 in Washington D.C. The 26-year-old competition is designed to help students sharpen their legal skills in the field of trademark and unfair competition law.
"It's still very surreal," said Nguyen La '18 captain of the team. "Each and every one of us worked very hard."
Nguyen, Daniel Gaitan '18, Jeff Hughes '17, and Liam McNamara '17 were part of the team.
Tough regionals
The fictional case under consideration was a dispute between two fitness bracelet companies. Teams argued over issues including whether a company could trademark the buzz alert associated with its bracelet.
Teams first wrote legal briefs and performed oral arguments at regional competitions. Then 10 teams moved on to a final round of oral arguments at the U.S. Court of Appeals for the Federal Circuit in Washington D.C.
USF's moot court team bested 20 other teams at San Francisco's regional competition in February.
"The western region, we've been told, is probably the most difficult region to compete in," said Hughes. "We went up against Stanford, Berkeley, and Hastings, among others. Just winning that one alone was a win for us and USF."
Paying it forward
In D.C., the USF team presented 30-minute oral arguments in front of a panel of trademark attorneys and judges.
"It's been a great way to get our names out there and be recognized by the community we want to work in," said Hughes. "I've made a lot of connections in the trademark community."
The win wouldn't have been possible without the support of students and alumni who coached the team and critiqued oral argument practices, said La. Laila Rahimi-Keshari '17 was the team's student coach, and Everett Monroe '14 was the alumni coach.
"People who graduated from USF School of Law came back and paid it forward," Lasaid.
Know someone with a powerful USF story? Let us know! usfnews@usfca.edu | Twitter @usfcanews