Engaged Learning
USF Students Advance to National Finals at Trademark Moot Court Competition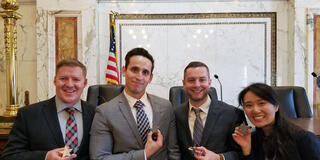 A team of four USF students won the western regional division of the International Trademark Association's Saul Lefkowitz Moot Court Competition at the Ninth Circuit in San Francisco on Feb. 11.
Daniel Gaitan 2L, Jeff Hughes 3L, Nguyen La 2L, and Liam McNamara 3L were one of two USF teams participating in the competition. Based on their written brief and oral argument scores, they finished ahead of 20 teams from other schools, including Stanford University, UC Berkeley, UC Hastings, and UC Davis. They will compete in the national finals in Washington, D.C., on March 18.
La said this moot court experience pushed her to conduct some of her most intense legal research and analysis in preparation for writing their brief — skills she thinks are valuable in any legal career.
"As a Vietnamese-American and first-generation college and law student, our team's first place win at regionals has proven to me that success knows no boundaries," she said. "This competition is one of the most defining experiences of my legal education."
The team received support from alumni coach Everett Monroe '14 and student coach Laila Keshari 3L. Senior Professor J. Thomas McCarthy, Professor David Franklyn, Assistant Professor Jiarui Liu, and Adjunct Professor Michael Dergosits '84 provided practice sessions and critical individual legal guidance.
"Our students build invaluable skills that prepare them for practice, including learning to work as a team to create top notch work together," said Assistant Professor and Director of the Moot Court Program Amy Flynn. "They argued in front of IP lawyers from Apple, Oracle, and top IP firms, making strong connections to professionals who can help them get their first job."
This is USF's third appellate advocacy competition of the academic year. Ward Hoskins 2L and Robert Lopez 3L placed in the top eight teams nationally and received the award for second best respondent's brief at the National Criminal Procedure Tournament. Amy Bogart 2L and Crystal Pizano 3L made it to the national finals of the Thomas Tang National Moot Court Competition, where Bogart won the award for national second best speaker.