San Francisco Advantage
Alumna London Breed Re-Elected Mayor of San Francisco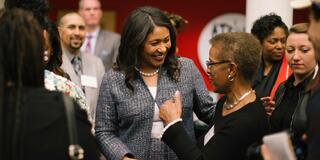 On Election Day 2019, voters in San Francisco re-elected London Breed MPA '13 to a four-year term for mayor.
Breed, the first female African American mayor of San Francisco, has been mayor since winning a special election last year following the sudden death of Ed Lee, who was mayor from 2011 to 2017.
"I grew up in this city and in poverty and I never thought that in my life that I would have the opportunity to serve in this capacity," Breed said in her acceptance speech Nov. 5.
Breed grew up just a mile from USF, in the public housing project Plaza East in the Western Addition. After graduating from San Francisco's Galileo High and then UC Davis, she attended USF's Master of Public Administration program, which trains students to lead in the public and nonprofit sectors. Of her time on the Hilltop, Breed said that "USF emphasized the importance of being a compassionate person, someone who believes that my role in society is to make sure that I'm helping to uplift other people."