Alumni
After 'Wicked Year,' Recent Grads and Alumni Come Together to Celebrate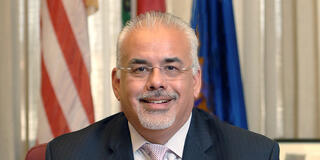 The USF Law community capped off a year unlike any other by gathering virtually for the annual Alumni Graduates Reception.
"You have been through a wicked year, and you survived," said USF Law Board of Governors President Sal Torres '88., "You did it."
The May 19 event celebrated the efforts and achievements of the entire graduating class while highlighting outstanding achievements of faculty, alumni and students.
Torres, who emceed the event, was presented with the Donald L. Carano '59 Alumni of the Year Award. Accepting the award, Torres said he hadn't always envisioned pursuing a career in law. Soon after graduating from UCLA, he was considering a PhD in clinical psychology. But USF Law's admissions director at the time persuaded Torres that he was capable of succeeding as an attorney.
"That's what propels me and drives me and motivates me every day — believing in someone else," Torres said. "When you meet someone, have compassion, have kindness, have the desire to serve … You never know whose life you're going to change."
Other award-winners include Heidi Ho '97, an assistant professor and the co-director of USF's Academic Support Program, who won the John Meehan Alumni Fellow Award, which is presented to an alum who contributes to the growth and development of future lawyers.
Associate Dean for Academic Affairs Amy Flynn called Ho the "embodiment of this award."
A prolific hugger, Ho said her goal at USF has always been to create community, a facet of the educational experience that was strained this year during remote learning.
"I felt like I lost my superpower this year, trying to reach through the screen to show how much I love you all."
The pandemic was a big factor for another award winner, as well. Professor Jerry Coleman received the Innovation in Teaching Award, which is given to a professor who uses technology to improve student learning. In presenting the award, Flynn said Coleman "took advantage of every available resource at USF" to adapt his teaching methods to an online format during remote learning.
"There's really no greater compliment to any professor than making students as enthused as the professor is," he said.
The graduating class selected Prof. Luke Boso as the John Adler Distinguished Professor of the Year award and Prof. Karren Shorofsky, who teaches classes including Art Law and Copyright Law, received the Hon. Ira A. Brown Adjunct Faculty of the Year Award.
In student awards, Alexis Ramsey won both the Academic Excellence Award and the Student Bar Association Award, while Jennifer Estevez won the Pursuit of Justice Award. The Student Labor Award, sponsored by the American Bar Association's Section of Labor and Employment Law and the Bureau of National Affairs, inc, was presented to Amara Blades, Mel Haddad and Spencer Ladd. Julia Siewit and James Chisel were recognized with the Andersen Awards.