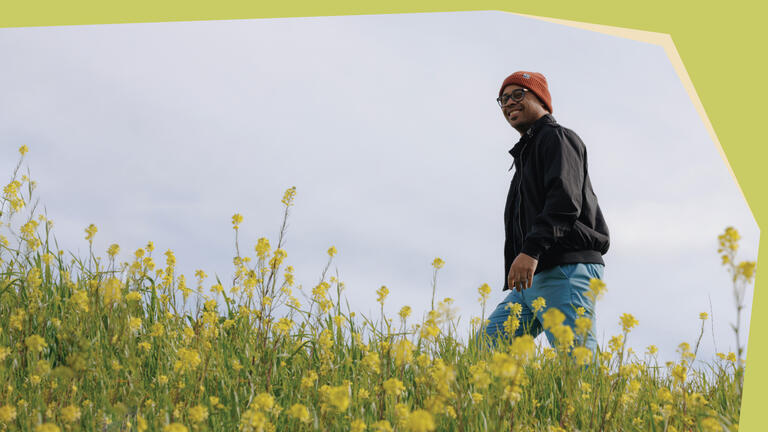 First Generation Strong
What does it mean to be a first-generation college graduate?
In the past 20 years, USF has become a magnet for students who are first in their families to attend college.
"It's legacy," says April Crabtree, vice provost overseeing admissions at USF. "We've acquired a reputation as a university that welcomes and guides first-generation students. We make clear to applicants that we're here to help them navigate college."
Since the mid 2000s, about 30 percent of undergraduates identify as first generation. But USF has welcomed first-generation students for longer than that.
"USF opened the door to the possibility of education through scholarships and financial aid. Without those, my path would have been different," says Margaret Simor '84, a graduate of the School of Nursing and Health Professions.
Simor is a first-generation college graduate. Crabtree is, too. So is Paul J. Fitzgerald, S.J., USF's president.
"We believe that higher education is one of the strongest factors in social mobility," says Crabtree. "Social mobility is an inherent part of USF's mission: to lift students to their highest potential."
Julian D. Lute '99, MA '02, MBA '12
(Pictured above in the Oakland hills) From the day I was born, I was going to college. My mom and my family made sure of that. When it came time for me to go to college, I decided USF was best for me. USF felt like a little community instead of a city within a city: I could just focus on school. After a bachelor's degree in psychology, a master's in international and multicultural education, and an MBA, I'm a senior manager and a strategic adviser at Great Place To Work U.S. I help C-suite executives at global organizations think differently about how they can do their work, whether it's their people work or their product work or their services. Mostly their work with people — treating their employees as people. When I told my mom that I work with managers who care about their employees, she said, "Oh! You know, I've never worked for a manager who cared about me."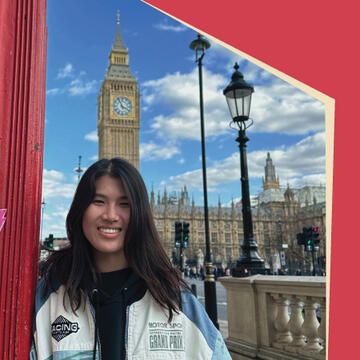 Grace Yam '24
For me, being a first-generation college student means possibility. Just knowing that I've broken this glass ceiling has really encouraged me to do as much as possible with everything that I have — to get involved and to put myself out there and go for it. I started out at USF in performing arts and social justice with a music emphasis. Then I talked to my adviser and learned about advertising as a way of marketing myself as a performer, so I added advertising as a second major. And then if you do the creative track in advertising, you need a minor in design, so I did that and I love that. Now I love advertising even more than I love music, and I'm thinking of going into marketing for a tech company because I've been doing internships for different startups since my freshman year — tech and social media and marketing.
Adrian Aguinaldo '23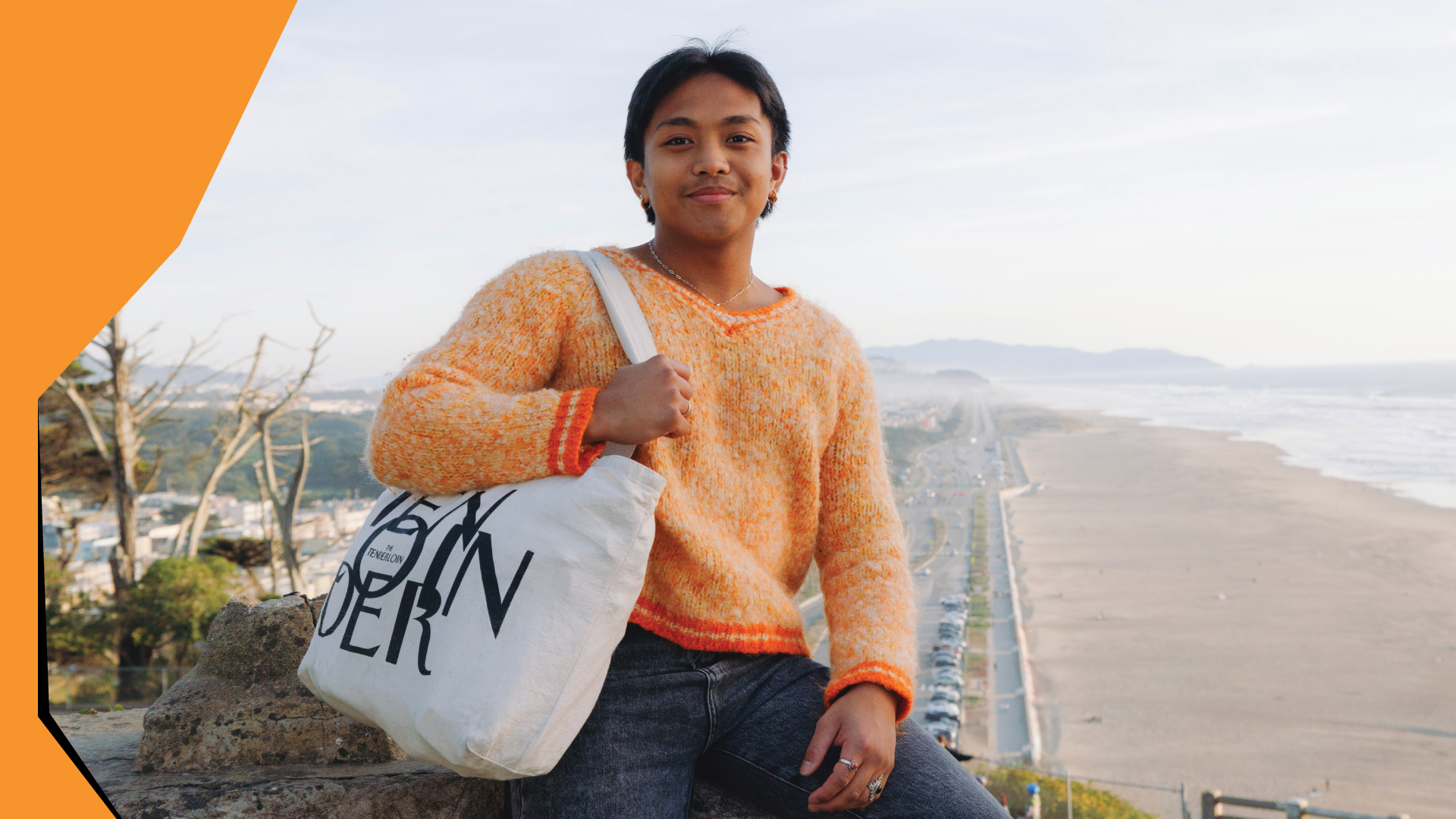 Being a first-generation college student is partly sad but mostly happy. It's sad because my parents didn't get to go to college. It's happy because they get to see me go to college. In my time at USF I've grown a lot. I've become independent — finding work to do, focusing on my studies, but also just making friends, finding organizations, finding my people. I'm a nursing major. I graduate this spring. I don't know exactly what the future holds but I feel confident that I'm ready for it.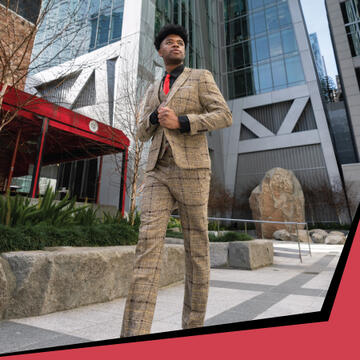 Najashi Belcher '24
I'm proud to be a first-generation college student. I came here to San Francisco from North Carolina, sight unseen. This summer I'm going back to North Carolina to do an internship with a company that wants to reshape how the corporate world looks. I'm going to tell kids in the community that if I can do it, they can do it. They can get out of an environment that may not be safe or may not be conducive to growth. I'm studying hospitality management. I want to become a leader in an industry where you don't see many Black people in leadership. You might see them behind the front desk or see them in the kitchen, but you don't often see them at the headquarters or in boardrooms — yet.
Monica Valencia JD '17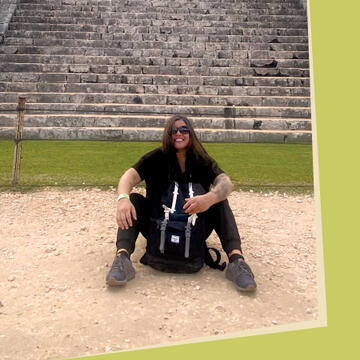 Growing up the way that I did, and also being a child of immigrant parents, I thought college dreams were beautiful dreams but I didn't think they were for me. Back in high school most of the time for a lot of children, especially brown children, when guidance counselors or folks came to visit our school, they weren't really saying, "Hey, dream big and reach for the stars!" They were like, "Hey, you can do manual labor." So after high school I joined the U.S. Air Force and served for six years. Only then did I think that college might be a place for me. After the Air Force I enrolled in community college and then transferred to USC. I graduated in 2013, the first in my family to attend and to graduate from college. Then, while I was in law school at USF, I founded the Dreamer Fund, a nonprofit that helps Dreamer and undocumented students pay for law school. 
The Dreamer Fund was my way of giving back, and it still is one way that I give back. I'm now an attorney at the Coalition for the Humane Treatment of Immigrants in Los Angeles, an adjunct professor at Golden Gate University School of Law, and co-executive director of the Dreamer Fund in San Francisco. I was privileged to get an education. I felt privileged and honored to work with my mentor, Bill Ong Hing, at the law school. He trained me to be a rebellious lawyer. With each degree I've earned, that degree isn't just for me. It's for us. We have our parents, our siblings, our community with us, so when we do cross that finish line, it's for everybody.
Angélica Quiñónez, MA '10, MA '14
Director, USF University Ministry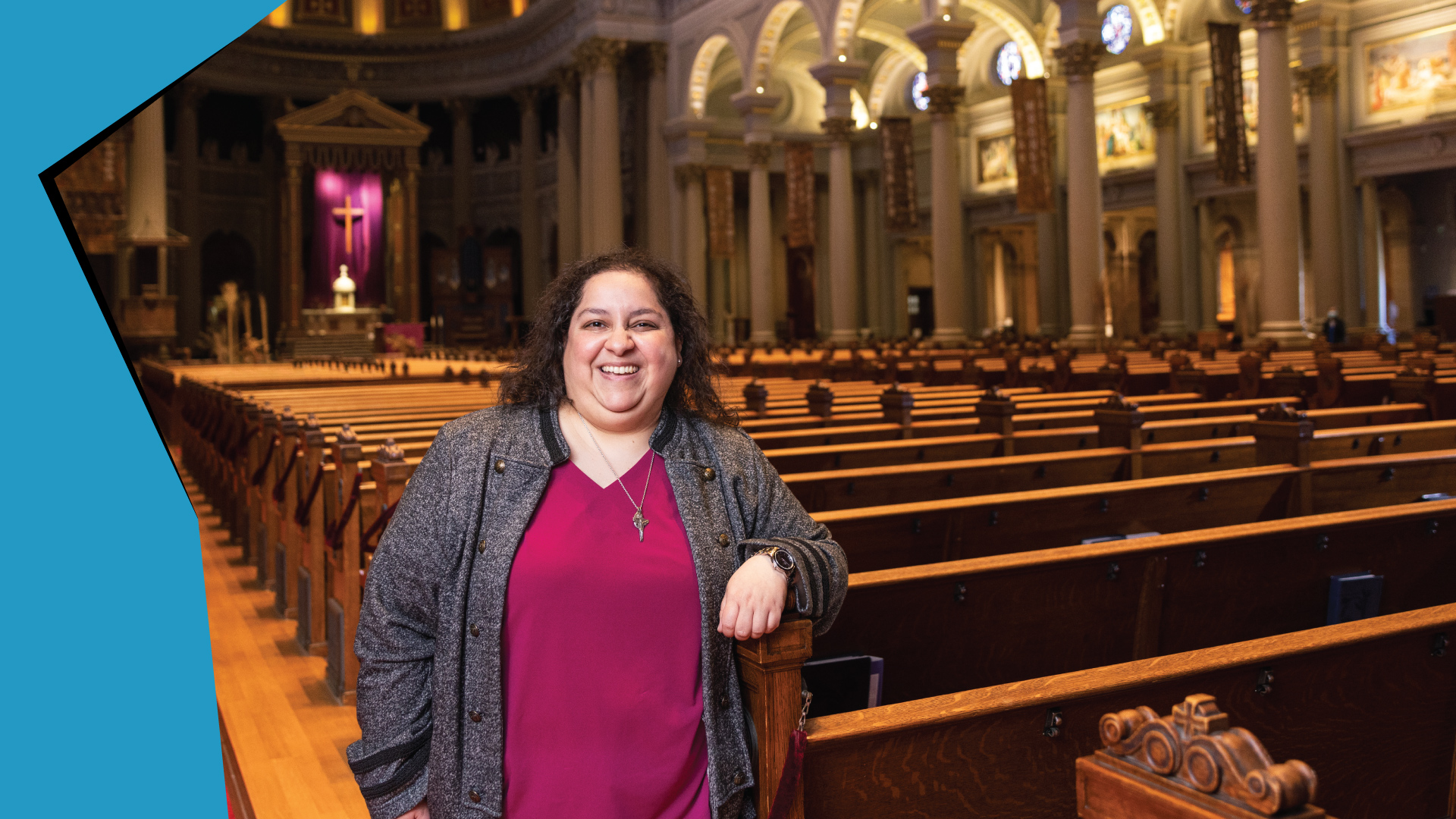 My father is an immigrant from Guatemala. He would have finished his bachelor's degree except he had to leave during the height of the civil war. My mother, born in Mexico, graduated top of her class at Mission High School here in San Francisco and was poised to go to college, but her father had a stroke and she had to go to work to support her family. I did what my parents weren't able to do: I graduated from college. And then I got two master's degrees at USF. And then I got an EdD. When I told my parents I was going back to school to get an EdD they said, "Are you sure? We were just happy that you got a bachelor's degree!" Today, at University Ministry, I mentor first-generation students at USF. Especially first-generation students of color. I help them with advice, share experiences with them. They look at me and see someone who looks like them. That's important.
Priscilla Kim Ong '22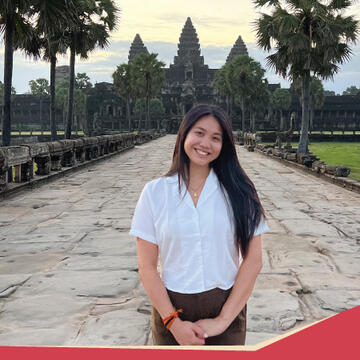 My mother was born and raised in Vietnam. I was born and raised in New England. At USF, when I majored in international studies and started studying sustainable development, I got inspired to connect my education with my roots and identity in Vietnam and Cambodia. In my junior year, I interned with the Khmers Kampuchea-Krom Federation, a human rights organization that represents indigenous Khmer-Krom people like my mom. After I graduated I moved to Cambodia to learn Khmer, my mother's native language. I've just landed a position at Good Neighbors Cambodia, an international NGO in Phnom Penh, where I'll manage development projects in agriculture, education, and health. As the daughter of a refugee and as a first-generation college graduate, I feel a responsibility to give back. Some people in Cambodia ask me why I'm not in the U.S., working at a lucrative job, but I want to be here.