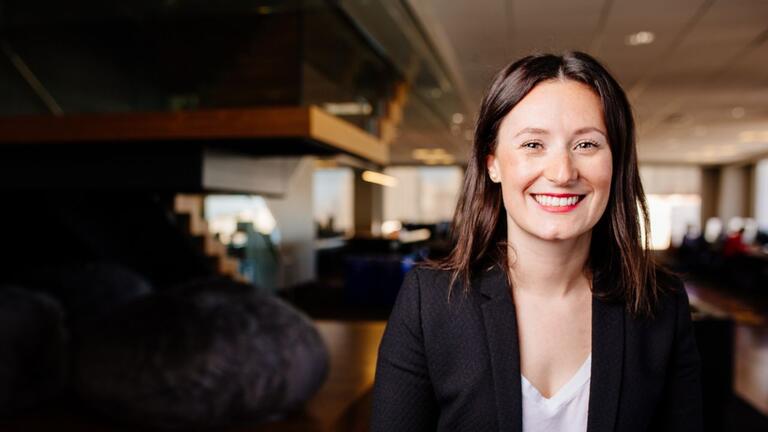 New Day, New Challenges in IP Law
With a law degree and experience working for a startup in her native Germany, Sophia Mangold says a USF LLM was key to landing a job with San Francisco-based AppDirect.
For Sophia Mangold LLM '17, working in data privacy and intellectual property law is a chance to help her company navigate the dynamic legal changes happening in the field, both in the United States and abroad.
"It's such an interesting field – IP and data privacy law are challenging and fast-developing areas," Mangold says. "There are changes all the time, with new tech products and new services."
As corporate counsel for AppDirect, Mangold is keeping up with all those for the San Francisco-based company. With offices around the globe, the company is a platform for selling, distributing, and managing cloud-based products and services. Her role focuses on providing advice on a range of legal issues, negotiating complex commercial transactions and subscription agreements, and ensuring compliance with data privacy and security requirements.
It's a perfect fit for both Sophia's experience and her education. The LLM in Intellectual Property and Technology Law, Mangold says, was a key component of getting the job.
San Francisco calling
After studying law in her native Germany, Mangold worked in-house for a large international media and publishing company there, specializing in IP and privacy law. Throughout her time there, however, she longed to be in San Francisco, where she had once interned at a law firm.
At USF, Mangold found a strong program, surrounded by tech companies and new developments happening in the world of IP law. In addition to the academics, Mangold says USF provided her with key opportunities, including an externship with ZwillGen. "A great thing about USF is the chance for students to gain practical experience during their studies," she says.
USF also offered extensive networking, both with alumni and others. In fact, Mangold met her current boss at a conference she attended with Professor Susan Freiwald.
"The professors are so dedicated and they are really there for the students," she says. "They really want to help each individual student and are willing to sit down and discuss things with them. They are so supportive and motivating."
She also found that professors understood she was coming in not only to a different culture, but also a different legal system and a different learning environment. "They knew there were LLM students in the class and would talk with us individually and encourage us to not be shy and to feel free to ask questions if there's something we don't understand," Mangold says.
That supportive approach extends to the student body as well. "There's this incredible community at USF. Every student is part of it, you're not alone. Sometimes in the legal world, it's very competitive but at USF, they don't give you the feeling that you have to be competitive to succeed. At USF it's more of an approach of studying together, working together, and that we're all there for each other."
Mangold carries that approach with her today, working with a wide range of people both at AppDirect's San Francisco headquarters and also with international clients. Part of her responsibilities include working with clients in Germany and other European countries, tapping into her experience with European laws and regulations.
"With my legal background and my LLM degree, I can focus on helping my company grow and safeguard their interests," Mangold says. "With my degree, I was well prepared for this position."