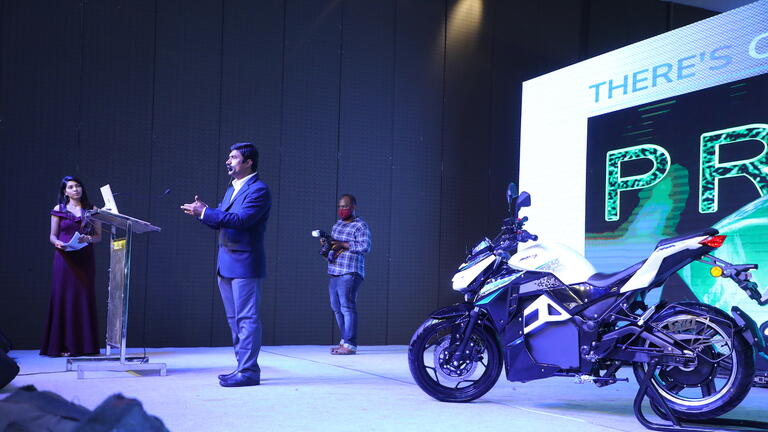 Alumni
USF Grad Cleans the Air in India
Mohanraj Ramasamy EMBA '17 launches a line of electric motorcycles, offers discount to buyers who plant trees
Sometimes the idea for a new business is right in your face — and in your lungs.
"When you're on a motorcycle, you inhale exhaust directly from the vehicles in front of you," said Mohanraj Ramasamy EMBA '17.
According to the World Health Organization, more than 500 million people, including 37 million motorcyclists, in Ramasamy's home country of India breathe five times the safe limit for fine particulate matter from fuels such as gasoline and diesel.
This gave Ramasamy an idea: build and sell electric motorcycles.
His motorcycle, called Prana — a word derived from the Tamil word for life or source of energy — "emits zero emissions, so it can save lives," he said.
Consultants on Campus
It took nearly 10 years to put Prana on the road. Back in 2012, Ramasamy saw that electric vehicles were the future, so he landed a job as a senior engineering manager at Tesla headquarters in Palo Alto to "learn at the source."
But before he could launch his own electric vehicle company, he needed to learn more about finance, strategy, consumer behavior, and global business, he said. So in 2015 he enrolled in the Executive MBA program.
"I was able to essentially use my professors as consultants," he said. "Richard Stackman, Jonathan Reichental, John Veitch, Frank Ohara — they helped me think through every aspect of my future business." 
The USF EMBA program is unique, said Ramasamy, because the faculty have "the humility and the reach to call in experts from other universities and from industry, too. It's as if USF attracts and assembles an all-star team, all there to help you. I have friends at other business schools and they tell me they don't have that same access to experts."
Slow and Steady Start
Ramasamy used his education and his savings to launch Srivaru Motors in Tamil Nadu, India, in 2018. "It was bootstrap all the way," he said.
After two years outfitting a factory, establishing a dealer network, and teaching more than 700 mechanics how to maintain electric motorcycles, Srivaru started selling the Prana in the south of India — in the thick of the pandemic.
The base model of Prana goes from zero to 60 in seven seconds, said Ramasamy. Its range is 77 miles. It can be charged with household electric current or by plugging into one of the millions of chargers installed on street poles all over India.  
Now that Srivaru is rolling, Ramasamy has raised capital from both angel and private equity investors, he said. He plans to sell 7,000 Pranas in 2022 — and one million per year by 2029. 
Why found a motorcycle company instead of a car company?
"There isn't room on the roads for cars," he said. Each year, consumers in India buy about 20 million motorcycles and fewer than one million cars. The motorcycle market is his best chance to clean the air in India.
A Growing Sea of Green
As part of his quest, Ramasamy offers a discount to Prana buyers who plant trees.
"The price for our base model is $2,800, but if you plant 10 saplings and show us a picture of them, you get it for $2,500," he said.
So far, 100 percent of Prana buyers have planted saplings, said Ramasamy.
"The saplings are not a marketing gimmick. They're built into my business model," he said. "One customer with a net worth of $200 million planted 300 trees. He didn't do it to get the discount on a Prana. He did it because it's the right thing to do."
Ramasamy said that he founded Srivaru Motors because he wants to solve people's problems. "I don't want to go to Mars when Earth is burning."
He said he hopes to see 70,000 saplings planted in 2022. "My ultimate goal is to spark an electric vehicle revolution — and to clean the air at the same time."